Will Google Steal Microsoft's Thunder With Nexus 4 Announcement on 10/29?
It looks like Google and Microsoft have both reserved October 29 for private events, with the latter being geared towards launching Windows Phone 8 while it is speculated that Google may be launching the LG Nexus 4 smartphone. A media invitation posted on Phandroid shows that Google is saying that 'The playground is open,' asking press to 'join us for an Android event.' Google isn't very specific as to the content of the event–whether it's hardware or software that will be announced, or even both–but it is saying that the event will be Android-specific.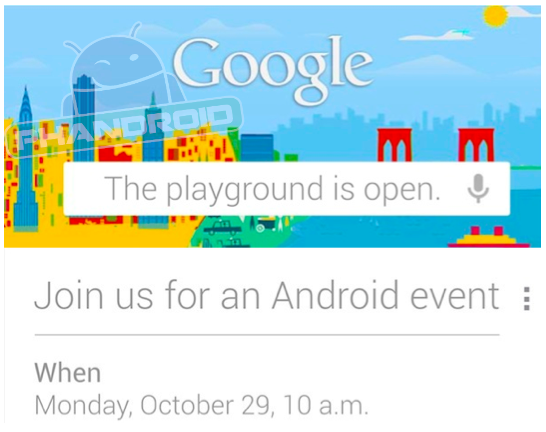 Google's event is set to kick off on the East Coast in New York City while Microsoft is hosting its event in San Francisco, California.
This wouldn't be the first time that Google and Microsoft are going head to head. Most recently, Microsoft had teamed up with Nokia to announce the Lumia 820 and Lumia 920 Windows Phone 8 smartphones in New York City in an event that was met by Google and Motorola on the same day in the same city to announce the new Droid RAZR M, Droid RAZR HD, and Droid RAZR MAXX HD.
If in fact Google will announce the LG Nexus 4, which was previously speculated to launch as the LG Optimus Nexus, that device will boast similar specs to the flagship LG Optimus G, but with slightly more subdued specs similar to how Samsung handled the Galaxy Nexus specs compared to the flagship Galaxy S III specs. The Nexus 4 will share the same quad-core Snapdragon S4 Pro CPU, according to rumors, as the Optimus G, but will have a more modest 8-megapixel camera rather than the flagship's 13-megapixel shooter. Similarly in the past, Samsung gave the Galaxy Nexus a 5-megapixel camera and reserved the 8-megapixel sensor for its Galaxy S III. However, in Samsung's case, that made sense as the Galaxy Nexus launched and was announced in advance of Samsung's announcement of the Galaxy S III. With the case of the Nexus 4, that device, if it will get announced on October 29, will be announced after LG had announced the Optimus G so theoretically it should match the Optimus G's specs. Likely, the muted specs will help Google keep costs down as the Galaxy Nexus is one of the most competitively priced unlocked smartphone on the market today.
October, like September, is turning out to be a busy tech month with Microsoft announcing Windows 8 on October 26th, Apple readying its iPad Mini announcement, a Windows Phone 8 event at the end of the month, and now Google's rumored LG Nexus 4 launch. Manufacturers are likely leveraging the lucrative busy holiday shopping season and are making their announcements now.

As an Amazon Associate I earn from qualifying purchases.