Will NFC Simplify WiFi Logins at Local Cafes?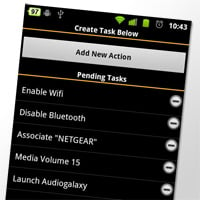 Free WiFi hotspots at local coffee shops are nothing new, and with Google phasing out QR codes in favor of NFC tags at local businesses, local merchants can provide additional utility to those with NFC-equipped smartphones and laptops. In addition to being the frequently talked about technology behind mobile wallets, NFC can initiate tasks that will help make it easier to launch a select set of actions, like logging into a public WiFi hotspot.
With QR codes, you're limited to a single task–scan the code and it may pull up a webpage or save a telephone number and address into the contact field–but with NFC tags, you can launch a set of actions. For instance, at a local coffee shop if you wave your phone over the NFC tag, that can trigger your phone to turn on the WiFi radio, enter in the WiFi hotspot's SSID and password information, and perhaps even pull up the coffee shop's webpage as the landing page for you. That way, you won't have to fumble with the on-screen keyboard and battle the auto-correction for strings of letters that make no sense to your mobile OS when you're entering in a password.
That concept is being explored in a project called NFC Task Launcher for Android.
Via: IntoMobile

This article may contain affiliate links. Click here for more details.