Will Quad-Core Exynos Power Meizu's MX Smartphone Arrive in May 2012?
Meizu's quad-core version of the company's Meizu MX smartphone is expected to arrive in May 2012 this year. Not much else is known about the quad-core version of the Meizu MX smartphone at this time, though there is speculation that Samsung's Exynos processor may be found in the quad-core iteration as the dual-core Exynos is powering today's dual-core MX smartphone.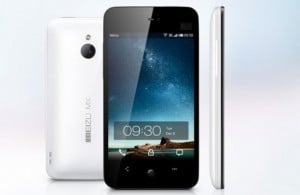 The company's quad-core MX smartphone was revealed as part of Meizu's aggressive road map earlier this year and it is expected that the quad-core MX will be among the first quad-core smartphones when released in May.
Quad-core devices are only beginning to make it to the market. Asus's Transformer Prime is the first quad-core mobile device to hit the market, though that device is a tablet rather than a smartphone. The Transformer Prime utilizes an ARM-based CPU from NVIDIA.
Via: Phamdroid

As an Amazon Associate I earn from qualifying purchases.