Will Samsung Introduce a Tablet With a Stylus at IFA?
Samsung's IFA unveiling may have been revealed prematurely as it is discovered that Samsung will be introducing three new products at the German trade show–a Galaxy Tab 7.7 slate, a Bada OS-powered Wave 3 smartphone, and an unknown device that goes by the Samsung Note moniker, as This is my next unfolded. At this point, no additional information is known about the Note, but the name does invoke a note-taking device and perhaps Samsung will be building a tablet with a stylus to compete against the new generation of HTC tablets, which have debuted or are debuting with digitizers.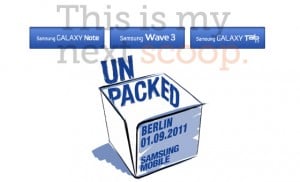 So why a stylus or digitizer? As the Note name may perhaps indicate, Samsung may want to deliver a product to Android tablet enthusiasts that would be conducive to writing and jotting quick notes, drawing, or doodling. The company has in the past released an optional capacitive stylus accessory for its Tab products, but those instruments still do not afford the same accuracy and control that an active digitizer gives, so perhaps Samsung is revamping its Tab line to introduce a product that would fall into such a category to be competitive against the HTC Puccini for AT&T that's launching as the HTC Jetstream 4G tablet, the HTC EVO View 4G for Sprint, and the WiFi-capable 7-inch HTC Flyer.
Additionally, with a Galaxy Tab 7.7 release, that device would be larger than Samsung's original Galaxy Tab 7-inch, so perhaps a more portable 5-7inch offering with a digitizer may make the cut for IFA.
Xavier will be live at IFA to cover news, so hopefully we'll have some answers soon, but for Windows Tablet PC enthusiasts, does another prospect of a note-taking active digitizer tablet excite you?

As an Amazon Associate I earn from qualifying purchases.