Will These Bendable, Stretchable Batteries Make It to to iWatch, Galaxy Watch?
With technologies maturing behind flexible OLED displays, bendable glass, and foldable batteries, it looks like the time is ripe for wearable computing form factors such as the much rumored Apple iWatch or the Samsung Altius Galaxy Watch. The latest battery innovation is for a new Lithium ion battery that not only can fold upon itself–which is great if you need to shape the battery into the wrist strap for a watch concept–but the batteries can bend and stretch. With the elasticity factor, these batteries should prove to be more resilience in wearable computing tech as manufacturers can now concern themselves less with the possibility of leaking batteries that not only can cause fire or explode, but is harmful to the environment.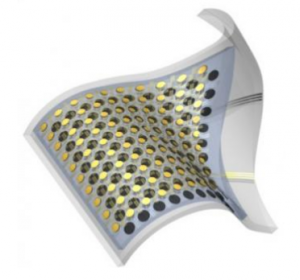 According to a report on Slashgear, the battery technology was developed by physical chemist John Rogers and mechanical engineer Yonggang Huang. The elastic properties of this battery technology make it the perfect fit for new devices with novel form factors. Rather than bulky square or cylindrical battery cells that we're accustomed to seeing today, these new batteries can be stretched and molded over surfaces to contour to the device or the wearer in the case of a wrist watch.
These batteries will also support wireless charging capabilities, which is now beginning to gain mainstream traction thanks to the popularity of the Nokia Lumia 920 and the Google Nexus 4. The batteries are rechargeable and will provide up to 8 or 9 hours of usage on a single charge. Additionally, the batteries can be stretched to about 300 percent of its normal size without affecting battery performance or functionality. Slashgear reports that the way the battery works is that it is made into a serpentine shape that gives it the ability to stretch:
The battery works via a process called "ordered unraveling," which involves wavy interconnects that form a "S" shape, with a smaller "S" within the larger one. When the battery is stretched, the wavy pattern is pulled taunt and smooth, and then the secondary S is also pulled taunt and smooth, giving the battery its stretching ability.
These batteries can be a good fit for sensors on shoes that monitor the performance of athletes, as another example, or even wrist-made accessories like the Nike+ Fuelband or even the Jawbone Up.