Will We See a $200 Android Notebook with Intel Atom on Monday?
Intel is set to announce its next-generation Atom processor, code named Bay Trail and based on the Silvermont architecture, come this Monday at its Santa Clara, California headquarters. The news may open up the tablet and computing market to new devices with a price tag as low as $200.
Citing the usual sources familiar with the matter, PC World is reporting that the announcement could as early as Monday and pave way for a new generation of low-cost performance systems. This would be the first major overhaul of the budget oriented Atom platform since its debut in 2008.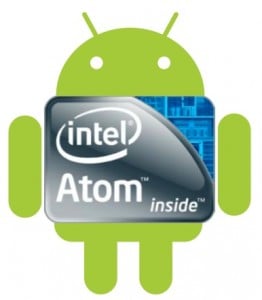 With Bay Trail, Intel had hinted in the past that we could potentially see Windows slate as low as $200. Given speculations that Microsoft may be bringing Windows 8 down to smaller form factors, including allowing hardware partners to create tablets with 7- or 8-inch display, the $200 price range may not be far fetched and could help Microsoft increase its market share in the tablet space that's being dominated by Apple with Google's Android OS filling in the second place slot thanks to cheap $200 tablets like the Nexus 7 that's based off of rival ARM Holdings' architecture.
While Bay Trail was originally planned for tablets, its use could be expanded to other designs, including laptops, convertibles, and hybrid designs.
And while Windows is aiming to break into the tablet market, rival Google may be trying to break into the netbook or notebook market with Bay Trail. The processor could be used to introduce a notebook that's $200-500 in price.
In the past, Google executives have made claims that Android was for touchscreens and tablets while Chrome OS was designed for the netbook, but in recent months we've been seeing some obscuring of the lines. Google's branded Chromebook Pixel is gaining a high resolution touchscreen and more recently we've seen OS code that may indicate Google bringing the OS to tablets. And the most successful Android netbook with a clamshell form factor may be Asus' hybrid Transformer series, which popularized the idea of a slate that can dock with a keyboard to create a netbook.
It is likely that the cheaper laptop and tablet models will come with Android. Intel is working with Google on the development of driver packages for the OS, and some of Intel's existing Atom chips are already compatible with Android 4.2.
Intel has made some bold performance claims for its Bay Trail architecture in the past, and this should give us very capable systems at an affordable price tag. The problem today with Windows tablets running on Intel's current Atom processor is that though prices are more affordable than devices equipped with Intel's performance Core i-Series, Atom devices lacked the power to do heavy tasks and suffered from lags.
In order to beef up performance, a new 22-nanometer process will be used as well as a design with stacked transistors. Intel will be migrating to even smaller 14-nanometer architecture later this year. Current Atom chips are based on a larger 32-nanometer process.

As an Amazon Associate I earn from qualifying purchases.