Win a ThinkPad Tablet from Lenovo and GBM
Have you been craving a new tablet? Perhaps you want an Android tablet that you can use at work now that your kid or significant other has commandeered your iPad to play Angry Birds. If so, you'll want to enter for a chance to win the ThinkPad Tablet from Lenovo.
This tablet can play Angry Birds, but it is also capable of much more. Whether you're a student, business user or just plan on keeping the tablet on your couch you should enter this simple contest.
Lenovo was the official sponsor of Notebooks.com and GottaBeMobile for CES 2012, and as part of that sponsorship we have a collection of gear to give away. There's still a day to enter to win a ThinkPad X220 and an IdeaPad U400, but now you have a chance to win one of two ThinkPad Tablets. You can enter to win the other ThinkPad Tablet at Notebooks.com.
Lenovo announced several new notebooks and tablets at CES 2012, including the IdeaPad Yoga which took home Best of Show at Notebooks.com. We invite you to check out the new Lenovo notebooks and tablets and tell us which one you like best.
The Prize: ThinkPad Tablet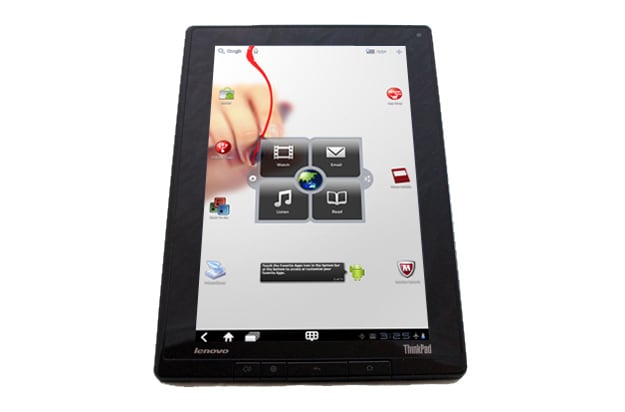 The ThinkPad Tablet is a business ready tablet that can be paired with a portfolio that adds a ThinkPad keyboard to the mix. This tablet runs Android and packs in a subscription to Absolute tracking software in the event your tablet is stolen. You can also get a stylus to take notes and increase your productivity.
Check out our ThinkPad Tablet Review and ThinkPad Tablet Stylus Review.
How to Enter:
Leave a comment below telling us what your favorite new Lenovo notebook or tablet is. You can pick a series or a specific model. Simple as that.
Contest Rules:
The contest is open to U.S. Residents 18 and over. Contest void where prohibited by law, please check local regulations before entering. The contest will close on Wednesday January 25th at 11:59 PM Pacific. You may only enter once per contest, entering multiple times will disqualify you from the contest.

As an Amazon Associate I earn from qualifying purchases.