Windows 10 Setup Guide: What You Should Do to Your New PC First
It doesn't get as much media attention as it once did, but the PC is still an amazing device. Conceived with both productivity and entertainment in mind, they are how the world gets work done. Before college starts every year millions buy a new PC. When a business wants to enable their employees to dream up new ideas and manage everyday tasks, they buy them a PC.
To let Microsoft tell it, every activity you can do on a PC is improved by its Windows 10 operating system. Whether that's true or not probably depends on what you use your device for. What isn't up for debate is the Windows ecosystem's size. People may talk or read on their Android phone or iPhone, but they're still buying Windows 10 PCs in droves.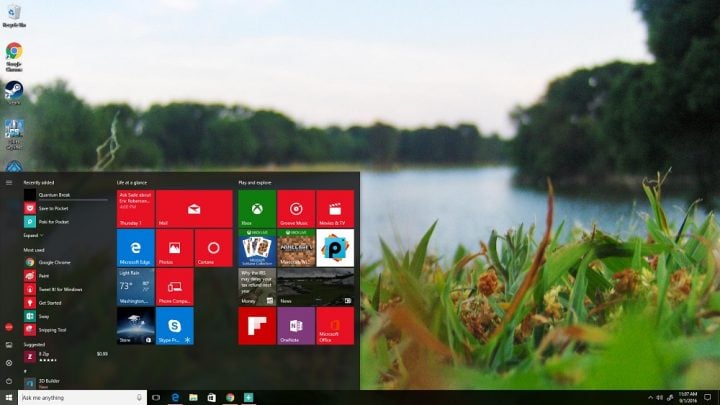 As it's added features, Microsoft has put in some effort towards making PCs running the operating system easy to get set up with. Connecting to a network is easy thanks to support for routers with WPS technology. Thanks to Microsoft Account, the password on your PC can be the same one that you use on the web. Programs aren't any easier to corral and get installed, but the Windows Store makes getting ahold of new or updated modern apps easier.
Read: Windows 10 Notebooks, Tablets: Finding the Best For You
You've just gotten a new Windows 10 PC and you're ready to get going. Connect it to a power outlet and let's get through the Windows 10 Setup process together.
Windows 10 Setup Guide: Add and Use a Microsoft Account
When you first start up your Windows 10 PC, you'll get asked a series of questions. It's best to start thinking about your answer to those questions immediately. First, Microsoft will ask you to agree to its Terms of Service, which isn't really something that you can get around. Then the system will ask you to connect it to a wireless or wired network.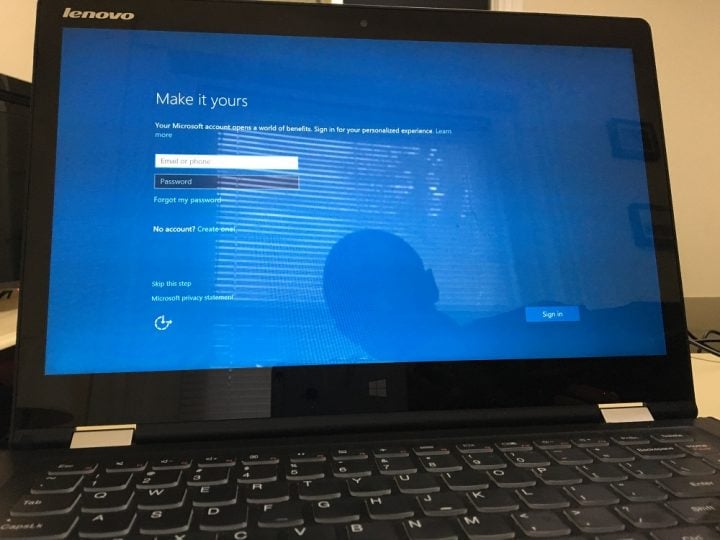 Next it'll ask you about your Microsoft Account. Specifically, it'll want to know if you have one already or if you would like to create one. If you're really planning to not use Microsoft's services, you can skip the Microsoft Account altogether, but I really do recommend it for most people. Besides providing just one password across your Microsoft experience, it'll unlock some of the operating system's built-in apps and services. You can't use the Xbox app unless you've supplied a Microsoft Account. You won't be able to sync to OneDrive or shop in the Windows Store without one either. Cortana, the personal assistant built into Windows 10 and available on iPhone and Android, requires a Microsoft Account.
Read: How to Add an Account to Windows 10
If you already have a Microsoft Account, be sure to provide it now. If you decide to not add one, that's ok too. You can do that later.
Windows 10 Setup Guide: Add Things to Your Start Experience
Once you're finished with the prompts, the system will take some time checking Microsoft servers for essential updates and getting your PC ready. This could take an extended period of time. It's probably better if you find some other tasks to do in the meantime.
Once it's done doing all that, you're dumped into what should be a familiar experience: the Desktop. When you tap or click on the Windows button in your taskbar, the new Start experience will appear.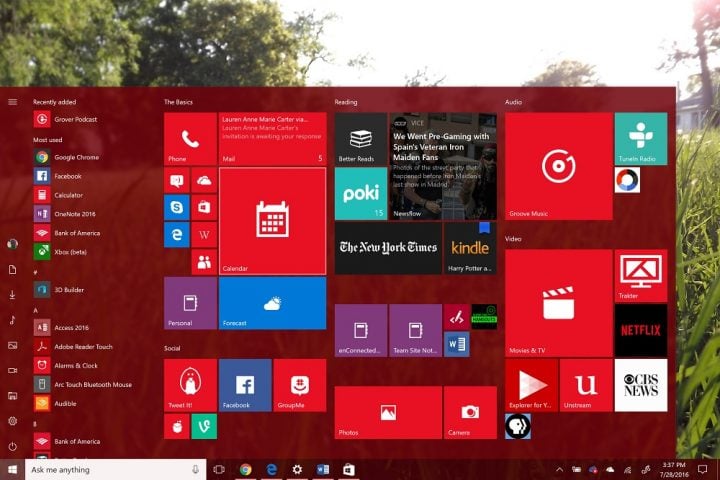 Whether this entire experience is fullscreen or only takes up a portion of your display, depends on what type of device you have. Tablet Mode makes the entire Start experience fullscreen and makes every app fullscreen. This is only turned on if your device doesn't have a keyboard or mouse plugged in. You can decide which kind of Start experience from the Settings app under Personalization and Start.
Windows 10 Setup Guide: Install Your Programs
Depending on where you purchased your Windows 10 PC, you may have some programs installed on your Windows PC that you don't want. Norton and McAfee installs will nag you almost immediately after login. If you want to keep them around, do. You don't have to though, Windows 10 includes its own virus scanning technology. It's called Windows Defender.
It's time to start installing your essential programs, things like Microsoft Office 2016, Chrome and iTunes. Be sure to set your favorite programs as the default programs to open in each of their categories. You can do that from the Settings app under System and Default Apps.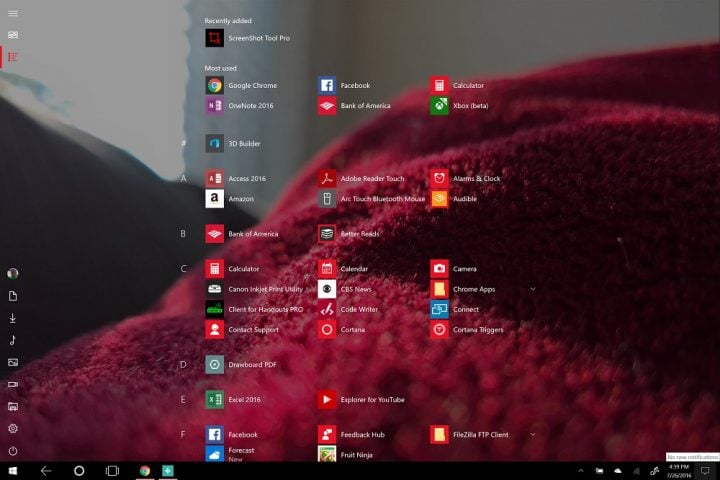 If you have the discs for any essential programs, begin installing them now. Otherwise, open Microsoft's Edge web browser and start downloading what you'll need. You'll want to get all of your essentials installed and configured now, because later you'll want to create a system image with them ready to go. Be sure to download these programs from trusted sorts like the makers themselves. Don't download them from a third-party website.
Don't forget to look for some of your favorite classic Windows programs in the Start experience. Windows Media Player and Internet Explorer shortcuts are in the Windows Accessories folder. Microsoft has replaced them both. Windows Media Center has been discontinued.
Read: Windows 10 Upgrade on an Old PC: What You Should Know
Open the Store app for access to Microsoft's stable of modern Windows apps, games and more. Any content that you've ever purchased from Microsoft on your Microsoft Account, should be available in the store. For example, videos purchased on Xbox, are available in the Windows Store and the Movies & TV app that's installed on your machine already.
Windows 10 Setup Guide: Creating a Restore Media & Setting Up Back Ups
The very last thing that you want to do is create what's called a System Image of your Windows 10 PC.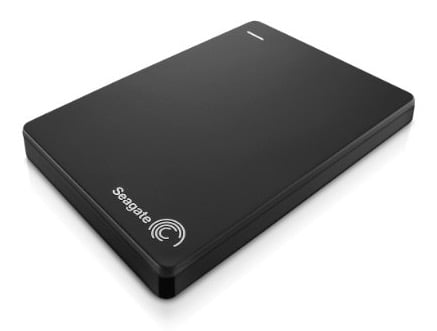 A System Image is a snapshot of what's on your computer at the moment it's created. We're talking every file, every program and every app. System Images are great for getting your PC working again in the event that something happens and you need to delete everything on it. Windows 10 includes options for restoring your PC,  but those options either mean losing everything that's installed, or keeping your files and having to download all of your programs ago.
Read: How to Make a Full Backup of Your Windows 10 & Windows 8 PC
Good luck with your Windows 10 setup.

As an Amazon Associate I earn from qualifying purchases.