Windows Hello: How to Login to Windows 10 with Your Finger
Microsoft's Windows 10 operating system included a ton of new features and almost none of them required users to purchase a new device. That being said, Windows Hello isn't one of the features available to everyone that takes advantage of the free Windows 10 Upgrade. At least, not without purchasing a new device or an accessory.
Windows Hello lets Windows 10 users configure their notebook, desktop, tablet or 2-in-1 to skip their password. Instead of doing the log in with a long password, users bypass their password and login with their fingerprint or their eyes. It sounds rather basic given that Apple devices have offered Touch ID for years, but it's a huge leap forward for Windows. For context, it wasn't until Windows 8 device owners gained the ability to also use a passcode on their device.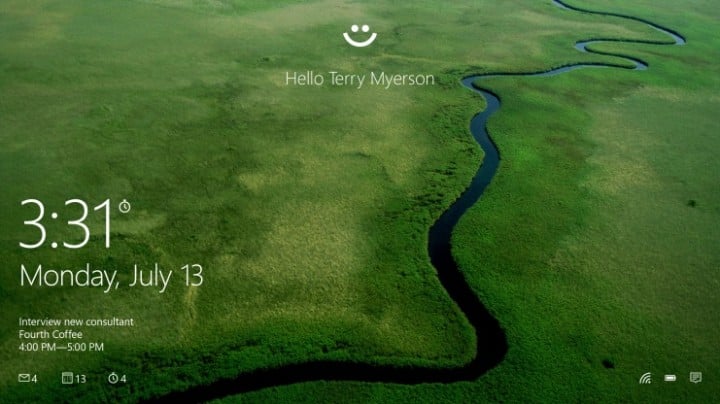 Read: Windows 10 Review – A Love Affair
Here's how to login to Windows 10 with your finger.
Before We Begin
Before you get started, there are some things that you need to check. Like logging in with your eyes, signing in with your finger and Windows Hello requires your device to have specific hardware. Your notebook, desktop, tablet or 2-in-1 will need a fingerprint reader, in this case.
Consult the manuals and things included with your Windows device, look for anything that mentions a fingerprint reader. Your device doesn't need to have come with Windows 10 for Windows Hello to work properly, the feature supports the free Windows 10 upgrade too.
If your device doesn't have a fingerprint reader built-in, that's ok too. Smartly, Windows Hello supports add-on fingerprint reader accessories.
Elkton, a company that offers its goods up on Amazon, sports Windows Hello compatible accessories for desktops and mobile devices. They're pretty highly regarded by Windows 10 users too, it seems.
Focusing on the requirements of the software for a second, Windows Hello requires that your device have a Pincode as a backup plan. This PIN code is in the event you can't login with Windows Hello for whatever reason. In turn, enabling a PIN Code requires that you have a password on your Microsoft Account. During the setup process for Windows Hello for Windows 10, you will be prompted to create both.
Let's Begin
Start by pressing the Windows Key on your keyboard or tapping on the Windows button in the Taskbar. This will open the Start Menu or Start Screen depending on whether you're in Tablet Mode or not.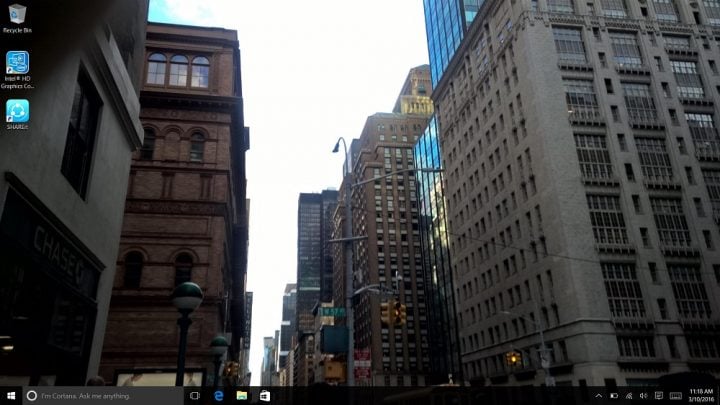 Tap or click on the option for Settings. In the Start Menu, it's in the bottom-left corner. The touch-friendly Start Screen requires users to tap the menu icon in the top-left corner of their screen before they see the Settings button.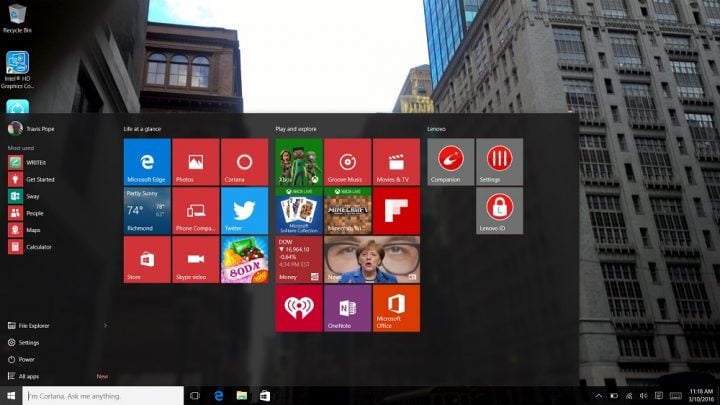 Welcome to the Settings app. Tap or click on Accounts. It's the option in the top row on the far right.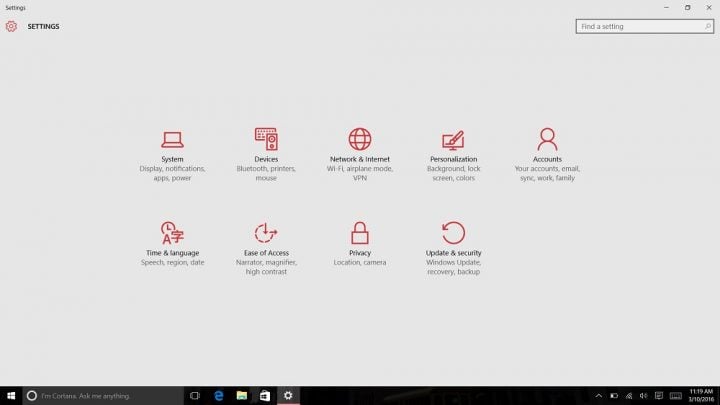 In the Accounts area of the settings app you can create a Microsoft Account, add a Microsoft Account and modify your existing Microsoft Account. Click on the Sign-in Options menu item on the left side of the Settings app.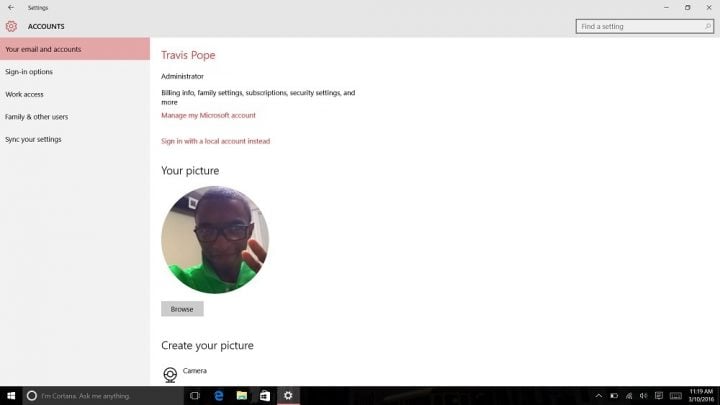 Inside the Sign-In Options area, scroll down until you see an option for Windows Hello. Note that the option should only surface if you have a capable fingerprint reader or camera connected to your device. If you don't see the option, your fingerprint reader or camera isn't compatible with the feature for whatever reason. Tap or click on Set up underneath Fingerprint.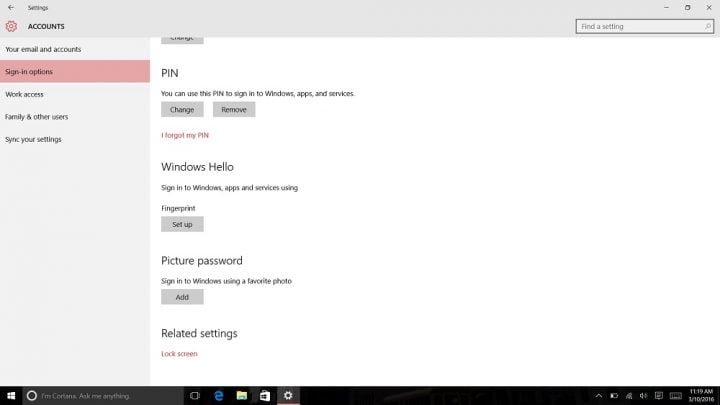 Tap or click on Get Started.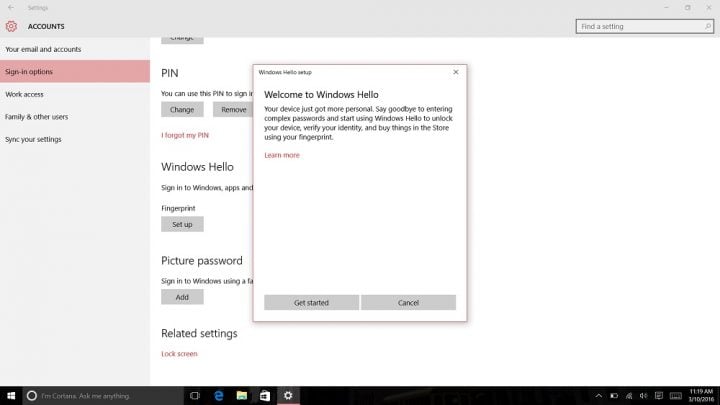 Enter your Pincode now. If you don't have one created yet, you'll be prompted to do so now.
For Windows Hello to learn your fingerprint, you'll need to repeatedly press your finger on your fingerprint reader.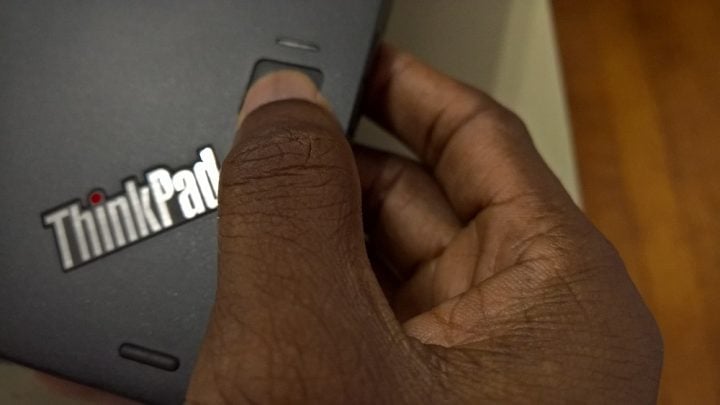 As you do so, watch the meter on your screen to make sure that you're teaching it your finger correctly and making progress.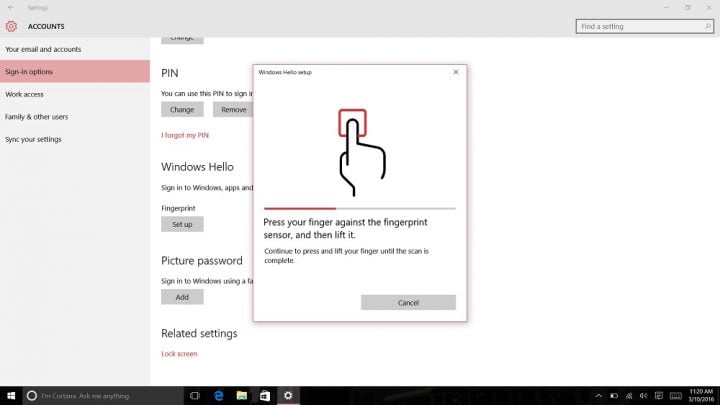 Windows Hello requires that you teach it one fingerprint, but you can add more than one if your fingerprint reader supports it. If yours does, tap or click on the Add another button after you've enter your first finger.
For the best experience, it's a good idea to go with the index finger on whatever your dominant hand is. Left-handed people should use the fingers on their left hand, for example. Right handed users should use their right hand.
Microsoft says that the fingerprint information that you provide to your device is secure and not provided to its servers or synced with your Microsoft Accounts. As such, you'll need to setup Windows Hello again on any PC that has the necessary hardware.
Besides skipping your lock screen, Windows 10 uses Windows Hello to eliminate passwords whenever possible. The Windows Store will ask you to authorize your account with your fingerprint if you've set up Windows Hello. Unfortunately, apps downloaded through the Windows Store don't support the feature yet.