Windows Phone 7 UI demo makes iPhone look like a dinosaur
That is exactly what Noah Kravitz from Phonedog.com tweeted after he was given a tour of the OS at Mobilize last week. I immediately retweeted it myself and so did 37 others. He has also posted a pretty good demo of Windows Phone. Noah is a great guy and I respect his opinions. I have to be honest though, it was great to see him excited about Windows Phone 7.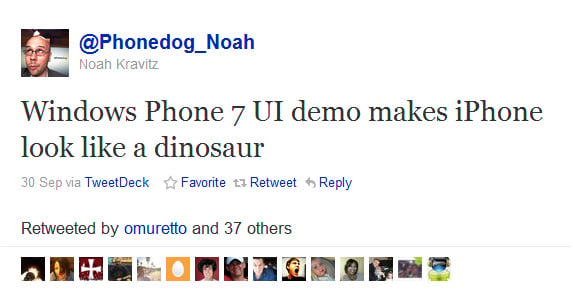 Check out his video and make sure to show him some love in the comments or over at PhoneDog.
I had a chance to ask Noah a couple questions about his time with Windows Phone 7.
Chris: On the day you made tweeted this, now famous tweet, when did you actually shoot the tweet off? Right after the demo?
Noah Kravitz: Yes, right after.
Chris: What was the #1 thing you liked about Windows Phone 7 from your hands on at Mobilize?
Noah Kravitz: The typography.
Chris: What didn't you like?
Noah Kravitz: No Mac support.
Chris: If you recall, I spent time with you explaining how cool Zune Pass is a while back. What do you think about being able to sync Zune Pass content with Windows Phone 7 devices?
Noah Kravitz: Subscription music services are more and more becoming a force majeur. Zune Pass has long been near the head of this class. I just wish it worked with macs.
Thanks for the time Noah!
So folks, what do you think of the Windows Phone 7 UI?