Windows Phone, iOS, Android: Mobile OSes and Me!
Today a reader commented on "Moving from Android to Windows Phone  7 Part 6: The Verdict", an article I posted last fall when I switched from the Motorola Atrix as my personal daily driver to the HTC Titan. The comment asked me why I had returned back to the Titan and Windows Phone after I had announced that I was going to stick with Android. I started typing and before long, I realized that my reply was way too long to be a comment and decided to turn it into a post here on GBM.
The end result of the Windows Phone 7 series I wrote had me return to Android again with the purchase of the Samsung Galaxy S II Skyrocket. I then switched back to the HTC Titan for a couple of weeks and returned the Skyrocket, and finally back to Android again with my purchase of the Samsung Galaxy Nexus on Verizon. Since I updated that article in late November, I have been using the Galaxy Nexus as my personal phone and the HTC Titan on and off as my work phone.
Chris, just curious to know which features of WP7/Titan it was that caused you to go back?  I'm keeping an eye on WP7.  There are some aspects I really like about it – primarily the speed and smoothness of the UI (plus being a C# dev I'm really hoping it takes off so I can move into the mobile arena and stick with C# though Xamarin lets you do cross platform but I'm rambling).  I think after a couple more major updates it will definitely be ready to compete with Android/iOS.  I kind of like the fact that MS is behind in the market.  It's making them pull out all the stops instead of piece-mealing out features like Apple does.  But again would really be interested to know what you missed about the Titan/WP7, thanks!
Here's the reply that got too big to be a reply…
Back in late November when I made this post, It was the OS and my desire to go back to my WinMo roots, but not too long after I went back to using the Titan, I got the Galaxy Nexus on Verizon. I ended up using the Nexus (and still do) as my personal daily driver and my Titan as my work phone (on/off) for the last few months.
I have come to the conclusion, which in my heart I have known all the time, that iOS, Android, and Windows Phone are all three solid mobile operating systems and I could use any of them daily without many complaints. Being a Verizon customer now really limits my Windows Phone choices, obviously. The remaining issues I have with Windows Phone are still app selection and navigation. Navigation is being handled by HTC and Nokia with their own navigation solutions and the marketplace is getting better daily.
Windows Phone
What keeps drawing me back to Windows Phone is the unique UI, my inner passion (that has become easier to overcome lately) for Windows Mobile/Phone, and the fact that so many readers from when I was relevant online still expect me to be a cheerleader for Windows Phone. The last reason is not a cool reason at all, I should choose what I use based on what I want and not what others want to hear me talk about. I am human though and being human throws a real element into the mix and I feel more connected to Windows Mobile/Phone readers. That is one of the reasons I have now quit Twitter, to avoid the pressure. It's not the only reason, but it had some input into my decision. Many of my best friends are a result of my many years as a Microsoft MVP and interacting with them daily makes it difficult to stay away from Windows Phone. I see how excited and passionate they still are and it makes me want to feel that passion again.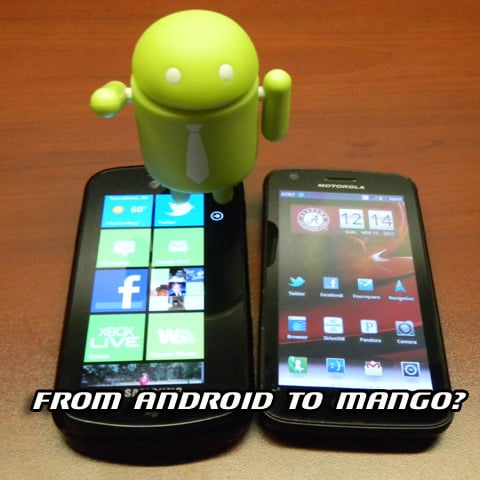 Android
What draws me to Android the most is the "freebies". Yes, free stuff. Free, high quality navigation, free email that works best on the mobile OS it's company created, and all the other goodies that Google has put on our mobile phones. Sure, many of Google's best gifts to us are available on other platforms, but Gmail, for instance, is so much better on Android. Google Maps Navigation is perfect for my needs and free. I can ignore fragmentation issues because they really don't affect me much. I don't care that Google has lost control of their own mobile OS like some pundits suggest. I am not a Fandroid by any means. Just like a jailbroken iPhone, Android is so customizable that it makes tweaking fun. The new ROM and layout I put together over this past weekend brought me joy that I haven't had since I spent half a year as an iPhone user after Microsoft disappointed me with the lipstick on pig version of Windows Mobile, WM6.5.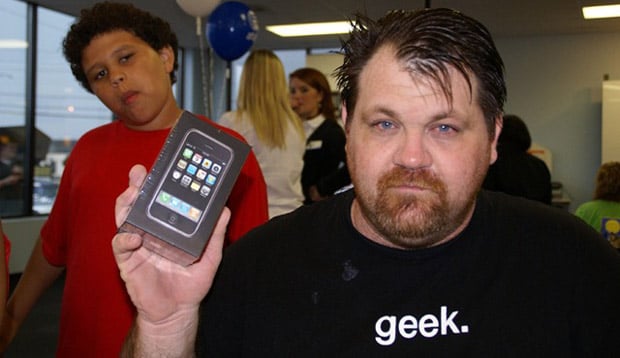 iOS
Apple, while I probably own more iOS devices that most iSheep out there, I dislike mainly for childish reasons. I respect the company, I respect the OS and I respect the vision Jobs had, but I've lived through an era where Apple users were jackasses to others. Apple users put themselves up on a level and talked down to others with some self-appointed entitlement of being better just because they could afford overpriced computers. Many of these people were friends of mine and most this opinion was formed well before I stood in line with those same Apple fans for the original iPhone. There, I said it, it's personal. On an objective level, I think iOS is due for a major refresh and feel that Apple should look out here on blogs to see what the jailbreak community is doing with their OS. Some of the themers that provide themes for jailbroken devices through Cydia are doing some awesome work and Apple should take notice. iOS is good enough for my wife and daughter and was good enough for me for a period of time.
Others
I started just like most of us with a Palm device back in the day. It was ok, but when I first laid eyes on Pocket PC, I fell in love. I couldn't afford to buy a $500+ Pocket PC, but when Dell released the Axim X5, I was all over it and that's where Aximsite was born. During the Pocket PC and Windows Mobile days, I tried other OSes but none could ever overcome my inner WinFanBoy. I always saw earlier Blackberry OS as more complicated to be usable. Palm's OS after the hardware/software split never enticed me at all. WebOS got me excited, but unfortunately it was launched during the dark year of iOS for me. Nokia has always had some great hardware, including the camera of the N95, but I always felt that Symbian was clunky. Maybe I was misguided by blind devotion to an OS that I had loved so much earlier that I never gave others a fair shake, but that's all water under the bridge now.
While I am still using the Galaxy Nexus and I do agree with past commentors that it's still an awesome phone, I am still on the look out for something new. I really want to grab the HTC One X and the Nokia Lumia 900, but I don't see this happening. Unfortunately, I am past the days where I generated enough income with my content to afford dropping $600 or more for an unlocked phone off contact three or four times a year just because I wanted it. In those days, 70% of the hot phones I got were loaners from PR agencies, 20% were purchased by myself, and 10% were gifts from OEMs, Carriers, and Microsoft. I also gave away over 100 smart phones during this time, including 5 iPhones I purchased. Those were some fun days, but now I have to think and make purchase decisions more like a regular consumer.
There you have it, how the mind of a twisted, past his prime, indecisive, mobile addict sees the mobile OS race.
Fred G. Vader, thanks for sparking a long comment that turned into a post.

As an Amazon Associate I earn from qualifying purchases.