Windows Phone Twitter Client – Rowi 2.0 Beta Preview [Video]
Yesterday was Twitter's 6th Anniversary and KT put together a great list of awesome Twitter clients to honor this. The lone Windows Phone Representative was Rowi.
As you might know already, I have been doing a ton of Windows Phone Twitter client testing and videos. Back in November, I took a brief look at a handful of clients and I revisited the search last month and then did individual videos of my Top 3 Clients a few days later. Rowi was the winner by a slim margin. Needless to say, I think I have done more video showing off Twitter Clients for Windows Phone than actual device videos in the last few months.
Late last night, I received an updated version of Rowi from the developers. This was the 2.0 beta version that adds some neat new features to an already great app. I installed it an had a chance to give it a workout today. The current version in the Marketplace is 1.5 and sells for $2.99, which I might add is well worth the price. This version is not yet available and I don't have an estimated date yet. The following video shows off some of the cool new features in more detail than you probably want, but here it is anyhow:
Note: In the video I mentioned that the Messages (DMs) were not threaded, they are. I got confused with another app. I don't like showing this column in videos based on personal nature of DMs.
In the screenshots below you might notice that some have a dark background and some a light background. Rowi uses the phones theme/color in its own display.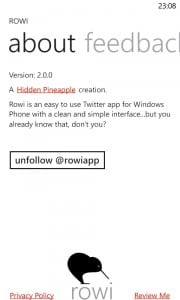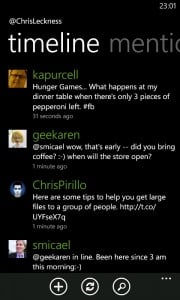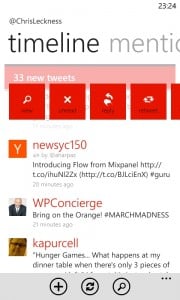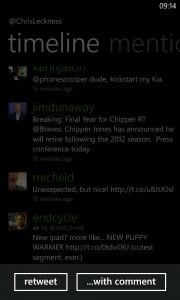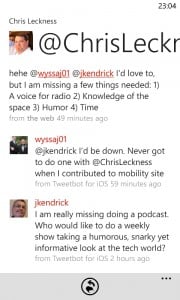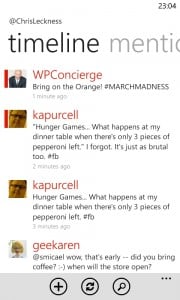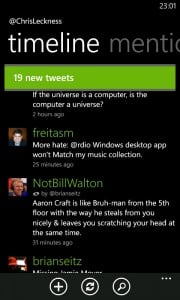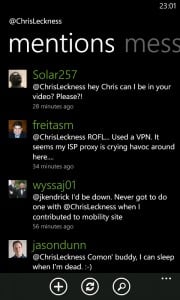 So far, I love the changes. Adding options to allow the user to change some of the updates they've made back to the way they are used to is a great touch. For instance, the way you interact with individual tweets. Imagine the shock when someone that has been using Rowi for a while taps on a tweet expecting to head to the individual tweet view and they get the menu. If they like the way it was prior to 2.0, they can choose to change it back to the method they are used to. The "Now Playing" feature is a welcome addition. The metro style menu is nice as well but instead of scrolling left to right, I am thinking that stacking the tile options in 2 rows might look nicer. Maybe? Rowi was good before, now it's better.
Links