Best Wireless Headphones & Earbuds
Wireless headphones let you walk, work out and relax without getting tangled up in cords and constantly losing your headphones by snagging the wire on something.
Here are the best wireless headphones you can buy. These amazing Bluetooth headphones connect to your iPhone, iPad or Android without the need to plug anything in.
The iPhone 7 has no headphone jack, which means you need to use wireless headphones or a Lightning to 3.5mm adapter. We prefer to use a pair of the best Bluetooth headphones will help you listen to your music and take calls on the go.
Bluetooth headphones have come a long way in the last several years, and while audiophiles may not hear every breath Prince takes, the overall sound quality is very good. We're only going to share wireless headphones that deliver quality sound. That doesn't mean you need to break the bank, there are many great wireless headphones and earbuds that deliver good sound at their price range.
All the wireless headphones we include in this roundup deliver great battery life. Many will last you a week of moderate use or busy work day of use — with options that boast 20 to 24 hours of battery life.
| Model | Price | Type | Battery Life | 3.5mm Jack | 2 Devices at Once | Noise Cancelling |
| --- | --- | --- | --- | --- | --- | --- |
| Bose QC35 | $349 | Over Ear | 20 hours | Yes | Yes | Active |
| Plantronics BackBeat Pro | $158 | Over Ear | 24 hours | Yes | Yes | Active |
| Sennheiser Momentum 2.0 Wireless | $389 | Over Ear | 22 hours | Yes | Yes | Active |
| Jabra Move Wireless | $69 | On Ear | 8 hours | Yes | No | Passive |
| Plantronics BackBeat Sense | $154 | On Ear | 18 hours | Yes | Yes | Passsive |
| Jaybird X2 | $149 | Sealed Earbuds | 8 hours | No | Yes | Passsive Sealed |
| Plantronics BackBeat Fit | $75 | Open Earbuds | 8 hours | No | Yes | None |
Most of these wireless headphones connect to two devices at once, so you can connect to an iPad and an iPhone or your work phone and your Android phone. You can sort by price and features.
You will find over the ear wireless headphones, on the ear wireless headphones and in ear wireless headphones on the list. Over the ear headphones are more comfortable for long sessions and can block more noise. On ear headphones are often lighter and allow for better
Apple will offer AirPods later this year and new Beats headphones with a special W1 chip that will pair the headphones automatically with your iPhone.
The overall comfort, sound quality, range and price all factor into our picks for the best wireless headphones of 2016.
Bose QC35 Wireless Noise Cancelling Headphones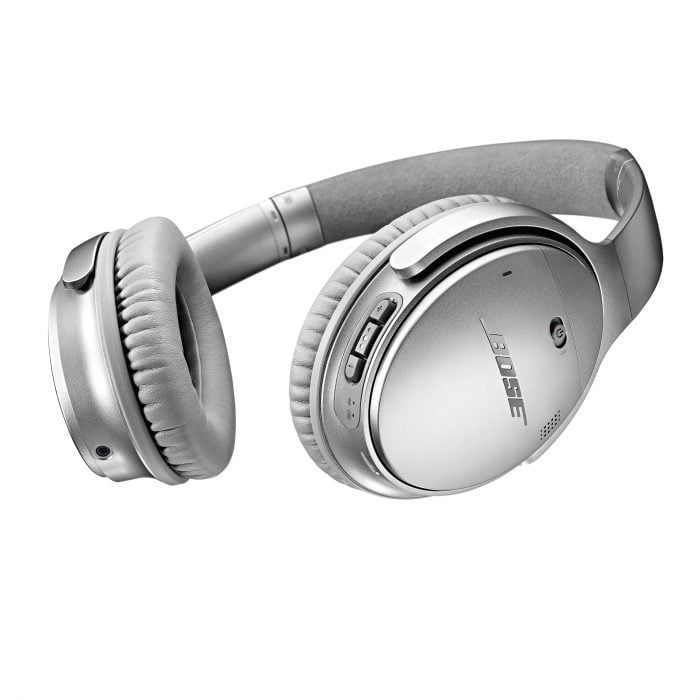 Bose sets the standard for noise cancelling headphones, delivering an instant reprieve from the noise and distractions at home, in the office and on an airplane. Now, the Bose QC35 bluetooth headphones offer this all without the need to plug a wire into your iPhone or Android smartphone. Sound quality is impressive and the range is great.
The Bose QC35 headphones are comfortable, block out distracting noises better than any other headset on the market, deliver 20 hour battery life and an option to use wired after the battery dies. Excellent call quality even in windy or noisy environments.
$349 at Amazon in Black and Silver