With Audi, Google Preps Android to Battle Apple's Siri in the Car
Google has formed an alliance between chip-maker NVIDIA and automaker Audi to bring Android into the car. The vehicle is now becoming a hot new battleground where Google's mobile Android operating system will face off with rival Apple's iOS.
According to the Wall Street Journal, Google and Audi will announce the new partnership to bring Android into Audi's infotainment system in early January at the Consumer Electronics Show. The announcement may include partnerships with other automakers.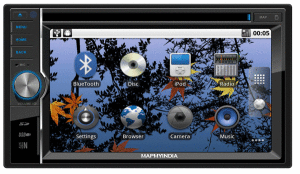 Though Android has appeared in various third-party aftermarket dash systems, this will be Google's first official foray into the car through its popular OS that powers smartphones and tablets. This would also signal that Google will be ready to battle Apple in the new key and emerging auto space where Siri Eyes Free and iOS in the Car have both garnered partnerships with BMW, Mercedes, General Motors, and Honda among other car companies.
Bringing a mobile OS into the car would enrich the in-vehicle experience by allowing consumers to bring with them their favorite apps for music, messaging, navigation, and a connected experience to get traffic, weather, and other alerts. The solution would also help keep roads safer as drivers won't need to look at the smaller display of a phone and voice command applications, like Google Now and Google Search, could help alleviate distracted driving.
Google's efforts would require Android to be a fixture inside the car. On the other hand, Apple's initiative in the car space is more limited. iOS in the Car doesn't actually reside in the car. Rather, it's your smartphone and the iPhone's screen would be mirrored, either wirelessly or via a Lightning cable, to the car's in-dash display.
So as Google attempts to make Android a more native installation in the car, we can begin to see more powerful chips and processors enter the car as well to keep everything fast, fluid, and moving. When car shoppers are looking at their next car of the future, having '8 cylinders' can mean two things–the engine as well as the octa-core CPUs that may be powering Android under the hood.