WordPress For Android 2.0 App Review
Yesterday WordPress released version 2.0 of their app for Android. The new version brings welcome functionality and non-suckiness to an app that has been only semi-useful in the past.
Aside from updates to the UI, including a new dashboard, users can now edit posts in rich text mode. There's better support for media — inline images! — and Post Formats.
Is the WordPress app finally good enough for real blogging on the go? Read on to find out.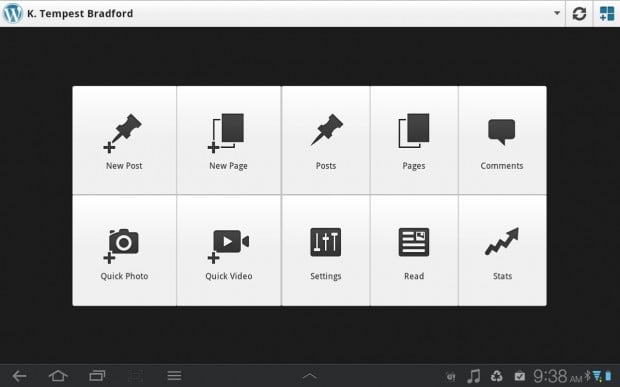 The WordPress dashboard is now icon based and arranged in blocks that resonate nicely with the look of Android 4.0. It also makes WP seem a bit more like Tumblr, especially with the Quick Photo and Quick Video options (more on those later). I like that it puts everything users need right up front.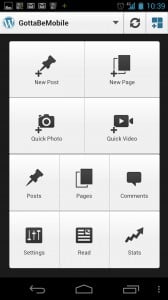 This version is designed to work on both small screens and large. On tablet's you'll see a slightly different arrangement to the UI — one that takes advantage of the extra pixels instead of just expanding to fill the space.
On the New Post screen everything is arranged logically. Here the app doesn't try to emulate the desktop interface too much, instead going for the simple. Thumbs up to that. Even on tablets the screen might get too busy if you tried to make it look more like the web.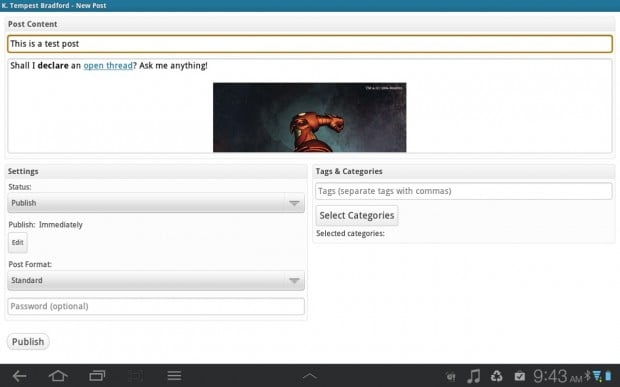 The app gives access to all the basic posting functions, including post status, format, privacy, tags and categories. And now it also includes rich text editing. It's not complete WYSIWYG, but close enough for most users. Add italics, bold, underline, strikethrough, links, blockquotes, even the More tag with one tap instead of having to fuss with HTML.
Some formatting options aren't available, such as one click bulleted or numbered lists. You can still include HTML for those elements, they just won't show up as formatted.
Adding media to posts is much improved — now it's possible to place images and video inline without having to know HTML. With images users can choose alignment and width (WP auto-resizes when it uploads) plus add a caption and change the title. Choose photos and video either from the device's gallery or take a new one right from the app.
The Quick Photo/Video posts put you right into the camera app so you can quickly snap a shot or record a video and have it in a post within minutes.
Unfortunately, if you have fancy plugins their options won't show up here. That makes sense, though it is a bummer for people who reply on plugins for their website's operation. This covers most professional bloggers. It's still useful for quick blogging in a pinch and even post editing.
I opened a few posts from our blog that had been created via the web interface, made minor tweaks, then saved. The app didn't mess with the original formatting or settings/metadata from other plugins.
The one thing the WordPress app has always been useful for is comment management (as long as you're using WP's comments and not a third party). You can still moderate, delete, and mark as spam, both individually or in bulk.
The rest of the settings remain as before. I obsessively check the stats on my blog, so I'm glad to see that remains. The Settings aren't very robust, but the app doesn't need too many.
Just as before, it works with both self-hosted WP installs or blogs hosted at WordPress.com.
Overall, WordPress did an excellent job with this update. They solved many of the problems of previous versions and made the app viable for real blogging. It's still not a tool for WP power users who need a ton of plugins, but even that crowd will appreciate that they can edit and update posts without having to worry about messing them up.
The only thing that concerns me is that the app has crashed a couple of times on me already. Brad Linder of Mobiputing also experienced the same thing. Save your work often if you're going to use it. And report every one to encourage the devs to work on stability.
WordPress for Android 2.0 is available for free on the Android Market for devices running Android 2.1 or above.