Would You Buy a Newspaper-Subsidized Android Tablet?
With the newspaper industry struggling in the face of digital content, two Philadelphia dailies are taking on the motto "if you can't beat 'em, join 'em." According to AdWeek, the Philadelphia Inquirer and Philly's Daily News are planning to offer discounted Android tablets that are bundled with newspaper content.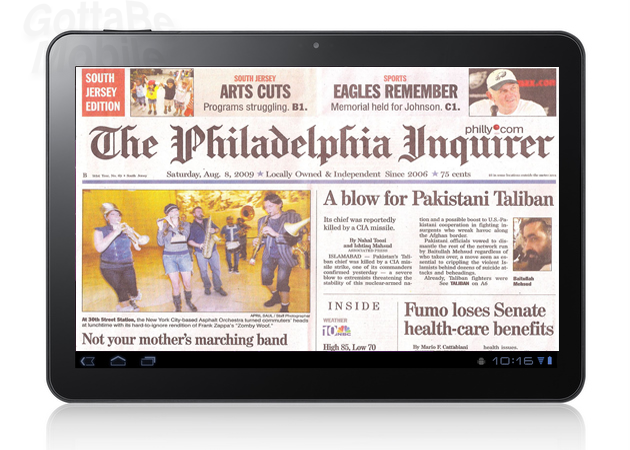 Under the deal, customers would buy an Android tablet for much less than they usually would. On their homescreen would be direct links to digital versions of these Philadelphia newspapers. The tablet would also house dedicated apps for the periodicals, as well as pop-up advertisements on the homescreen. The specific device(s) that will be part of the offer is currently unknown. The program is set to kick off with 2,000 tabs in late August, with the deal ramping up later in the year.
The tablets and the newspaper content would be sold at about half the combined rate for the two. Mainstream Android tablets generally run from $500-600, and these newspapers' digital editions cost $2.99 per week. So if we're looking at $250 for a tablet, plus $6 per month for newspaper access, we could see this getting at least a few customers' attention.
The newspapers' parent company, the Philadelphia Media Network, would own the revenue and "consumer data," which is likely to raise a few eyebrows. Would this simply mean telling the company how much time users spend reading each section of the digital papers, or would it also include all activity that takes place on the tablet? That remains to be seen, but if there's the possibility of having customers' private data sold to advertisers, this could raise serious red flags for privacy hounds.
It's a bold move by the publishers, and is likely a sign of a desperate industry searching for ways to adapt and survive. If implemented correctly – with certain privacy guarantees in place – this could help those who don't want to drop a fortune to get a solid piece of tablet hardware. While younger generations would probably rather get their news from RSS feeds and social links, we could see more members of 40+ age brackets finding deals like this appealing.
One also has to wonder whether Amazon will employ something similar on its Kindle and/or upcoming Android tablet. They already offer a Kindle that is subsidized by advertisements, and newspaper subscriptions are available for instant delivery on the Kindle platform. So this kind of deal could be right up their alley. Perhaps we'll hear about it when their tablet is announced.
Of course there also exists the possibility of users buying the Philadelphia subsidized slate and rooting it, to remove all of the newspaper content, advertising and tracking – essentially getting a tablet for half price. We wonder if nobody told the Philadelphia Media Network about XDA Developers?
In the meantime, we have to admire a 20th century company at least trying something new to survive in the 21st century. If your city's newspapers offered a similar deal, would you jump at the chance to get a $250 XOOM or Galaxy Tab (plus a subscription)? We'd love to hear your two cents in the comments.