Wozniak Endorses Windows Phone, Says Lumia 900 the Reincarnation of Steve Jobs
In a bit of controversy and publicity, Apple co-founder Steve Wozniak had picked up the Nokia Lumia 900 flagship smartphone using Microsoft's Windows Phone operating system. Though Wozniak says that the iPhone is still his favorite device of choice, the Apple co-founder has demonstrated that he can be objective in his rivals' products and was noted in recent history to have secured a pre-release Google Galaxy Nexus smartphone prior to that device's release from Google in Mountain View, California. With the Lumia 900, Wozniak praised the smartphone for its intuitive experience and design and speedy interface.
Making parallels to Apple's idealogies and beliefs on good design, Wozniak told aNewDomain that he believed that "Steve Jobs might have been reincarnated at Microsoft due to a lot of what I see and feel with this phone making me think of a lot of great Apple things."
I did give my opinion that the Windows 7 phone had superior visual appearance and operation cues that were also more attractive. In my opinion, it sets the mark for user interface. I would recommend it over my Android phones given that it doesn't yet have the breadth of apps. I surmise that Microsoft hired someone from Apple and put money into having a role in the UI and appearance of some key apps. I also surmised that Steve Jobs might have been reincarnated at MS due to a lot of what I see and feel with this phone making me think of a lot of great Apple things.
And on the user experience, there are more similarities between Windows Phone and iOS than with Android. Both platforms are heavily controlled and locked down by their creators to create a very curated experience, and both platforms are built on the careful integration of software and hardware. And despite having numerous devices running Windows Phone from various licensees, Microsoft is able to deliver very similar and highly polished user experiences on all these devices because it has a stringent list of hardware requirements that each manufacturer must adhere to, and Microsoft does not allow for UI skinning like on Google's Android platform, leading to an overall consistent Windows Phone Metro UI showing on all devices.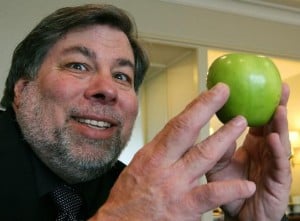 Wozniak went on to say that the Lumia 900 feels like it was "a friend, not a tool," and that's something that I had previously expressed with my experiences with the Nokia Lumia 800, a smaller iteration of the Lumia 900 without a front-facing camera and without 4G LTE connectivity. The Apple co-founder says that Windows Phone was better than any Android phone, and given his experience with the Galaxy Nexus, it would mean that the experience on Windows Phone is better than that of Android 4.0 Ice Cream Sandwich.
These praises and accolades for Windows Phone are not new. In the past, numerous tech commentators, reviewers, journalists, and consumers have praised Windows Phone's fresh and intuitive user interface as being radically different than what's on the market today. It is Microsoft's fresh approach that caught the eye of Nokia's current CEO Stephen Elop when he took the reigns, and ultimately Elop decided to steer Nokia's course away from Symbian and towards Windows Phone. However, given the positive praises, Microsoft still needs to build out its apps ecosystem and woo developers. Until it does that, Windows Phone will trail the popularity of iOS and the openness of Android.