WSJ "best mobile operating system" Poll Update
It gets even better. If you read the post I made yesterday about fanboys loading these online polls up, basically tainting the results, you would recall that Microsoft was in the lead. I predicted in the comments that iPhone fans would rally and bury the 10k votes Microsoft had in that poll at the time I posted. I was wrong. Something I didn't expect happened.
Google fans stepped it up BIG TIME. It's still quite silly, but this is ridiculous. This just proves the point I was trying to make yesterday.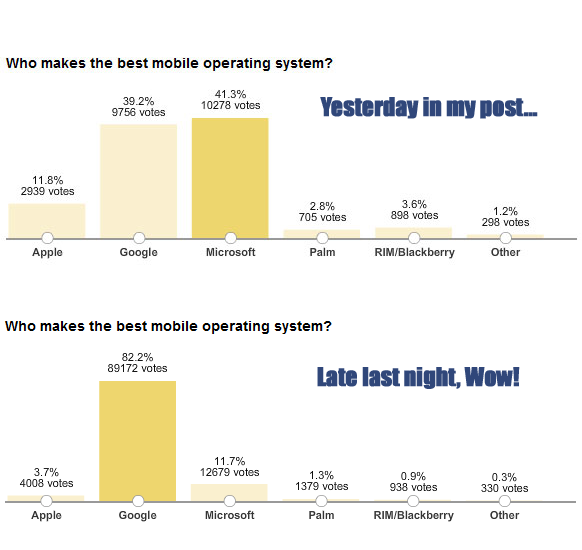 I wonder when the WSJ will shut this one down. I will keep an eye on it for a couple days to see when the iPhone fans wake up.
Here is the link to the poll so you can watch the show too.
UPDATE: Add 200k+ more votes from Android Fanboys!
I think this final surge here for Google kind of seals the deal. THERE IS NO OTHER OS WORTH HAVING THAN ANDROID. What? That's what the poll says. Can't argue with 330k people vs. 13k for WinPho and 5K for iPhone can you?

This article may contain affiliate links. Click here for more details.