Xbox SmartGlass Coming To iPad, iPhone, Android and Surface This Friday
Microsoft will release Xbox SmartGlass for Windows 8, Windows RT, iOS, Android, and Windows Phone on Friday, October 26,according to Xbox's Major Nelson.
Xbox SmartGlass is Microsoft's second-screen app for games, movies, and apps on the Xbox 360. It will bring new gameplay options for games and gives users more information on TV shows or movies while they watch them on the Xbox itself. The app will work with almost any mobile device, but users will have to wait until the Windows 8 and Windows RT release to use it.
Not every game will use SmartGlass, with just eight games launching in the next few coming months. Those games include Halo Waypoint, Forza Horizons, and Dance Central 3. It's not clear how each game will use the service, but according to The Verge Dance Central 3 will use the app as a sort of playlist selection tool.
In Dance Central 3 a player can use a SmartGlass-enabled device to create a playlist of songs for their friends to dance to. It makes it easy to collaborate on playlists and to create them without a lot of awkward hand motions.
Sports apps like ESPN, NBA Game Time, and UFC will also use the app. Sports apps can use SmartGlass to show users realtime information on athletes in current games or matches. Or it could provide news or league updates without distracting from the action on screen.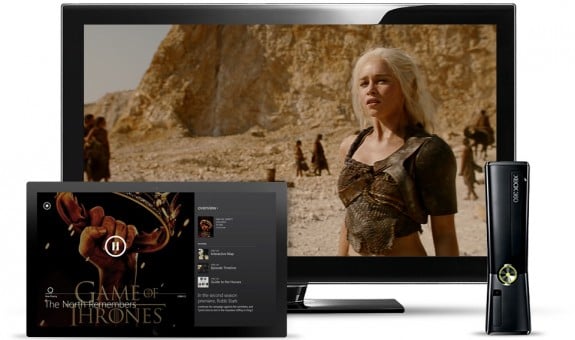 Other apps that will use SmartGlass include NBC News, HBO GO, Elections 2012, Slacker Radio, and MSN. AT E3 Microsoft used HBO GO as an example to show that SmartGlass can offer guides for shows like Game of Thrones which follows many different characters, each in a different area of the world.

As an Amazon Associate I earn from qualifying purchases.