Rumored XPERIA X7, X7 Mini Leak Bring Promises of Windows Phone 7 to Sony Ericsson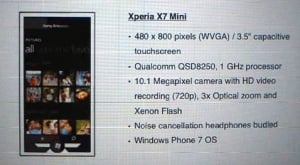 A leaked document depicting what looks to be a Sony Ericsson XPERIA X7 and a smaller version called the XPERIA X7 utilizing Microsoft's Windows Phone 7 operating system. If true, the XPERIA X7 and X7 Mini will both succeed the XPERIA X1 and X2 Windows Mobile handsets with Microsoft's new Windows Phone operating system. While the first two XPERIA models have a landscape-oriented sliding QWERTY keyboard, the X7 and X7 Mini both utilize the slate form factor.
The X7 will reportedly have a 4.3-inch WVGA touchscreen display, rivaling the HTC HD7's display, and will have a Qualcomm Snapdragon 1.2 GHz CPU. It will have an 8-megapixel camera with 720p HD video capture and HDMI out with Dolby Digital. The smaller XPERIA X7 Mini will have a 1 GHz processor, 3.5-inch WVGA display, 10.1-megapixel camera with 720p HD capture. In the past, Sony Ericsson has been progressive with its camera phone lineups and have boasted great image quality that rivals Nokia's Carl Zeiss offerings, and if true, the camera specs on the X7 models will continue that lineage.
Also, if these speculations are true, the X7 line would parallel Sony Ericsson's X10 lineup, which utilizes the Google Android operating system and comes in a larger X10 model, a smaller X10 Mini model, and an X10 Mini Pro, which has a keyboard. Also, there has been a recent leak of the Sony Ericsson XPERIA X12 Android smartphone as well.
Video below: Sony Ericsson XPERIA X2 demo at CTIA:

Video below: Sony Ericsson XPERIA X10 and X10 Mini:

Via: CoolSmartPhone

As an Amazon Associate I earn from qualifying purchases.