YotaPhone Now on Sale in Russia and Europe
The crazy, dual-screened smartphone known as the YotaPhone is now on sale in Russia and in a few countries in Europe. Folks in Russia can buy the new device for 19,980 rubles ($602) and Europeans can grab it for €499 ($676). The YotaPhone will launch in more countries early next year, but availability is still in question for US consumers wanting a two-screened device.
The YotaPhone sports two 4.3-inch displays, one of which is the main 720p LCD display, and the other being an e-ink display with a resolution of 640×360. Under the hood there's a dual-core 1.7GHz Snapdragon processor, 2GB of RAM and 32GB of storage.
The rear e-ink display is simply a supplement to the front main display, and since it doesn't draw any power when simply displaying a static image, it can always be one without hogging battery life. The company is aiming the YotaPhone's e-ink display to be used for reading ebooks, display notifications and provide other detailed information that the user might request.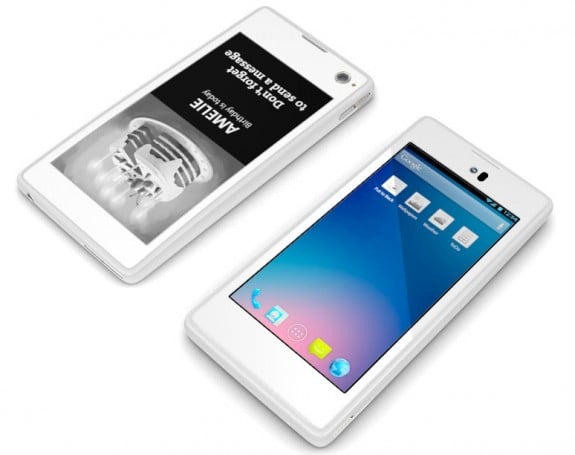 Users can simply beam whatever is on the main display to the e-ink display for easy retrieval later on. For instance, you can beam a map or a to-do list to the e-ink display and reference it whenever you need to without having the main LCD display on, sucking away battery in the process. It's certainly not the phone for everyone, but we can see a real use for it for some power users.
There are also other cheesy features that take advantage of the e-ink display. For example, whenever you take a picture with the YotaPhone, you can have something like "Smile for the camera" displayed on the e-ink display that points toward your subject. It's not particular useful, but we suppose it's a fun way to utilize the e-ink display in ways that we may have not thought about before.
We first heard about the YotaPhone nearly a year ago, and it's since been in its prototype stages, but has made appearances at several technology trade shows, includes CES and Mobile World Congress that occurred earlier this year. However, the phone is finally out on the market ready to be fondled with. Hopefully it comes to the US and UK at some point in the near future, and it's possible that early-2014 window could be the time.