Zagg SlimBook Review: Turn Your iPad Pro into a Laptop
Zagg's newest case, the SlimBook for Apple's iPad Pro ($140, Zagg.com), aims to turn Apple's biggest tablet into a notebook, replete with keyboard and color-changing, backlit keys. Is it worth the relatively high cost? Find out in our review below.
The iPad Pro is Apple's biggest tablet yet, and while it's not the biggest tablet out there, it holds its own with a 12.9-inch display. It's actually bigger than some of Apple's more traditional notebooks, like the 12-inch MacBook with Retina display, 11.6-inch MacBook Air, heck, it's about as large as the 13.3-inch MacBook Air. I point out all of this to say that the idea of a keyboard case for the iPad Pro is a good one.
Smaller keyboards just aren't good
This is in contrast to keyboard solutions offered for smaller iPads like the iPad Air or iPad Mini. An admittedly personal opinion, but I type a lot and have always found those smaller keyboards to be an ultimately unsatisfactory experience – perhaps they're fine for penning a short note or email, but if you have to do a lot of work, they're frustrating.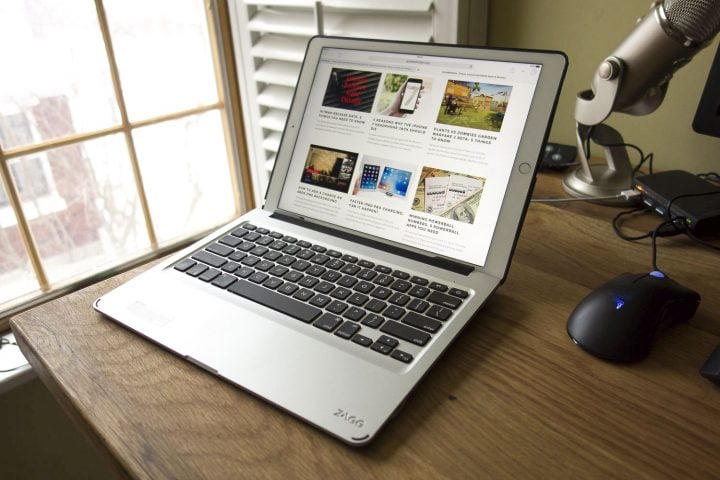 When Zagg offered to send me their SlimBook for the iPad Pro, then, I was actually pretty excited to try it out. One of the reasons I'd bought the iPad Pro in the first place was the promise of a lighter, more portable computer that could do light work when I needed, and be the more traditional, consumption-friendly iPad when I didn't.
Read: The Best iPad Pro Keyboard
Let's talk about the physical design of the SlimBook. Zagg does a pretty good job of packaging, and in the box you'll find a shallow case for the rear of your iPad Pro, the keyboard base itself, and a micro USB cable for charging the keyboard base. You shouldn't need to charge it very often, as Zagg is promising two years or more of battery life if you use the keyboard for about an hour a day. I can't speak to whether that's accurate, but I pounded away at the keyboard pretty often since it came in a few weeks ago, and I've never bothered to plug it in – take from that what you will.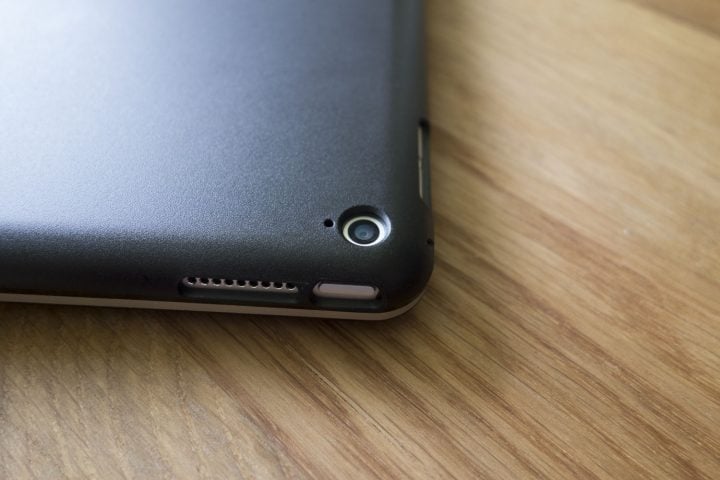 Zagg designed the SlimBook without using the new 3-pin Smart Connector found on the left-hand side of the new iPad, so they didn't bother trying to use the magnets on that side of the tablet, either. Instead, one side of the iPad cover is much thicker than the other; there are two holes here that slot onto tabs sticking out from the keyboard's hinge. It's a secure fit, and lets you change the angle of the display simply by pushing back and forth on the iPad Pro, just like you would with a typical laptop.
It feels just like a normal laptop
The keyboard base looks and feels just like a laptop. The plastics used don't feel very expensive – they feel more like a cheap laptop – but this isn't really a ding, as the whole case isn't very expensive. You get a standard "chiclet" style keyboard, with special iOS buttons: there are special buttons for the home button, a lock button, a button to bring up multitasking, a button to engage Siri, a button to switch keyboards (if you have multiple keyboards installed – if you don't, this button does nothing), a button to bring up and dismiss the on-screen keyboard, and buttons to control media features like volume and playback.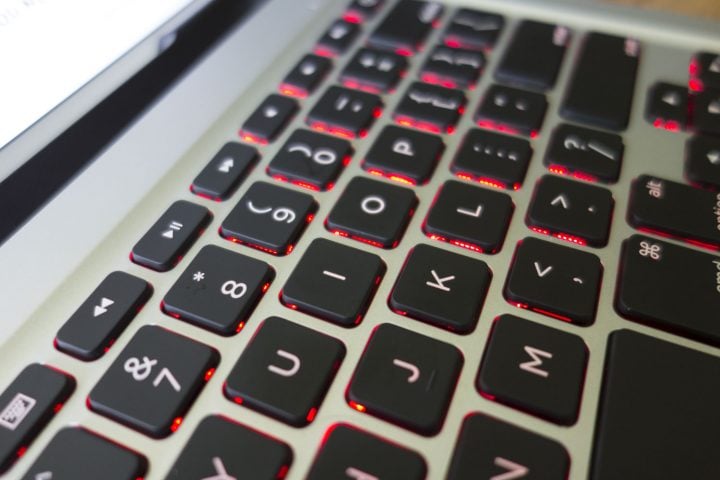 There are also a few buttons that only affect the SlimBook keyboard. You can check the battery life, turn the brightness of the key backlights up and down, cycle between the various colors, and switch connected devices. What that last feature means is that the keyboard supports being paired with up to three different Bluetooth devices at the same time (historically, you'd have to delete a Bluetooth keyboard from a device and repair it with another if you wanted to switch); all you need to do is tap the function (fn) key + 1, 2, or 3 to have the keyboard swap around.
The keyboard itself is pretty great – it feels like any other good laptop keyboard. There's a suitable amount of key travel (how far the key goes down when you press it), and there's essentially zero flexing with normal typing. The keyboard backlighting is good, especially when viewed from straight above; if you have it a little in front of you, you can see the bright LEDs peeking out from the bottom edge. I know that color-changing keyboard backlights are an everyday thing nowadays, but I still get a big kick out of changing them around from time to time. It's a fun feature.
Like the Microsoft Surface Book, the Zagg Slim Book also supports several "2-in-1" display modes – keyboard mode, like a normal laptop, case mode, which separates the tablet and keyboard, video mode, which turns the display around at an angle, and tablet mode, which is pretty self-explanatory.
So – good keyboard, fun backlights, included rear case, multiple connections…this sounds great! What's the catch?
There's definitely a catch, and it's a big one. Well, it's a heavy one, anyway.
My aching back…
Zagg's SlimBook for iPad Pro is ridiculously heavy. The iPad Pro weighs 711g on its own (officially, it's 713g, but we'll go with our scale's results to compare it to the case), which is as heavy as the original, first-generation iPad. But the SlimBook weighs quite a bit more – 1064g all by itself. That's actually 16% heavier than the 12-inch MacBook with Retina display, which is frankly shocking – there's no need for big batteries or electronics in the keyboard case. Taken together, it means you could be hauling around 1776g, or just shy of four pounds.
Whether you should buy the SlimBook comes down to how you will use the keyboard. I'll say it flat out – if you want a keyboard to take everywhere with you, this is simply not it. Apple's Smart Keyboard is a much better option, as it doesn't cost too much more and weighs less than a third of the Zagg (in fairness, since it uses the Smart Connector, it doesn't need its own battery, and it's also missing features like a backlit keyboard). If you want something that will live on a desk or table, however, the SlimBook becomes much more attractive. It's easy to imagine leaving it in one spot at home or work, and slotting the iPad Pro into the hinge whenever you need to sit down and type – when you're on the go, you can just grab the iPad and head out.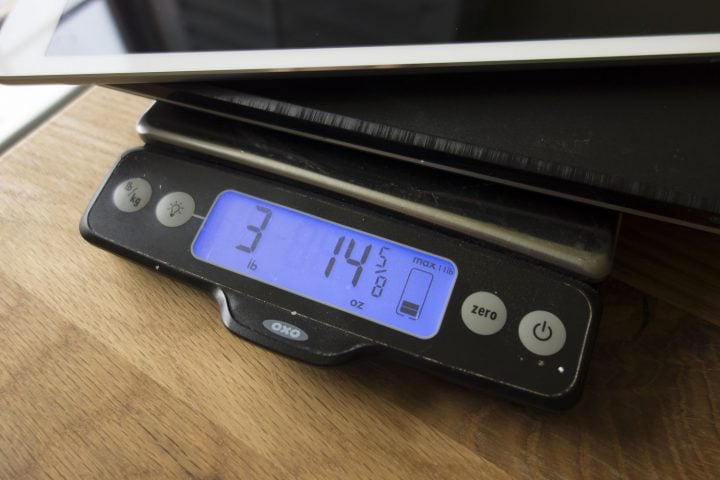 Compounding the problem is the way the iPad sits in the keyboard dock. As I mentioned earlier, it relies on tabs that mount into holes in the rear iPad case. On its own, it makes the iPad Pro feel a a fair bit bulkier than I'd like, but it fits so tightly that it's not something you'll want to take off every day – I was actually a little worried about damaging the iPad when putting it on and taking it off. That's not really a complaint, as it means you won't have to worry about it popping off, but it's a little too thick for me to want to leave it on all the time, and its use is required if you want to dock the iPad in the keyboard stand.
If you're looking for something to use at a desk, the Zagg SlimBook for iPad Pro is actually a pretty pleasant experience, and it comes with three months of free Evernote Premium – a draw for fans of the cloud-based, note-taking service. At $140, it compares favorably to options from Logitech (their CREATE keyboard with Smart Connector is $150) and Apple (the Apple Smart Keyboard is $170) – and it's worth pointing out that those alternatives are only usable with the iPad Pro, while the Slim Book keyboard can be used with any Bluetooth device.
If you're looking for something to take on the go, however, I'd recommend waiting until version 2: with a little refinement, the SlimBook for iPad Pro could turn into something truly great.