ZTE V66 to Launch as Verizon Turbine 4G LTE Android Slate?
It appears that the long-rumored ZTE-made V66 Android tablet will land on Verizon Wireless as the Turbine and will be among the cheapest Android slates with 4G LTE connectivity on board. The device will join Verizon's Android tablet lineup with devices from Samsung and Motorola.
News of the final naming for the V66 as the Turbine comes from pocketnow, which says that an accessory-maker had tipped it on what the final naming will be.
T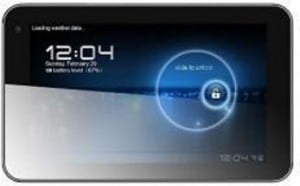 he device is said to be similar to the Sprint Optik tablet, which features a 7-inch screen with a resolution of 1280 X 800, dual-core 1.2 GHz Snapdragon processor, and low entry price point. The tablet will also have front- and rear-facing cameras. Unlike the 3G Sprint model, Verizon's model will offer 4G LTE connectivity, which promises Internet speeds up to ten times faster than the 3G technology. Sprint's model sans 4G, for comparison, launched for just $100 with a service agreement.
It's still unclear when the Turbine will launch as neither Verizon nor ZTE has made any mention of the slate. Earlier rumors suggest that the tablet would run on Google's Android Honeycomb platform, but given the late release, it may launch out of the box with Android 4.0 Ice Cream Sandwich.
From a  design perspective, the chrome borders and rounded corners of the ZTE Turbine reminds me a lot of Samsung's Galaxy Tab designs.
Hopefully, we'll know soon enough about the device. With the CTIA trade show coming up, Verizon could potentially debut the slate at that venue.

This article may contain affiliate links. Click here for more details.