10 Best Tech Gifts According to Google Search
Those looking to find the best smartphones, tablets, or tech gifts this holiday season will know exactly what to buy and what's popular thanks to Google Search. Just like every company, Google serves up an end-of-year list for various things. Of course one of the most popular is always the Top 10 Google Searches.
This week Google released it's annual top 10 Google Search results for 2015, only the company broke it down into a wide array of categories. From celebrities, fashion, sports, NFL teams, consumer technology and more. With that in mind, below we'll be sharing Google's list of the top 10 most searched for consumer electronics. All of which would make excellent gifts as 2015 comes to a close.
Read: Best Android Smartphones of 2015
There are countless gift guides all over the internet, but these results come right from Google Search. It will come as no surprise that three Apple products made it into the top 5, but Samsung, LG and even Google's own products managed to also make the list. Naturally, we've covered everything released throughout 2015, and will share links to reviews and more details for everything below.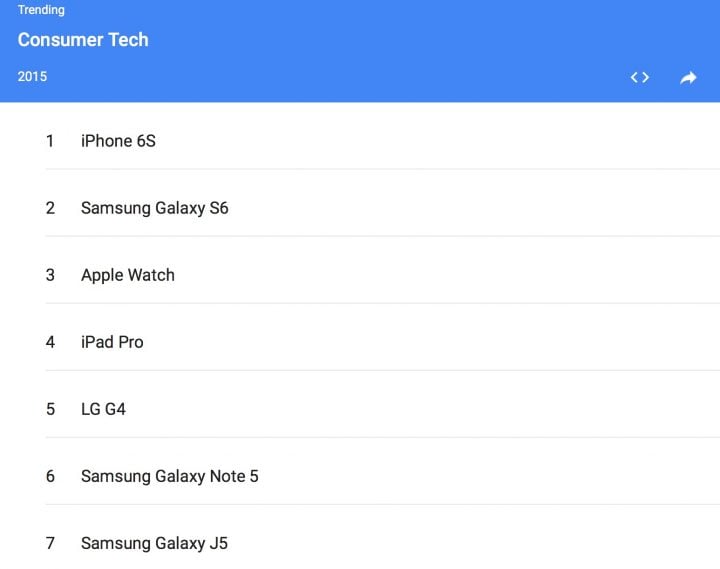 Choosing a smartphone, tablet, smartwatch, or just a gadget in general can be challenging. There is always something new or better available, on the horizon, or replacing last years model. Technology changes and improves at an extremely fast pace, and even the #2 most searched for device, the Galaxy S6, is about to get replaced in early 2016 by the Galaxy S7.
That said, here's the top 10 consumer technology search results according to Google. Those looking for a fancy smartphone, watch, or consumer electronic device to get a friend or family member this holiday season can't go wrong with any of the 10 detailed below.
Samsung Galaxy J5
The item that was looked up the most on Google Search through the entire year of 2015 was the iPhone 6s. It's closely followed by its rival the Samsung Galaxy S6, Apple's own Apple Watch, the iPad Pro, and surprisingly LG's rather impressive G4 smartphone.
Google's top 5 most searched for consumer technology products are what everyone wants. A smartphone, tablet, or a smartwatch. Oddly enough the Samsung Galaxy J5 is in there, which hardly anyone knows about, but the rest have been extremely popular throughout 2015.
Obviously these are all rather expensive items for a Christmas present, so choose wisely, and use all of our reviews and information below before making your decision.
iPhone 6s Review – Buy from Apple
Galaxy S6 Review – Buy from AT&T
Apple Watch Review – Buy from Apple
iPad Pro Review – Buy from Apple
LG G4 Review – Buy from Best Buy
Samsung Galaxy Note 5 Review – Buy from Verizon
Samsung Galaxy J5 – Buy from Samsung
HTC One M9 Review – Buy from T-Mobile
Google Nexus 6P Review – Buy from Google Store
Surface Pro 4 Review – Buy from Microsoft
Above are links to our detailed reviews with tons of helpful information about each and every (well, except one) product that made Google's top 10 search results for the year of 2015. These are among the best smartphones, tablets, smartwatches and Microsoft's Surface Pro 4 laptop.
While you're at it, check out our Best Cheap Tech Gifts Under $25, or 10 Exciting Gifts from the Apple Store and grab some last minute gifts this holiday season.