10 iPhone Apps to Find a Better Job Today
Finding a new job is tough, especially in the current economy, but with the iPhone and a collection of job search apps finding a better job is within reach.
Recent college graduates are having a hard time starting their careers. According to AP about half of all recent college grads are either unemployed or underemployed. They're taking low-paying jobs like waiter or waitress, bartender, or retail associate.
An iPhone won't make the job market any easier, but it can make the job search easier. Here's a collection of ten iPhone apps that can help recent graduates start their career.
College graduation is just around the corner and competition for soon to be graduates and recent graduates is tough, so share this collection of job search apps with the grads in your life to give them a leg up on the competition.
Find a Job With the iPhone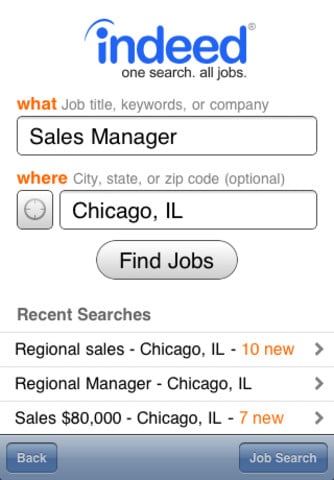 Indeed.com is one of the top job searching sites, and its iPhone app is an easy way to search the jobs listed there. Indeed Job Search (free) aggregates job openings from across the web, eliminating the need for searching through every small job site out there. It won't have everything, but its a good place to start.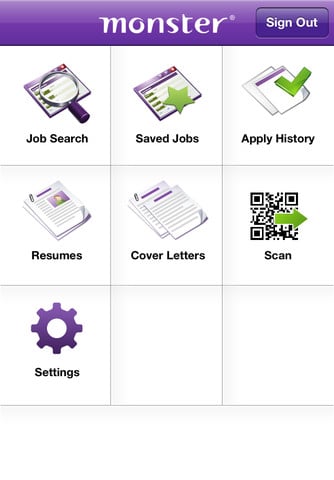 Monster.com (free) is still one of the top job sites, but is not as big as it once was. The app searches through Monster's database of job listings, which many companies use almost exclusively.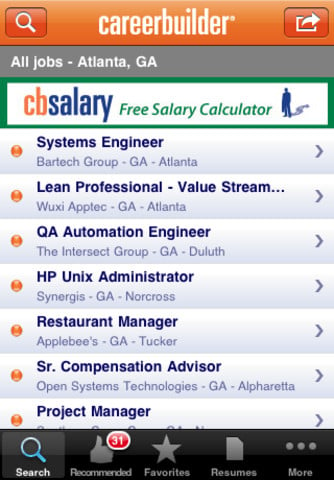 CareerBuilder (free) is another one of the big job sites. It works just like Monster's app, but searches through CareerBuilder instead. It might seem redundant to have several job search apps, but not every job shows up on each of these apps.
Craigs-list (free) is one of the nicest Craigslist apps we found in the App Store. Craigslist isn't a perfect site for finding a job, but if you're looking in a major city there might be a few jobs worth applying for, just be on the lookout for scams.
Resume Building iPhone App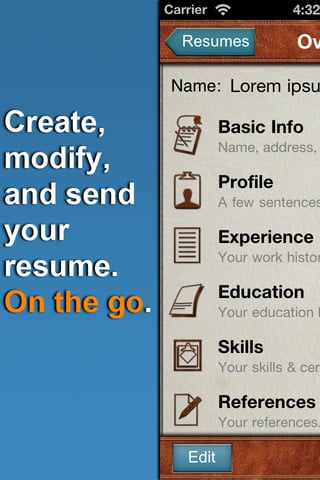 Pocket Resume ($2.99) helps create a professional-looking resumes easily. The app handles all the layout, all you need to do is supply the information. It's a bit easier than going to a college career center, though it does result in a rather plain-looking resume. It's still a good idea to get some resume building advice before using the app. Most college career resource centers offer advice to graduates long after they have left campus, free of charge.
iPhone Apps for Interview Prep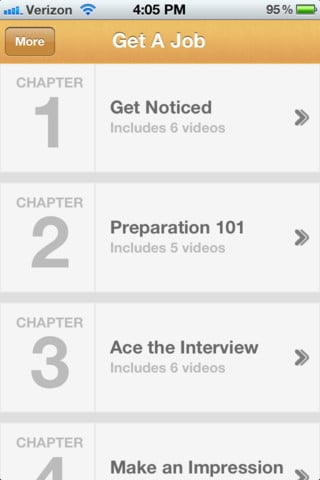 How To Get a Job Interview (free) can also help build a resume, or at least give some advice on how to build one. The app is a wrapper for videos from Docstoc, but there's helpful videos that go through everything from putting together a resume and cover letter up to the job interview and offer negotiations. All of the videos are on YouTube, so the app does require an Internet connection.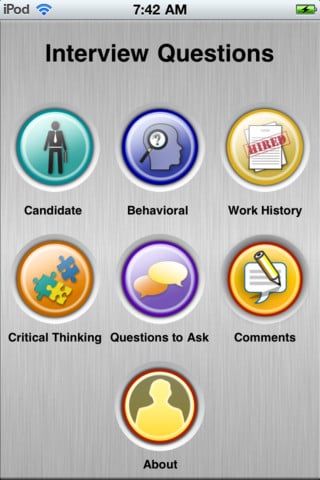 Finding and applying to jobs is difficult, but for many people the interview is much harder. Interview Questions Pro ($0.99) helps by giving example questions you might hear at an interview. Obviously every job interview is different, but some preparation is always a good idea. It might even be a good idea to have a friend ask you some of the questions listed in the app.
Networking
LinkedIn (free) is always the obvious choice for professional networking, though your mileage may vary. The iPhone apps supports groups where you can talk with people in your desired field, but not everybody will find it that useful.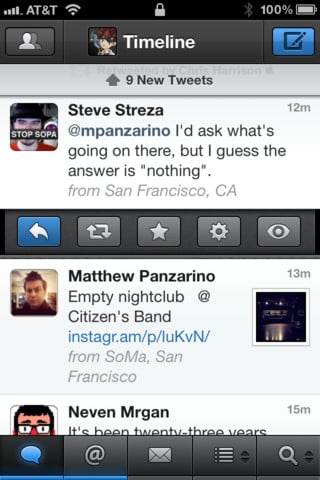 Twitter is a great way to connect with potential employers or potential future co-workers, and Tweetbot ($2.99) is the best Twitter client on the iPhone right now. It supports multiple accounts so you can have one Twitter account to talk with people in your field and another to talk with friends. It also features push notifications for @replies, DMs, follows, and more. Use the search function to follow hashtags and conversations around the industry you want to break into and follow industry insiders for tips on continuing education and job leads.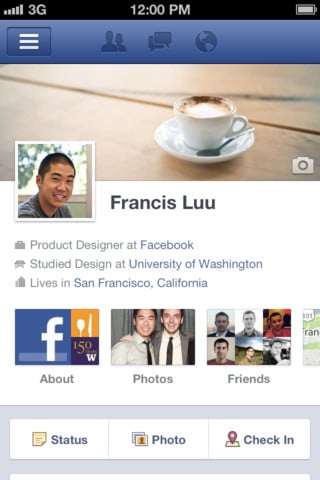 Facebook (free) can also be used for networking, especially if you can find the fright groups to join or the right people to subscribe to. If nothing else, the Facebook app can help you manage embarrassing photos from parties that you don't want potential employers seeing.
We hope these apps will help in the job search. There's no surefire way to land a job, but these apps might make the process a bit easier.

As an Amazon Associate I earn from qualifying purchases.