11 Mophie iPhone 6 Case Alternatives
If you cannot wait for the Mophie iPhone 6 case release to add more power to your iPhone 6 with a battery case, there are several Mophie iPhone 6 case alternatives that can help your iPhone 6 last longer every day without plugging in to an outlet.
We know a Mophie iPhone 6 case is in the works because the company is taking names for a Mophie iPhone 6 battery case, although it simply says they, "can't wait to create new mobile solutions that enable you to do more."
Earlier this year we shared news that the Mophie iPhone 6 case release is planned for the first three months of 2015. This is getting close, but travel season is here and you may not have the time to wait for the official Mophie iPhone 6 case to arrive.
We learned about the potential Mophie iPhone 6 case from a source who is familiar with Mophie's plans and this lines up with the length of time it took for Mophie to release an iPhone 5 case after Apple last changed the design. When this happened we saw the new Mophie iPhone case on the way home from CES, and it arrived in February.
This time around it looks like the Mophie iPhone 6 case release is coming in late January or February. We've heard that this could arrive near the Super Bowl.
Super Bowl XLIX takes place on Sunday February 1, 2015, which lines up with this timing. Mophie announced earlier this year that they plan to join the Super Bowl advertisers list for the first time in 2015. "We decided we want to tell our story to a much broader audience," Daniel Huang, CEO of Mophie told USA Today adding, "We want consumers to know about our brand."
A 30 second Super Bowl ad can cost up to $4 million, and that's just for the slot on TV. Producing an ad that stands out is also a big undertaking. With an outlay in the millions, it makes sense that Mophie will want the Mophie iPhone 6 case release to arrive around this advertisement.
The hope is that the Mophie iPhone 6 case will hit store shelves in early 2015, but there are many other options to keep your iPhone 6 charged up while you wait.
If you want to avoid spending money on an iPhone 6 battery case, you can buy an affordable battery that will charge up the iPhone 6 or iPhone 6 Plus without the need for a case. This is easy to keep in a car, purse or backpack, but it is not going to stick to your iPhone 6 like a case. Still, it is a nice alternative.
Here are our favorite battery packs that you can use to charge the iPhone 6 or iPhone 6 Plus.
Battery packs like these work on multiple devices, so you can share them easier than lending your case. If you want Mophie iPhone 6 case alternatives that are iPhone 6 battery cases, you can also buy many of them right now.
6 Great iPhone 6 Battery Cases
i-Blason External Battery Case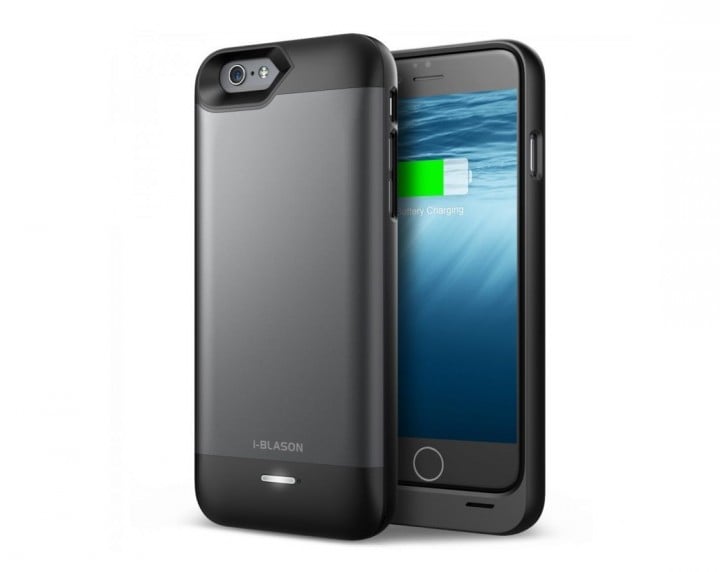 Only a few popular brands have a battery case for the iPhone 6 at the moment, and the first one you should look at is the i-Blason Unity Power Battery Case. This ultra-sleek and flexible case will add valuable protection, and 3,200 mAh of battery life to your new iPhone 6. It features a soft inner case, and a hard polycarbonate shell on the outer front and back for durability, yet remains somewhat thin given the massive increase in battery life.
3,200 mAh should give users a good 3 days of usage out of their smartphone. It won't ship until a little later this month and is priced quite high at $79.99, but is certainly for it for those in need.
i-Blason iPhone 6 Battery Case - Order for $79.99

This article may contain affiliate links. Click here for more details.