Buying a case or cover for your smartphone is no easy task, especially when you're covering up a beautiful brushed aluminum device like the brand new HTC One M8. This isn't just another plastic phone, it's a well-crafted nearly all metal smartphone with a sleek design full of curves, glass and aluminum.
Consumers won't have as many options as those who own a new iPhone or the Galaxy S5, but the all new HTC One M8 flagship smartphone still has plenty of options readily available for those looking for protection, or more functionality.
Read: HTC One M8 Dot View Case Hands-on Video
There isn't as many options quite yet as we expected with the new HTC One M8, but companies are announcing new products almost every few weeks, and more and more options are starting to appear.
HTC's new One M8 smartphone was announced on March 25th and went up for sale immediately the same day. Along with it was a pretty impressive Dot View case we linked to above, but for those who'd rather not spend $40-50 on a case, there's tons of other choices available. The smartphone comes in grey, silver, or gold, and we're hearing a red model is in the works for Verizon, so you may want to choose your new case color wisely too.
So far we've only used 4-5 cases that actually felt really nice with the HTC One M8, but below you'll find a good list of 15 quality cases that will not only protect that new smartphone, but offer more features like carrying your wallet items, or even a built-in kickstand. If you want to cover that phone with a case, here's some worth considering.
HTC Dot View Case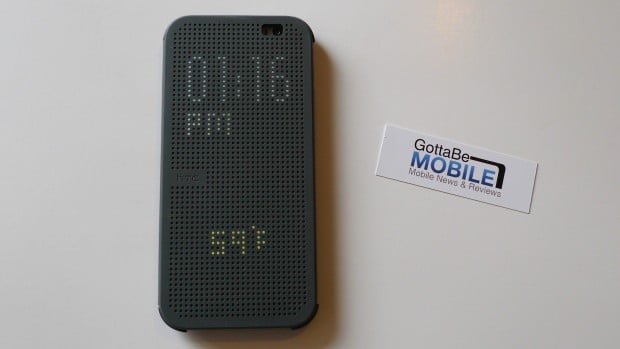 The official HTC Dot View case is a unique option we have to mention first, simply because it has a lot to offer. The plastic case easily attaches to your phone, then offers a dot-matrix style front cover that is transparent enough to still receive alerts. See the time, weather, incoming calls, or even swipe (on the case) to activate voice call controls all without ever opening or removing the case. The link above had more details. And get one yourself from the link below.
$45 from HTC

As an Amazon Associate I earn from qualifying purchases.