17 Best Galaxy Note 7 Cases
Samsung's impressive Galaxy Note 7 had a small setback with a recall due to the battery being faulty in select units, but it's still one of the best phones released in 2016. As more users buy one or get a new replacement, owners will need cases to protect their fancy phone and its beautiful curved display. Check out our list of some great choices below.
There are dozens of case makers, but only a select few are worth considering. Below we've round up a list of what we'd consider some of the best Galaxy Note 7 cases from top brands we know, trust and have used on countless other Samsung phones. We have everything from thin cases, serious protection, wallets, kickstands, cheap TPU, real wood cases and more.
Read: 13 Exciting Official Galaxy Note 7 Accessories
Like we saw earlier this year on the Galaxy S7, Samsung themselves made a ton of excellent cases for the Galaxy Note 7. Like an extended battery case, flip cases and even an official kickstand case. These are some good options, but there are countless cheaper alternatives we'll detail below. These are just as good or better, and are all worth considering.
Buyers will want to get a micro-SD card, extra USB Type-C cables, battery packs and then look for the perfect case to instantly put on to protect their investment. Cases for the Galaxy Note 7 are very important too, as you'll want to protect that beautiful curved 5.7-inch display. For now the best bet is cases on Amazon or from Speck, Spigen, UAG, Incipio, VRS Design and other trusted brands. We'll add other big-name brands as they're released.
The Galaxy Note 7 has a similar design to last years Note 5, but it's thinner, lighter, sleeker and better all around. Not to mention the curved display. That's a big one. The camera bulge is gone and the design is better, so cases for the Note 5 won't fit. This year the Note 7 is water resistant and has a bigger battery, so that's two popular case options you may not need this year. Instead get a few different cases, a spare portable battery, or even a battery case right from Samsung. Either way, we have tons of great options for your viewing pleasure and to help buyers find what's right for them.
Read: Galaxy Note 7 vs Galaxy S7 Edge: What to Know
Sales resumed on September 20th and over 500,000 replacement models were delivered to users. Now that the phone is back, and still better than ever get some accessories. Buy the Note 7 then consider some of the many excellent cases detailed below.
Spigen Rugged Armor Note 7 Case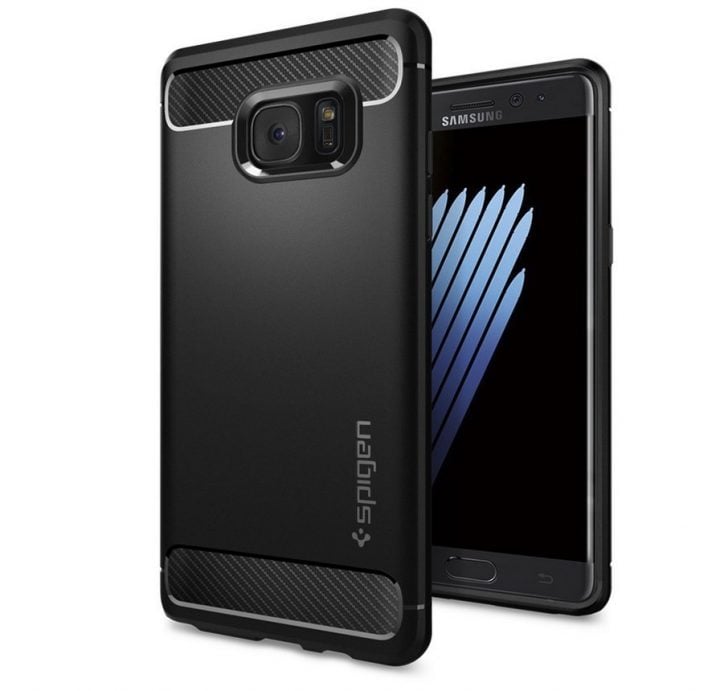 Spigen is a household name at this point, and if you've never tried one of their cases you should start with the Galaxy Note 7. Spigen makes everything from ultra-thin lightweight cases to some of the most durable options on the market.
Myself, I always choose the perfect middle ground model like the Spigen Rugged or Tough Armor. This is a durable and lightweight (and also cheap) TPU case with a flexible design, air-pocket technology to protect the phone from drops, and a small lip on the sides to protect the screen.
Even with the Edge curved glass laying face down this case will protect the Note 7. It's as good as it gets, has a faux carbon fiber design, and is under $12. You can't go wrong with anything from Spigen, and this probably won't be their only case on our list. Like this one.