Is the 2018 Chevy Bolt a good car? Can you drive the 2018 Bolt EV outside the city and not worry about range and charging? That's what I wanted to find out as I tested the 2018 Chevy Bolt for a week in Northwest Ohio, where public chargers are available, but not as plentiful as in the bigger city. Whether you plan to drive the Bolt EV in a big city, the suburbs or a more rural setting, this is what you need to know.
While the Tesla Model 3 may get a lot of the attention for electric cars under $40,000, the 2018 Chevy Bolt offers more range than the base Model 3, support for Apple CarPlay and Android Auto and it's readily available to buy without waiting until 2019.
The 238 mile 2018 Bolt EV range proved plentiful for my needs during this test, but I definitely felt the pain of not having a Level 2 charger at home. You definitely need access to a level 2 charger at home or at work to make the Bolt EV fit into your life seamlessly. The only real issue with charging the Bolt in this setting is that you will need to plan trips better and be flexible if a charger is in use or broken.
[letsreview]
The 2018 Chevy Bolt starts at $37,495, which drops to $29,995 after a federal tax credit. I tested the 2018 Bolt EV Premier with a sticker price of $43,905 including destination. This includes the $750 DC Fast Charging option which is a must have if you want to be able to charge up to 90 miles of range in 30 minutes. Other options include the Driver Confidence II Package for $495 that adds key safety features, the infotainment package that adds wireless charging, Bose speakers and USB charging ports in the rear seat. There is also a $395 charge for the beautiful Orange Burst Metallic paint option.
Is the 2018 Chevy Bolt a Good Car?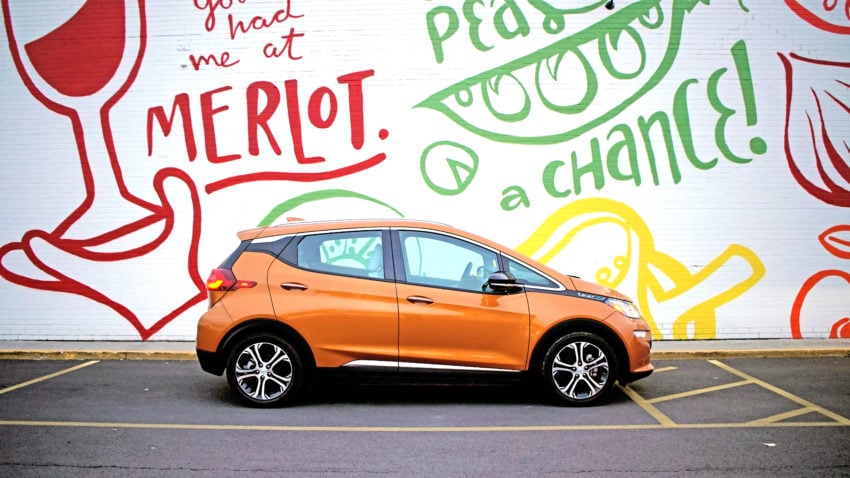 The 2018 Chevy Bolt is a good car. The ride is smooth and with sport mode on it's downright zippy and fun to drive. With a level 2 charger at home and a little planning you can quickly forget about the range listed on the dash for most daily trips.
There is plenty of room up front and decent legroom in the back, though taller passengers will feel crunched. The hatchback design and folding seats offer room to carry a plentiful amount of cargo for such a small car.  Even though it is a small car, there is a surprising amount of room and my older passengers loved that the doors open wide and the seats were high enough to get in and out of the car comfortably. With a big, beautiful screen that shows you everything you need to know about your car, as well as support for Apple CarPlay & Android Auto, it's got all the coolest tech features. You can even check your charge and use other car functions with an app that connects, thanks to the car's own 4G LTE connection.
2018 Chevy Bolt Range
The 2018 Chevy Bolt range is 238 miles, but that's when all things line up perfectly. In the winter and on the highway the range drops. This wasn't a deal breaker for me during my time with the car, though there were two times I wished I had a level 2 charger at home. With that in place I could easily keep the Bolt EV topped up each night and get to and from almost all of my regular destinations without seeking out a charger.
When you turn the car on, you see three ranges listed. There is a maximum range, an average range and a minimum range. This made it easy to understand just how far I could go and if I needed to adjust my driving style or the heater to get home or to a charger.
While the car comes with a three-year/36,000 mile warranty, the battery includes a longer eight-year/100,000 mile warranty.
Can You Own a Chevy Bolt Outside of the City?
With over 200 miles of range, living with a Chevy Bolt EV is definitely possible outside of a major city if you have a level 2 charger at home. You can buy a level 2 charger for about $500 to $600 plus installation. This charges the Bolt EV at about 25 miles per hour, so an overnight charge will leave you topped up in most cases.
There are only two level 2 public chargers in my city, both at dealerships that aren't that close to places I spend a lot of time so they would be impractical to use in place of a fast charger at home.
I routinely drive to Toledo, Cleveland and Columbus, which are between 100 and 280 miles round trip. Thankfully these are bigger cities that offer many level 2 chargers near points of interest and there are also level 2 and DC fast chargers along the way. The biggest challenge comes if you are traveling close to 200 miles round trip to another rural location.
Charging the Chevy Bolt in Real Life




In practice it takes a little more planning on longer trips to find a charger and you likely need to have a backup charger scoped out. Apps like PlugShare and ChargeHub show you chargers near your location and you can search near your destination. On my trip to Toledo I left without much charge since I used the Level 1 charger at home on the first night of the loan. I needed to make sure I could charge in Toledo during the day so that I had extra range on the way home that night. I found a free charger at a local brewery that was just a 5 minute walk from my destination. There were other chargers slightly farther away. Unfortunately a DC fast charger in another convenient location was broken and, according to other PlugShare users, has been broken for several months. Sometimes charger apps also point you to a charger that is not accessible to the general public. So if you need to charge on a trip, plan on having a backup option nearby, just in case.
The biggest change you need to make is planning charging time into your trips if you are going to be driving over 200 miles round trip. It's always going to be more involved than filling up with gas, but it's something that is workable.
If you need more range, or don't want to deal with charging on the go, look at the Chevy Volt. The Chevy Volt is a hybrid that offers good electric range and then allows you to keep going with gas.
Chevy Bolt Performance & Handling
The 2018 Chevy Bolt handles very well. It's quick and fun to drive, plus the small size means you'll be able to find a parking place almost anywhere. There's not a huge difference between driving an electric car and a gas car and that's a good thing. The Bolt EV is quicker to accelerate in many situations since you get all the power as you press the gas. With Sport mode on you can surprise passengers and the person next to you at a stop light. This is a very zippy little car in the city. While driving in the city and on the highway I had no issues getting up to speed, merging and maintaining speed.
The most interesting change I made while driving is to use one pedal driving. With the Bolt shifted into L, I could drive without really touching the brake. In this mode you press the gas to go and, as soon as you let up, the Bolt starts slowing down to recapture energy. There's also a small button on the backside of the steering wheel that you can pull to slow down faster. With a little practice you can drive around town without touching the brake unless there is an emergency situation. This helps increase your range.
Handling is very good, but one trade-off is that the ride is pretty firm. This means you will feel potholes or bumps on the road more so than in some vehicles. That said, it's not uncomfortably stiff.
2018 Chevy Bolt Design & Style
I love that the 2018 Chevy Bolt EV doesn't try to look like a stereotypical electric vehicle. There are no quirky futuristic design elements that scream 'look at me being green over here.' From the outside it looks like a sporty modern hatchback and that's perfect. Inside, the patterned finish on the dash is a little futuristic, but it's not overboard and I think it's a perfect fit for the target buyer. Wood trim or other fancy materials would feel out-of-place on the Bolt. At night there are blue LED accents on the dash that look great.
A massive 10.2-inch display takes over most of the dash, but there are also plenty of buttons to control the climate and other car functions. For a small car the interior is quite roomy. On the Premier trim level the front seats and both rear seats are heated, which is a must in colder climates like Ohio. Heated seats warm you up quicker and more efficiently than filling the entire cabin with hot air.
I found the seats comfortable, but not plush. I wasn't uncomfortable even on longer drives, but it's something you should definitely pay attention to on a test drive. There are a lot of hard plastic materials in the 2018 Bolt EV, which would normally be frustrating on a $40,000 vehicle, but all together the style and choices work well. I like the overall look and feel of the 2018 Bolt interior.
You can squeeze five people into the Bolt EV, but it is more comfortable with four passengers. There's a good deal of storage available, even with the back seats up for passengers. The 60/40 split means you can haul a more with one seat down and one passenger in the back or you can fold both down for plenty of room for cargo.
























2018 Chevy Bolt Technology & Safety
Chevy includes a  huge 10.2-inch screen in the Bolt EV that is beautiful to look at. The screen is placed at more of an angle than most car screens and this helps reduce glare and makes it easy to glance at while driving. The screen is very responsive and Chevy's interface looks very modern. It's also easy to use thanks to clear sections for each part of the car you can control. There is an Energy tab that is always available to show you details about your driving and the Bolt battery.
The Bolt also supports Android Auto and Apple CarPlay. This allows you to plug your phone in and use your apps, messaging, navigation and music right on the screen. Using CarPlay on this huge screen was awesome and using Waze on Android Auto was perfect for getting me to the bigger city without worrying about traffic or speed traps.
One the Premier trim level there is also a wireless charger that you can slide your phone into. This fit the iPhone X, but it would not fit the Galaxy S9+ or the iPhone 8 Plus.
Chevy includes a 4G LTE connection in the car that works with On Star. This allows you to remotely monitor charging using an app on your phone, lock or unlock the doors and remote start the car. You can also use the car's hotspot to connect a tablet or laptop to the Internet while you are on the go.
You will want to add the Driver Confidence II package to the Bolt EV to get automatic high beams, forward collision alert, lane keep assist with departure warning, low-speed forward automatic braking  and front pedestrian braking with pedestrian detection.
One thing I missed while driving the Chevy Bolt EV is adaptive cruise control. This is a feature that allows you to set the top speed you want to go on a highway and then sensors keep you 1-3 car lengths behind the traffic in front of you. It's great for traveling on the highway, but it isn't an option on the Bolt. There is also no high-speed automatic braking. These missing features are likely due to the idea that this is a city car at heart.
You Need These 10 Must Have Car Features: Find Out Why
Smart Cruise Control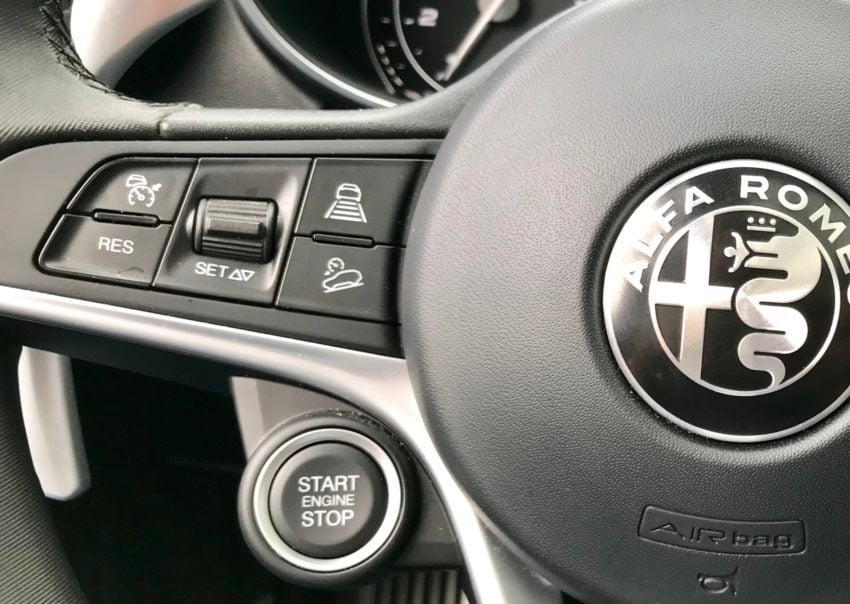 Do you hate constantly adjusting your cruise control, or giving up on cruise control because of traffic or due to a driver in front of you who keeps changing speed? You need a smart cruise control system.
Smart cruise control goes by many different names. You may see it listed as Radar Cruise, Adaptive Cruise or Intelligent Cruise control. Whatever it is called, it will allow you to set your cruise control and then stay with the flow of slower traffic.
Here's why we love it and why you need it. You get on the highway and set the cruise at 76 miles per hour. You also set the distance you want kept between you and the car in front of you. There are typically three or four settings so you can be close or keep a lot of space. Now you simply steer and your car will go 76 mile per hour when traffic allows it or there is no one in front of you. When someone is in front of you going 73 mph, the car automatically slows down to keep you the distance you choose from that car. This is indispensable in traffic and on long road trips.
Not all smart cruise control systems are the same. Some of work at all speeds, while others only work above a specific limit. Some systems can bring you to a complete stop in traffic and then restart without you needing to touch a pedal.
You can find adaptive cruise control on cars as cheap as $18,500 like the Toyota Corolla, and as an option on many cars below $30,000. Even on pricier cars you may need a higher trim level or special package to get this feature.