Tesla Model 3: 8 Things to Know Now
This is what you need to know about the Tesla Model 3 if you are looking to buy the new, more affordable Teslas. Model 3 deliveries are almost here and there are still a lot of questions out there from people who ordered and from potential buyers still looking at pre-ordering the Tesla Model 3.
In early 2017 we learned that there will be Tesla Model 3 upgrades for more speed, similar to the fast acceleration modes found on other Teslas. We're starting to hear about new Model 3 interior options including a new vegan interior on the model 3.
We will walk you through the Tesla Model 3 specs, price, speed, range and other important details that you need to know. We'll also touch on the Tesla Model 3 release date, and the next Model 3 event.
While Tesla is still working to bring this to market, the Chevy Bolt, which has slightly longer range is available in select markets already. Elon Musk, recently teased that the Tesla Model 3 will end up beating the Bolt's EV range when it arrives in late 2017.
Model 3 pre-orders started before the car went on sale with many buyers putting $1,000 down on the car without a test drive. This is what you need to know about the Model 3 now that Tesla officially announced the new electric car.
Tesla Model 3 Price
The Tesla Model 3 price is $35,000 before incentives. You can reserve the Tesla Model 3 for $1,000 down. Incentives can dramatically lower that price.
Although the base price is affordable, you can upgrade the car with convenience features like Autopilot. The Autopilot feature will likely cost $3,000.
@redletterdave Hardware in all cars. Autopilot safety features standard. Convenience features optional (like S and X).

— Elon Musk (@elonmusk) April 1, 2016
There is still a federal income tax credit of $7,500 that will help bring down the overall price you pay in the end. There are also additional Model 3 incentives that could come into play with $6,000 in Colorado and $2,500 in California to name a few. Use this map to see if there are any additional incentives available in your state. It's important to note that the federal incentive could come to a stop for Tesla in mid-2018, which is when the company could cross the 200,000 sales mark according to Bloomberg News.
Tesla Model 3 Design
The Tesla Model 3 design features an eye-catching front with no grille, beautiful swirling wheels and a glass top that starts at the hood and goes all the way to the back of the car. The glass doesn't lift at all in the back, but you have a trunk in the back and in the front.
There are four doors, and room for five passengers inside the Model 3. The demo units featured a two-tone interior finish.
Perhaps the most striking interior feature is a massive screen in the middle of the dashboard. This is where your speedometer is, where you control navigation, music and more.
Another shot of that crazy #TeslaModel3 dashboard https://t.co/MPYOwn3z5s pic.twitter.com/2wP5woBmcj

— Chris Davies (@c_davies) April 1, 2016
The rest of the dash is devoid of gauges and controls, which may take some getting used to.
Before you fall in love with this car too much, it is important to note that this could change by the time the Tesla Model 3 production starts. Elon Musk said that we will see a refined Model 3. That is coming this Friday as Tesla will unveil the final production specs as well as a look at the finished car. Musk teases that part two of this reveal, "takes things to another level."
In March 2017, Elon Musk added more to what you can expect from the Model 3 design, letting buyers know that there will be no auto extend handles and that the technology in the model 3 will not be more advanced than what you see in the Model S.
@GoesAzedo yes

— Elon Musk (@elonmusk) April 4, 2016
The new Vegan only seat options on the othr Tesla cars will be available in the Model 3 for a premium.
Tesla Model 3 Specs
Here is a look at the most interesting Tesla Model 3 specs that we know so far, including the zero to 60 speed, range, charging time and more.
| Tesla Model 3 Specs | Details |
| --- | --- |
| Tesla Model 3 Range | 215 Miles Per Charge |
| Tesla Model 3 Charging Stats | 80% Charge in 30 Minutes with Supercharger |
| Tesla Model 3 Zero to 60 | under 6 seconds |
| Tesla Model 3 Safety | 5 Star safety rating in all categories |
| Tesla Model 3 Autopilot | Upgrade available, tech in all cars |
| Tesla Model 3 Passengers | 5 Adults |
| Tesla Model 3 Charging | Supercharging for Long distance travel |
Expect to learn more about the Tesla Model 3 specs as production nears and we could see a change to the speed and options based on upgrades that are available.
Of note, there will be some upgrades to make the Model 3 "go fast" like we see with the current Tesla cars. Musk confirmed that these options will come in 2018, as Tesla is keeping configurations low in the early production ramp up.
Tesla Model 3 Range
The Tesla Model 3 range is 215 miles on a charge. This is slightly higher than what Elon Musk shared as a realistic goal.
If you plan to travel farther you can rely on Superchargers to get 80% battery charge in 30 minutes.
Tesla Model 3 Photos & Videos
Watch one of the first Tesla Model 3 drives in the video above. There were limited opportunities to drive the Model 3 at the unveiling. You cannot go to a Tesla Store and book a Model 3 test drive yet.
There are several other Tesla Model 3 photos below that help you get an idea of what the car looks like.









We are now seeing more Tesla Model 3 photos appear online, including this short video from Elon Musk of a Model 3 release candidate.
First drive of a release candidate version of Model 3 pic.twitter.com/zcs6j1YRa4

— Elon Musk (@elonmusk) March 24, 2017
Tesla Model 3 Order Details
There are only two ways to get your Model 3 pre-order. You'll need to go in store if you want to be at the absolute front of the line, while you will be able to go online if you are not close to a Tesla store.
You can place a Tesla Model 3 order online now, or at a local Tesla Store. These are open in many countries now. It is possible to place an order for two Tesla Model 3 cars, but no more at this time.
You must put down $1,000 for the pre-order, but it is refundable. You cannot put any more down on the car at this time.
Tesla Model 3 Release Date
The Tesla Model 3 release date is not confirmed for all buyers, but The Motley Fool shares that the first delivery will be this Friday July 28th at part two of the Tesla Model 3 announcement. We also know that,
"Model 3 production is scheduled to begin in late 2017. When production begins, we will begin deliveries in North America starting on the West Coast, moving east. As we continue to ramp production, we will begin deliveries in Europe, APAC and right-hand drive markets."
It's not clear when the next deliveries will start, but the order you get your delivery in will have an impact as will the options selected.
@Oatmeal sure!

— Elon Musk (@elonmusk) April 1, 2016
We know at least one user can expect an early Tesla Model 3 release date, confirmed by Elon Musk himself.
Some buyers are frustrated with the lack of clarity over deliveries, especially when they selected options that will push their builds back past the initial vehicles. Patrick Herrity told Bloomberg that the lack of communication, "makes me 100 percent more nervous." Herrity opted for all wheel drive and a sunroof, both options that will not be available right away.
Tesla expects to make 100 Model 3 vehicles in August, 1,500 in September and ramp up to 20,000 units in December. There are an estimated 500,000 pre-orders and Musk's comments suggest that number will climb after the reveal this week.
Tesla Model 3 Test Drive
There is no way to schedule a Tesla Model 3 test drive at this time. With so much interest in pre-orders, the company does not need to offer any kind of early access to the car yet.
It is likely that the first Tesla Model 3 test drives will start in 2017. If you are curious about the car you can schedule a Tesla test drive on one of the current cars to get a look at the technology and to experience the Autopilot technology that will also be in the Model 3.
You Need These 10 Must Have Car Features: Find Out Why
Smart Cruise Control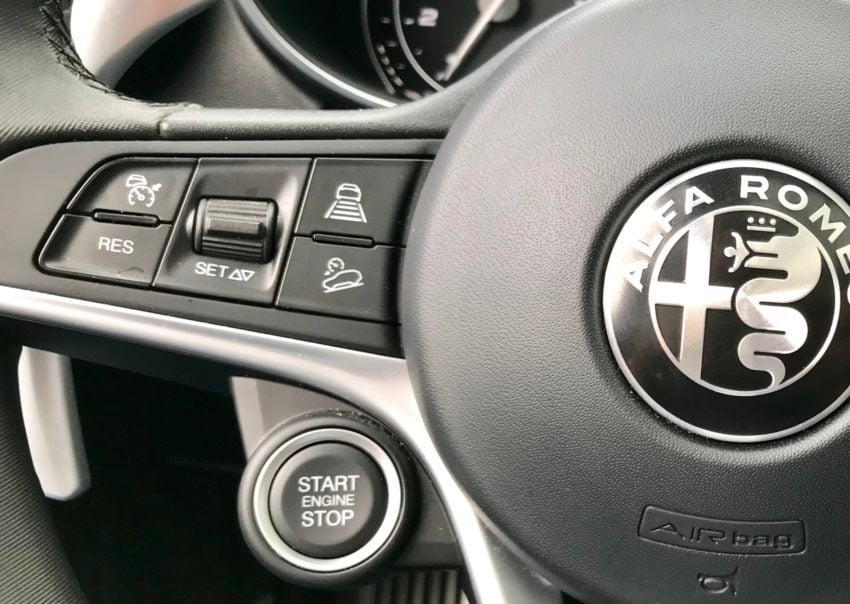 Do you hate constantly adjusting your cruise control, or giving up on cruise control because of traffic or due to a driver in front of you who keeps changing speed? You need a smart cruise control system.
Smart cruise control goes by many different names. You may see it listed as Radar Cruise, Adaptive Cruise or Intelligent Cruise control. Whatever it is called, it will allow you to set your cruise control and then stay with the flow of slower traffic.
Here's why we love it and why you need it. You get on the highway and set the cruise at 76 miles per hour. You also set the distance you want kept between you and the car in front of you. There are typically three or four settings so you can be close or keep a lot of space. Now you simply steer and your car will go 76 mile per hour when traffic allows it or there is no one in front of you. When someone is in front of you going 73 mph, the car automatically slows down to keep you the distance you choose from that car. This is indispensable in traffic and on long road trips.
Not all smart cruise control systems are the same. Some of work at all speeds, while others only work above a specific limit. Some systems can bring you to a complete stop in traffic and then restart without you needing to touch a pedal.
You can find adaptive cruise control on cars as cheap as $18,500 like the Toyota Corolla, and as an option on many cars below $30,000. Even on pricier cars you may need a higher trim level or special package to get this feature.