5 Best Apple Watch Alternatives
A couple of years ago we shared the 5 best Apple Watch alternatives for both Apple iPhone users and Android phone users. However, the smart watch market has some new options so we've got an updated list of the 5 best Apple Watch users.
This time around, the list doesn't split into one set of alternatives for iPhone users and one for Android users. A few of these will work with an iPhone, but we wouldn't recommend it. Also, some won't work with Android.
Instead of breaking this down for Android v. iPhone, we've got five categories of users based on your preferences and needs. This list will help you pick the right alternative based on your focus: function or form.
Apple Watch Alternatives – Samsung Gear S3 for Samsung Phones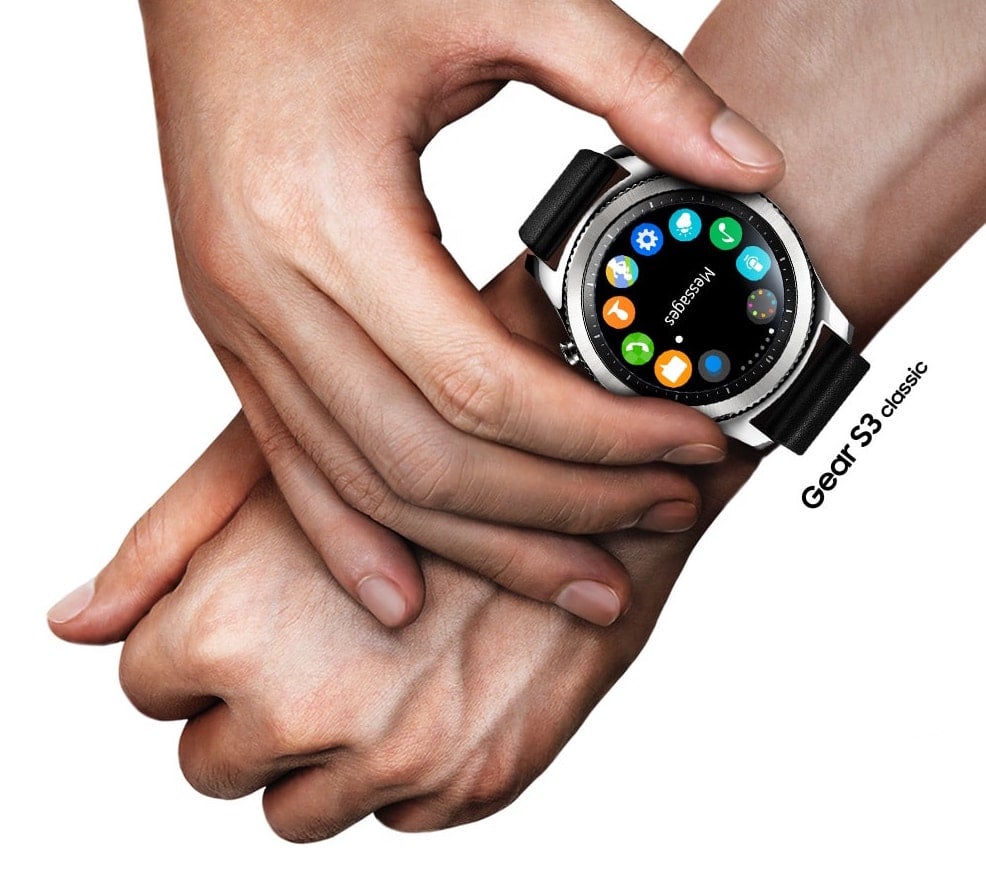 Most people who don't own an iPhone probably own a Samsung Galaxy Smartphone of some kind, from the new Samsung Galaxy S8 and S8 Plus to the older Galaxy and Galaxy Note phones. The best option for Samsung Galaxy  users also comes from Samsung: the Samsung Galaxy S3 classic or frontier smart watches.
The Gear S3 looks like a traditional watch, except that it's huge. It runs Tizen, which means it won't run Android Wear apps or Apple Watch apps. It comes in a few different styles and models.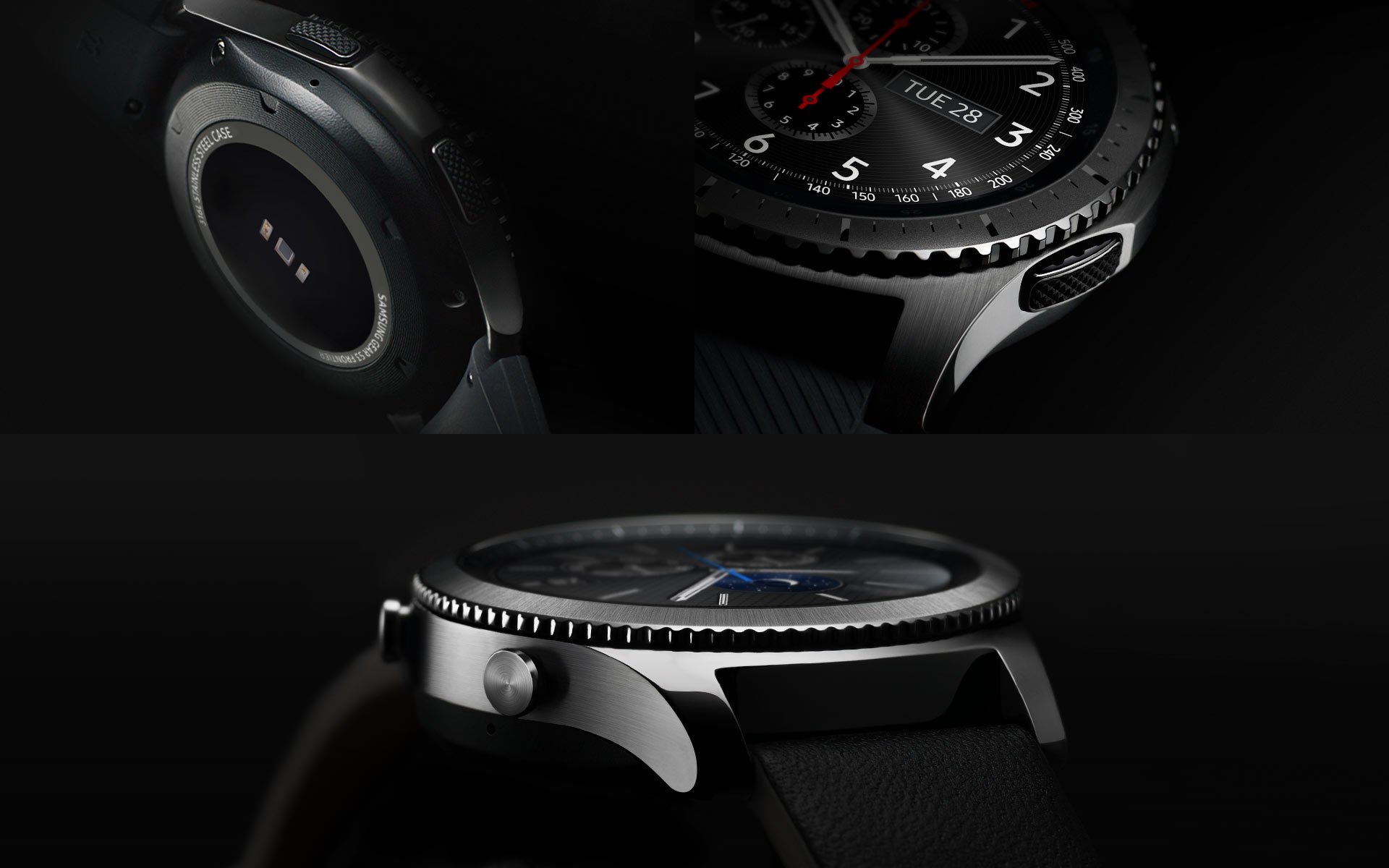 Buyers can get a model that lets them use it without the phone while exercising. This one has its own SIM and phone number. The S3 also has fitness tracking with waterproof features so you can swim and get it sweaty without fear.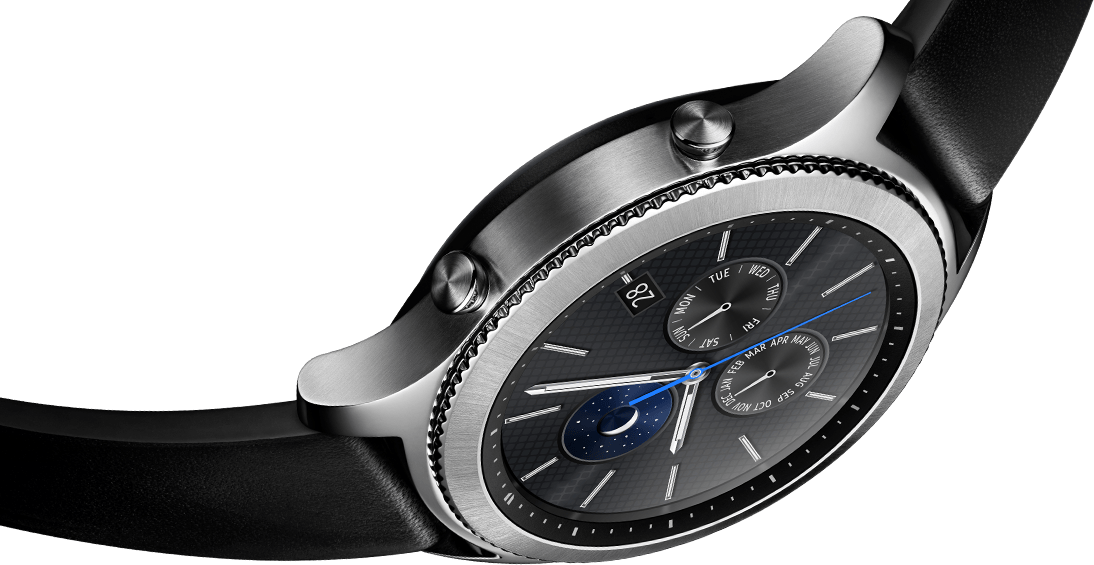 Unlike the Apple Watch, the Gear S3 offers an always on watch face so you can always tell the time.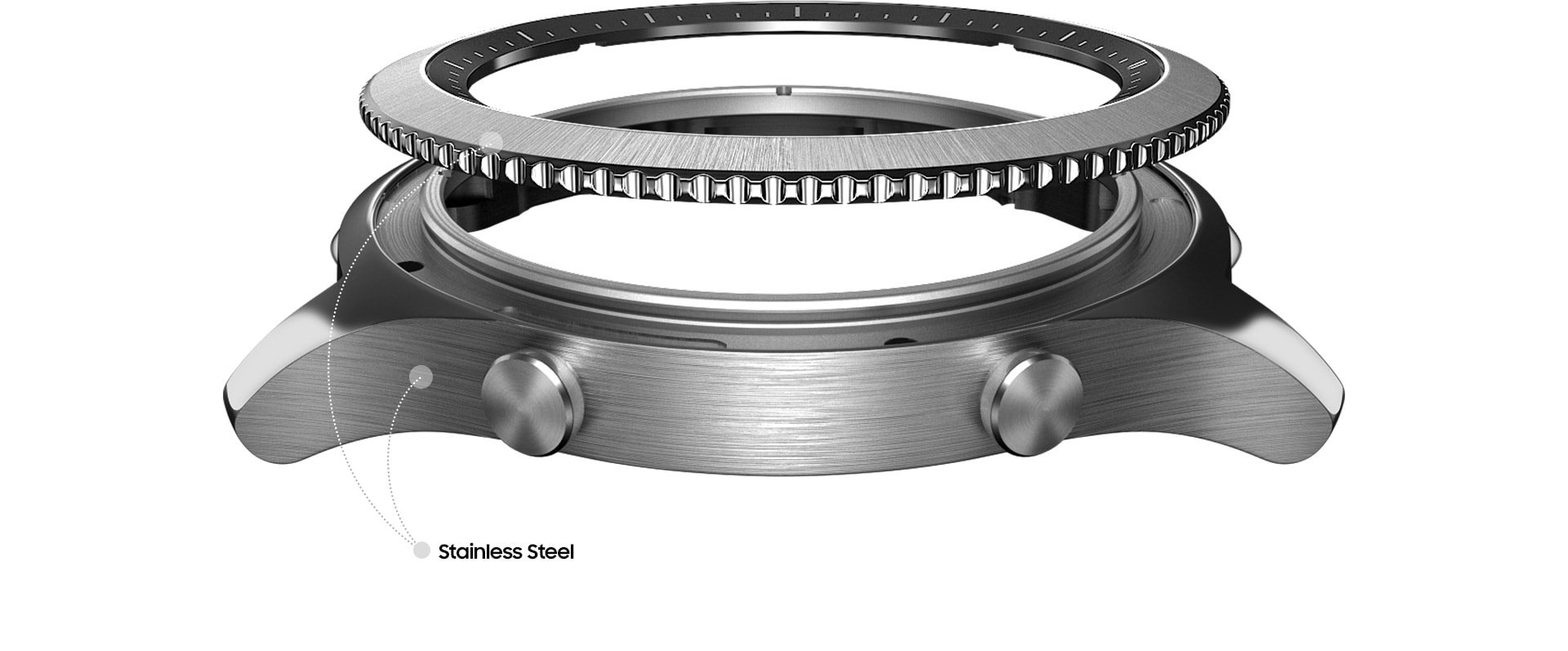 A circular bezel rotates and cycles through on-screen content. It has interchangeable bands and comes with a lot of color options.
Samsung says that it works with Android and iOS, but we don't recommend it. Go with the Gear S3 only if you own a Samsung Galaxy phone. You can't reply to text messages on iPhone and if the Gear S app closes in the background on iPhone, you'll experience problems with your watch. There's also no Samsung Pay. Learn more about phone compatibility at Samsung's website.
Other features included:
Wi-Fi and Bluetooth interface
Samsung Pay to make mobile payments
GPS
Built-in mic for voice commands
Charging dock with Qi-charging
Get the Samsung Gear S3 Frontier for $349.99 direct. The Gear S3 Classic also costs $349.99. The version that comes with its own SIM comes in an AT&T compatible version and T-Mobile compatible version. They cost $349.99 and $399.99 respectively.
Apple Watch Alternatives – Huawei Watch 2 for non-Samsung Android Phones
If you don't use a Samsung Galaxy phone, then the best option comes from Huawei. The Huawei Watch 2 pairs with most Android phones, including the Samsung Galaxy S8 and other Galaxy phones. It will also work with the iPhone, but with limits.
Like the Samsung, the 4G Sport Smartwatch version of the Huawei Watch 2 has 4G connectivity built-in. You don't have to carry your phone all the time for it to work. This makes workouts easier.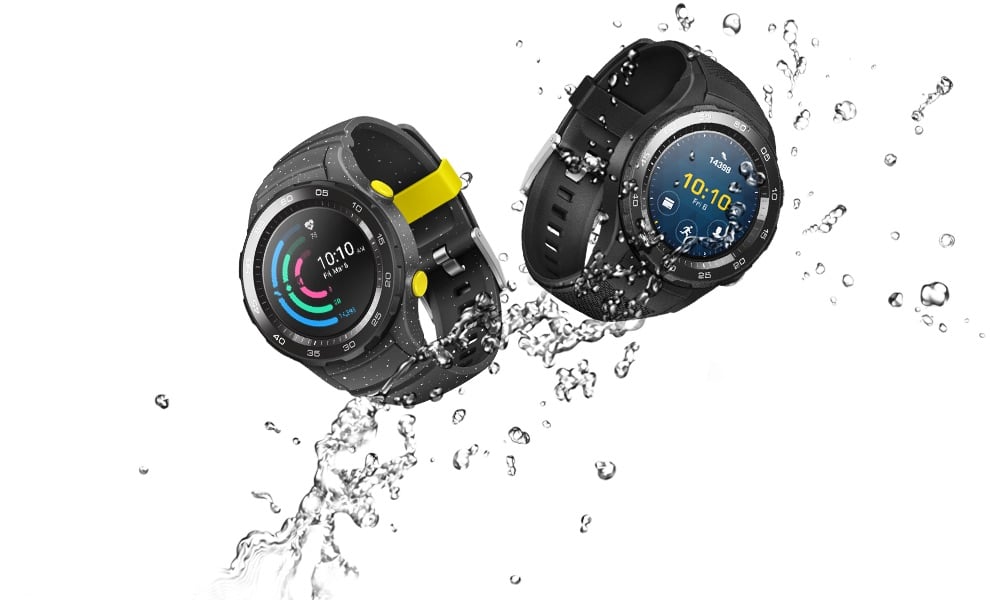 The Huawei Watch 2 also looks like a traditional watch depending on the watch face you use. It comes with a ceramic bezel and water resistance. Get swappable bands as well.
Other features include:
Bluetooth and 4G network connectivity
GPS tracking
Fitness tracking with dedicated button to start workouts – tracks heart rate, workouts, steps, calories
Listen to music without your phone
Google Assistant compatible
NFC for Android Pay mobile payments
All Android Wear apps should work
Promises 2 days battery life
The Huawei Watch 2 comes in two styles, regular and Classic. The regular version has Dynamic Orange with 4G built-in, Carbon Black in both 4G and non-4G and Concrete Grey without 4G. The Classic watch comes in Titanium Gray and doesn't include 4G.
This watch becomes available in April 2017 and costs $349.
Apple Watch Alternatives – Martian mVoice Smartwatch for Fashion Conscious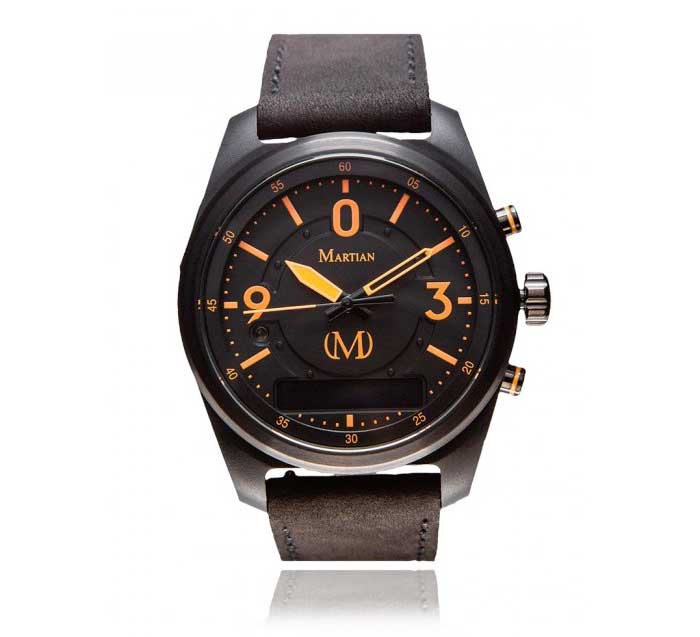 Do you want a watch that looks better than the Apple Watch? If you prefer Apple Watch alternatives that give you notifications, like the Apple Watch, but look like a typical analog face watch, then the Martian mVoice Smartwatch fits your tastes. It looks nice and still gives users some interesting functions.
https://www.youtube.com/watch?v=ewGPX0MlXh4
The mVoice name tells you one of the most important features of the Martian mVoice Smartwatch. Alexa from Amazon works with the mVoice giving the users access to a bunch of Alexa features. Set this up in the mVoice app on iOS or Android.
You can also command it to make calls, send messages and more with your voice. The watch works with both iPhone and Android and interacts with Siri or Google's OK Google command features. Need to get home? Then press the button and tell it to take you home and it will open either Apple Maps on the iPhone or Google Maps on your Android phone and navigate to your home address.
People who want to attract less attention will like the strong vibration notifications from your phone's apps and built-in features. An LED on the face also lights up to get your attention without making annoying sounds.
The tiny OLED display shows the text of your notifications. Longer notices can get annoying since you have to wait for them to scroll by.
If you set the watch to notify you, you won't lose your phone. If it loses the connection to the phone via Bluetooth, the watch buzzes and the LED lights up to warn you that you're about to leave the phone behind.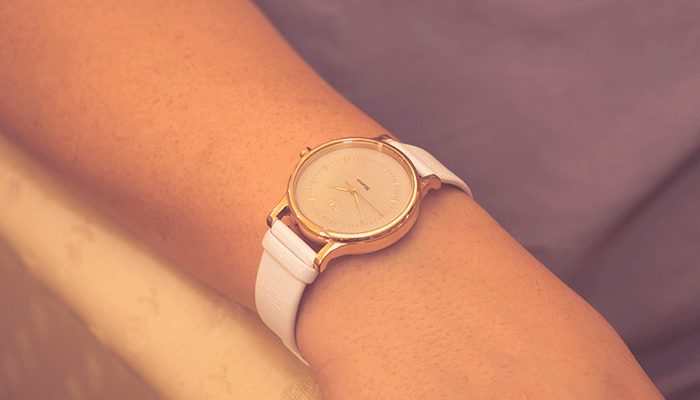 When a notification goes away just tap the screen a couple of times. It will display earlier notifications. Add to this the great fitness features most smart watches offer and music controls, and this makes a great option for people looking for Apple Watch alternatives.
Martian sells a few different colors and styles at $195 for most of them.
Apple Watch Alternatives – Fitbit Alta HR for Fitness Freaks
If you're a fitness freak first and don't care as much about all the amazing smartwatch features, then the simple and sleek design of the Fitbit Alta HR will grab your attention. If the sleek design doesn't, then the $149.95 price tag might.
The Fitbit Alta HR focuses on fitness and tells time. It's a slim low profile device that comes in six colors as follows:
Black and Stainless Steel
Blue Gray and Stainless Steel
Fuchsia and Stainless Steel
Coral and Stainless Steel
Black and Gunmetal Stainless Steel
Soft Pink and 22K Rose Gold Plated
The last two cost extra at $179.95. Fitbit also offers three sizes, small, large and extra-large.
The Alta HR tracks the following fitness features:
PurePulse Heart Rate – continuous heart rate tracking.
All-Day Activity Tracking – steps, distance, calories, activity and stationary time.
Sleep tracking with a silent alarm that wakes you by buzzing.
Move reminders.
Sleep stages – light, deep and REM stage sleep tracking.
The band offers time and notifications on the screen. Tap the display to see stats, time and notices. The band works with iOS, Android and Windows Phone. The battery lasts up to 7 days. Fitbit also offers other bands starting at $30 and costing up to $100.
Apple Watch Alternatives – Misfit Phase for Fitness and Fashion Conscious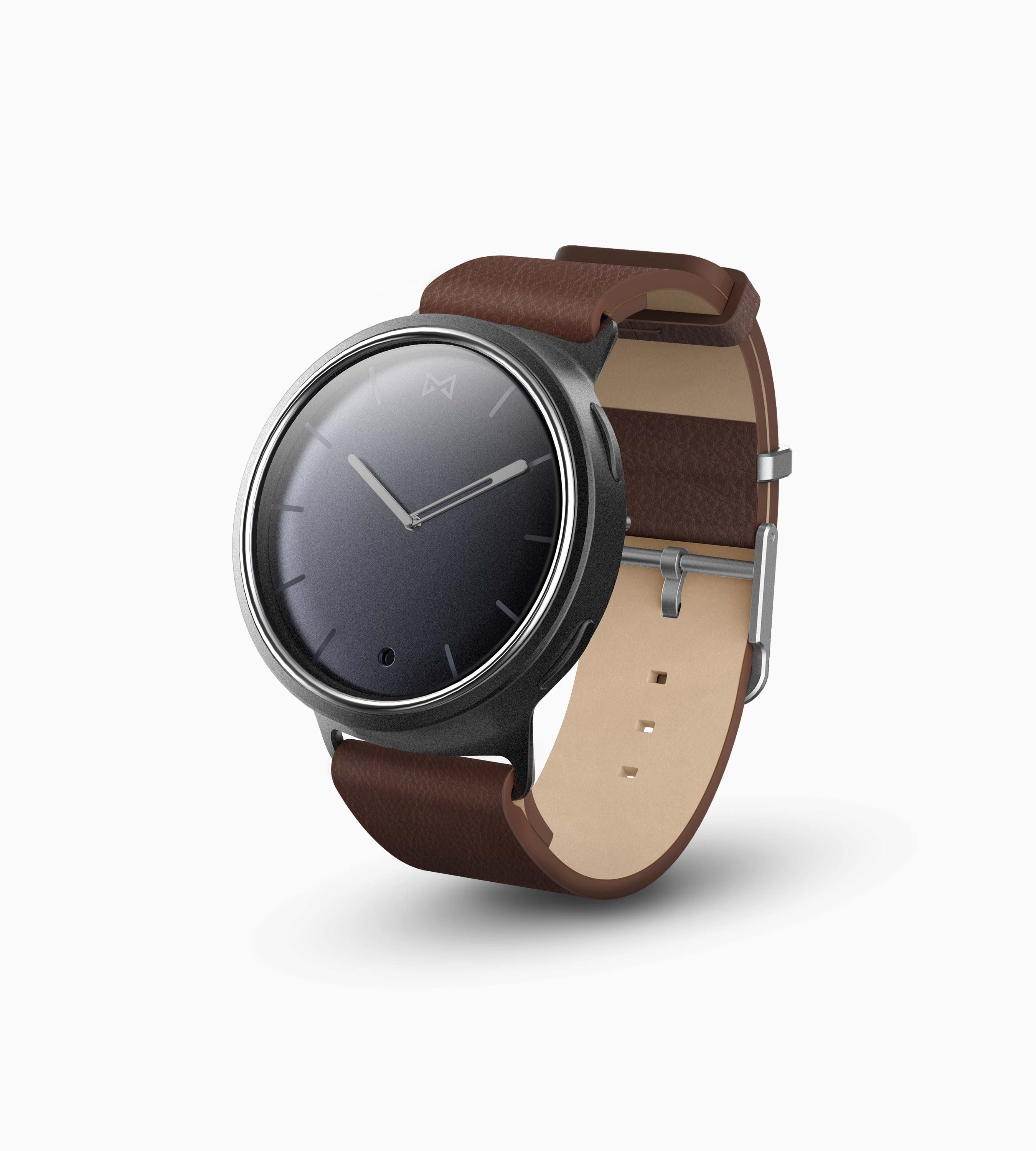 You may like the look of a traditional watch face, but need more fitness tracking than the Martian watch above offers. The Misfit Phase will fit your lifestyle. It looks nice with six different attractive color and band choices plus fitness tracking features built-in.
Buyers pick between a sport band or a leather band and pay either $175 or $195 depending on the band they choose. You can get one of the following optional styles:
Black watch with some silver trim and hands and black sport band.
Black watch with rose gold trim and hands and black leather strap.
Rose gold watch with silver face, rose gold hands and a white leather strap.
Silver watch, face and hands and a white sport strap.
Blue watch, face and sport strap with gold trim and hands.
Black watch and face with silver trim and has and a brown leather strap.
So what does the Misfit Phase do? It tracks fitness – steps, distance and calories burned during the day. It also can track your sleep cycles at night. There's an alarm feature, vibration alerts for notifications and a smart button that makes your phone make noise if you've lost it. The button also will take photos and control music playback.
Configure the watch features using the Misfit app. It works with iPhone, Android and even Windows Phone.
In addition to the above features, the watch can advance presentation slides and integrate with the Logitech Harmony remote.

Misfit makes a bunch of straps that look nice and give the watch a fashion flair you won't get with most fitness trackers. The straps come in assortments of three to a pack for $59.99 or $24.99 each.

As an Amazon Associate I earn from qualifying purchases.