5 Apple Watch Alternatives for Android Users
Since Apple first started teasing the all-new Apple Watch in September we've seen countless smartwatch options announced and released from the competition, most notably devices running Android Wear. Today Apple officially took the stage and revealed more details about their vision of a "smartwatch" but for those already looking for an alternative, here are five or so good choices.
Since first being announced back in March of last year, Google's Android Wear smartwatch platform has had a lot of interest and been launched on multiple impressive options, most notably the Moto 360 and LG G Watch R. And while Google has a strong lead over Apple, the Apple Watch will surely kickstart wearables, even if it isn't for everyone.
Read: Apple Watch vs Moto 360: 6 Key Differences
The Apple Watch is a gorgeous new gadget with plenty to offer, much of which was shown off this morning during the official Apple Watch event. However, many are likely wondering if they need an Apple Watch, what is available from the Android competition, or are simply an Android user seeking an alternative to the Apple Watch. Below we have a few worthy alternatives for Android users wanting something else.
When we say Smartwatch it can mean a lot of different things. From a fitness band that also happens to be a watch, something like the impressive Withings Smartwatch, or of course one of the many Android Wear smartwatches running Google's own wearable operating system.
Potential Apple Watch buyers that are interested in something from the competition, or an alternative that will work better with Android, Google-powered Android Wear smartwatches are the obvious choice. Many excellent options have been released over the past year, and below four of the five watches in our list are running Android Wear.
Read: Here's The Apple Watch You Really Wanted
While we're talking about the Apple Watch alternatives for Android users here, those with an iOS device will be happy to know we're also hearing Android Wear could soon launch for the iPhone. Meaning you can use the gorgeous Moto 360 with an iPhone 6, instead of the rather expensive Apple Watch.
Today Apple called its new watch a lot of different things and made a compelling case as to why it's the best watch for your money, the most innovative device to strap on your wrist, and more, but if you're still not convinced or want something to play nicer with Android, here's our top five choices.
Moto 360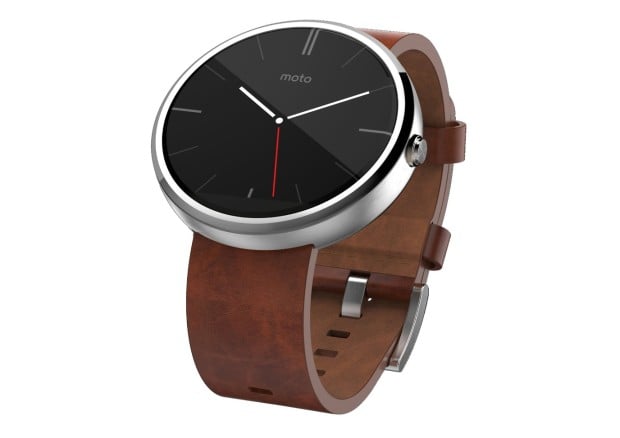 The first choice has to be the Moto 360, simply because it has been the most popular smartwatch and Android Wear device to date. Thanks to a sleek all-metal round watch face, leather and metal watch bands, and the latest version of Android Wear it has been a staple in the smartwatch market. It was the first round smartwatch, which lead to others like LG and Samsung to quickly chance pace and move from square designs, to round watches. Sadly, Apple didn't get the memo.

Read: Moto 360 Review
And while the Moto 360 is still the most popular Android Wear device with features like a pedometer and heart-rate monitor, it's still a pretty bare-bones and plain looking device. It's made of aluminum and round, but that's about all it has going for it. However, it's what I use daily, and is a great choice coming in at $249