5 Good Reasons to Use Samsung Pay
Samsung Pay is available on all carriers in the United States and on recent Samsung smartphones. Like the Galaxy S8 and Galaxy S8+ to name a few. Now that it's available nearly everywhere, here we'll be sharing five great reasons why owners should use Samsung Pay. From triple reward, bonus gift cards and even PayPal support.
Released in late 2015 Samsung Pay is now easy to use for almost all recent devices. Shoppers will need a Galaxy S6 or newer Samsung smartphone to use Samsung Pay. It is also available for the Gear S3 smartwatch. You'll need a supported bank for it to work.
Read: Samsung Pay vs Android Pay: What's The Difference
Between Google Wallet, Apple Pay, Samsung Pay and now Android Pay, not to mention LG working on its own version, wireless mobile payments are here to stay. For those who've yet to try it, here are a few reasons why I use Samsung Pay every single day. Furthermore, why it's worth recommending to those with a Samsung smartphone.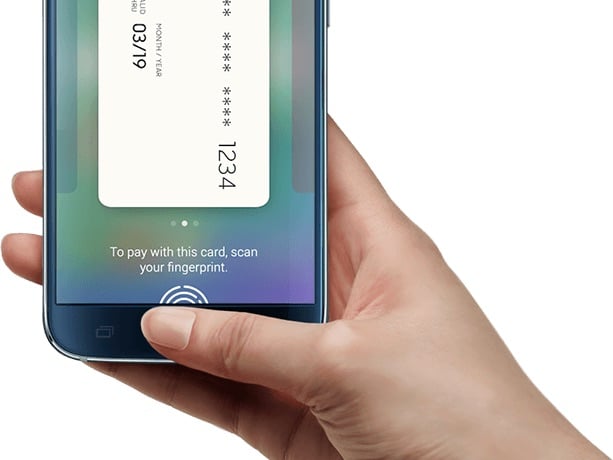 Samsung Pay was first announced during the Galaxy S6 announcement in early 2015 but wasn't released until September after a short beta. Apple Pay had a one-year lead on Samsung, but it doesn't work nearly as well. In addition to only being supported at select retail stores or update payment terminals.
In fact, we recently wrote an article on why we don't use Apple Pay and stated some good reasons to avoid it. That said, Samsung Pay works almost everywhere and has none of Apple's limitations. As a result, it's absolutely worth using. Here's a list of supported devices, carriers, banks and credit cards.

Update: In late 2015 Samsung added support for Chase and Mastercard, two huge partners that will allow millions to enjoy Samsung Pay. Then in December added gift cards, additional features and improved the user interface. Throughout 2016 Samsung added loyalty cards and support for over 500 banks or Credit Unions. During the summer of 2017 Samsung Pay finally received support for DiscoverCard, which has been a long time coming.
If you have a device, bank, and card that works with Samsung Pay, take advantage of all it has to offer.
It Is Safe & Secure
All Samsung smartphones that work with Samsung Pay feature the latest cutting edge technology in terms of security on a smartphone. From fingerprint scanners to the latest monthly security patches.
Between users needing a fingerprint to actually use Samsung Pay to make wireless payments with their phone, and all the security measures in place are why it's safe to use. Here are Samsung's thoughts on security:
"your purchases remain yours alone. Samsung Pay uses several layers of security. It keeps your payment information separate and doesn't store or share it, so you can pay without worry."
Samsung Pay doesn't store or share payment or credit card information, making it safe to use. Not to mention multiple layers of security are in place to keep it safe from hackers trying to steal information. Yes, part of the technology behind it got hacked in 2015, but it didn't compromise S-Pay in any way. In fact, it's believed the reason behind it was to try to steal the technology behind it. There are no instances of hacks to Samsung Pay since then.
Samsung Pay Works Almost Everywhere
Unlike Apple Pay or Android Pay, Samsung's method works almost everywhere. It's accepted anywhere that works with Apple Pay, along with any payment terminal that accepts a credit card. Samsung claims nearly 95% of all retail stores in the United States will work. So yes, almost everywhere.
The service uses both NFC and MST (magnetic secure transmission) to make wireless payments. All a user needs to do is tap their phone to the payment terminal, touch the fingerprint scanner for authentication, and you're all done. This happens with NFC, but it's also backward compatible with all swipe-based magnetic payment terminals. Meaning anywhere you can swipe a credit card, you can use Samsung Pay. The phone acts like you're swiping a debit card by sending the same magnetic secure transmission. If NFC (Apple Pay style) isn't accepted, it uses the magnetic signal.  It's fast, easy, and secure.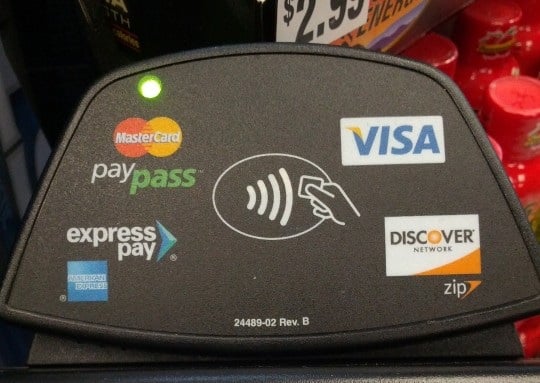 Apple and Google both use NFC, which is Near Field Communications. Meaning that select locations around the US like Starbucks, vending machines, retail stores and others need to have updated payment terminals inside their stores for it to actually work. Payment terminals with the "PayPass" or "Apple Pay Accepted Here" signs you've probably seen like the one above are what use NFC.
As a result, many places don't accept Apple or Android Pay, making it useless for those with an iPhone or recent Android devices.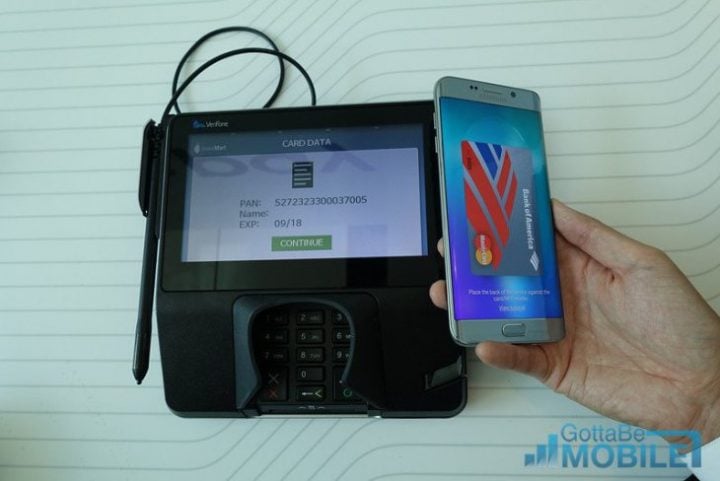 This is key. Samsung Pay works at all of those locations, as well as the others. Making it extremely convenient unlike any other mobile payment service on the market. I've made payments at stores that don't accept Apple Pay, like grocery stores, and the cashiers constantly tell me, "Hey, that doesn't work here". Then act shocked when it works. The responses I've received are everything from confusion, amazement, to curious and full of questions. One cashier even accused me of stealing, until I explained what I did.
Rewards
Another great reason to use this service is Samsung Pay Rewards, which debuted on November 14th, 2016. This reason alone is enough to suggest owners try it. Basically, you can earn rewards just like credit card companies offer, but from Samsung.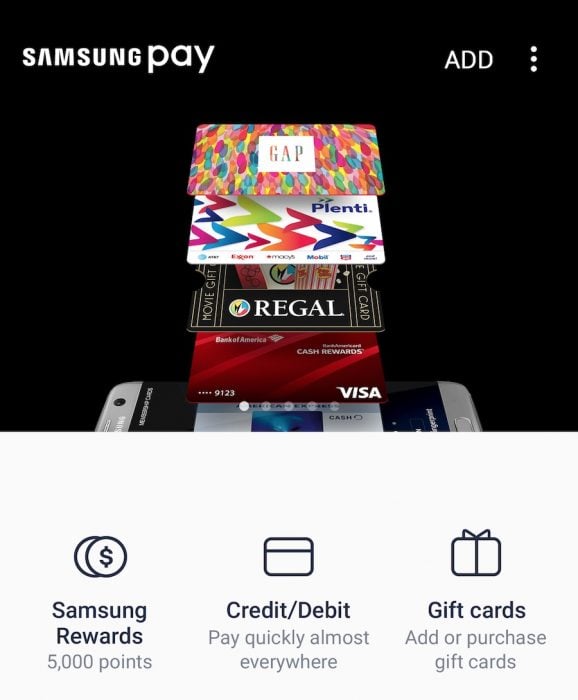 Samsung Rewards works just like a points-based credit card reward program. Every mobile purchase made will earn points. Users can double-dip by earning points from the card provider and Samsung, not to mention earn rewards on a debit card. Something that typically doesn't happen from banks.
You can redeem points for Samsung products, vouchers, gift cards, visa cards and more. The company also has double or triple bonus programs. Imagine getting 4x points from Samsung, points from the card issuer, then getting a gift card. Impressive, right?
The more you use Samsung Pay each month, the higher the tier of points and bonuses. From Silver, Gold, and Platinum for better rewards and more double-ups. I've got 4x points since the Galaxy S8 release. Additionally, there are instant winners from random giveaways simply for earning points and making payments with your wireless device. More information is available right here. I've never won a giveaway which use your points to enter, but feel free to try it. Samsung Pay also supports loyalty and gift cards, so you can leave your wallet at home. I use my Starbucks gift card with Samsung Pay a few times a week.
PayPal Support
While the rewards program is excellent, one of the biggest reasons millions will try Samsung Pay is for Paypal support. Finally, after two years, in July of 2017 Samsung officially announced a partnership with PayPal.
Those with a new Samsung smartphone and Samsung Pay can now use PayPal to make purchases in apps, online, and in retail stores. This is big news, and probably the best new feature for mobile payments. Now you can use your PayPal wallet to pay for anything while you're out and about just by using your Samsung smartphone.
Easy to Use
And finally, Samsung Pay is extremely simple to use. So much in fact that once it's setup users don't even have to turn on their phone to make payments. This is one of the many reasons I use it daily.
Setup takes less than a minute and consists of installing the Samsung Pay app if it isn't already installed. Then using the camera to capture and save your credit or debit card. Users can also enter the information manually. Once done, you'll never need to use the Samsung Pay app again. Although there are free gift cards and other incentives in the "announcements" part of the Samsung Pay app. Check it to earn free $25 gift cards, Dunkin' Donut freebies and more. Right now make 5 purchases on the Galaxy S8 and Samsung Pay to earn $100. I've received over $180 in gift cards simply by using Samsung Pay.
Users can swipe up while the phone is off, or turned on, right from the home-screen or even the lock-screen. Tap your fingerprint for authentication and make your payment by holding it against the payment terminal. It takes less than two seconds and you're all done. There's a persistent little tab on the bottom (shown above) making it quick and easy to use. You can remove that little tab, but then you'll need to launch the app every time you want to pay for stuff.
Samsung's phones know which signal to send for payments, and there's no difference in the process or timing whether it's NFC or MST. It just works and works well. If you have more than one card or loyalty cards, just swipe through the list before you pay. Simply choose what card, then use your fingerprint to get started.
No finding a card in your wallet, digging through a full purse, or hoping the place works with Apple Pay. Just pull out your phone, swipe, tap and pay.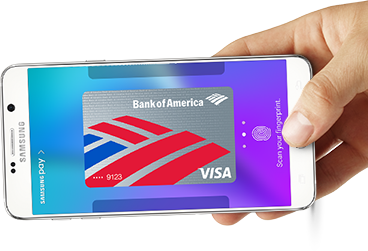 Samsung plans to add additional banks, cards and more features in the near future. We've seen a lot added in 2017 and expect that trend to continue with the Galaxy Note 8 release and beyond. We're also hearing they could have some big deals and rewards during Black Friday.
Hands down Samsung Pay is the best wireless mobile payment method on the market. It's fast, secure, safe, and more importantly easy to use everywhere. As a reminder, Samsung Pay doesn't work at gas pumps or ATMs, but that's about the only limit users will run into. If you have a capable device and a supported bank or card, give it a try today. You'll be glad you did.