5 Must Have Gadgets for New Moms & Dads
The right products can go a long way to helping you adjust to becoming a new mom or dad. While they won't do the work for you, these gadgets will help you keep an eye on your baby and keep him or her safe.
What to Expect looked at over 6,000 products and tallied over 130,000 votes to come up with their 2017 What to Expect Mom Must-Have Awards, which is where we went to get input on the must have gadgets for new parents.
Here's what we think you should have ready to go when you bring your baby home.
Owlet Smart Sock 2: Advanced Baby Monitor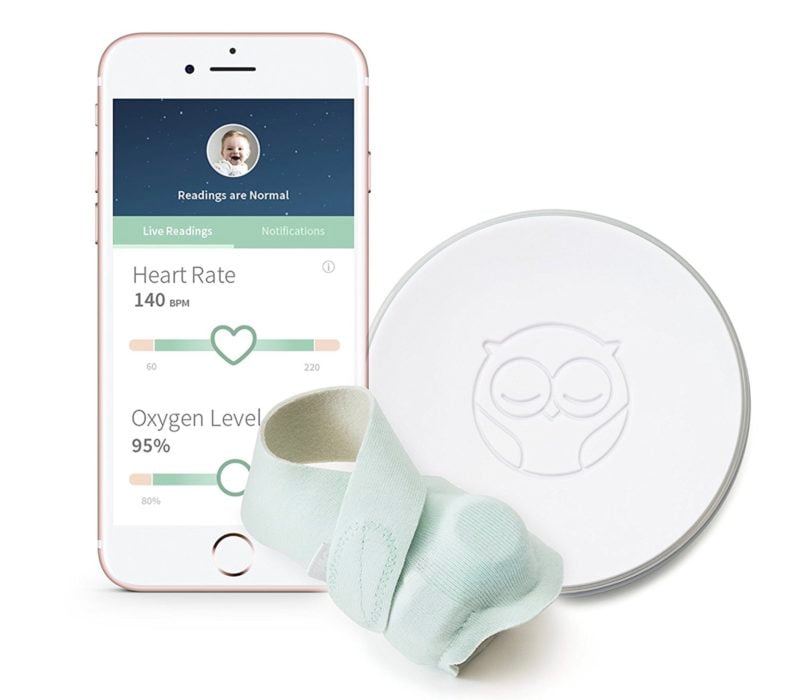 Mom isn't the only one looking for wearable tech these days. The Owlet Smart Sock 2 is a sock that slips onto your baby's foot. Kind of like the Apple Watch, it will monitor your baby throughout the night, and it's packed full of hospital grade tech that will help you sleep a little better.
What To Expect chose this as the best baby monitor because you don't need to lay there looking at a screen or pushing a speaker up against your head to look and listen for little sounds.
The Smart Sock 2 captures your baby's heart rate and oxygen levels and syncs that to your phone. You can open the app and see historical data about your baby. If heart rate or oxygen levels go outside of where they are supposed to be, or if the sock comes loose you get an alert so you can get up and check on your baby.
Moms tell What to Expect this is a "truly life-saving device" and has very few false positives.
Owlet Smart Sock 2 is $299 at Amazon
Nest Security Camera: Monitor Your Kids From Anywhere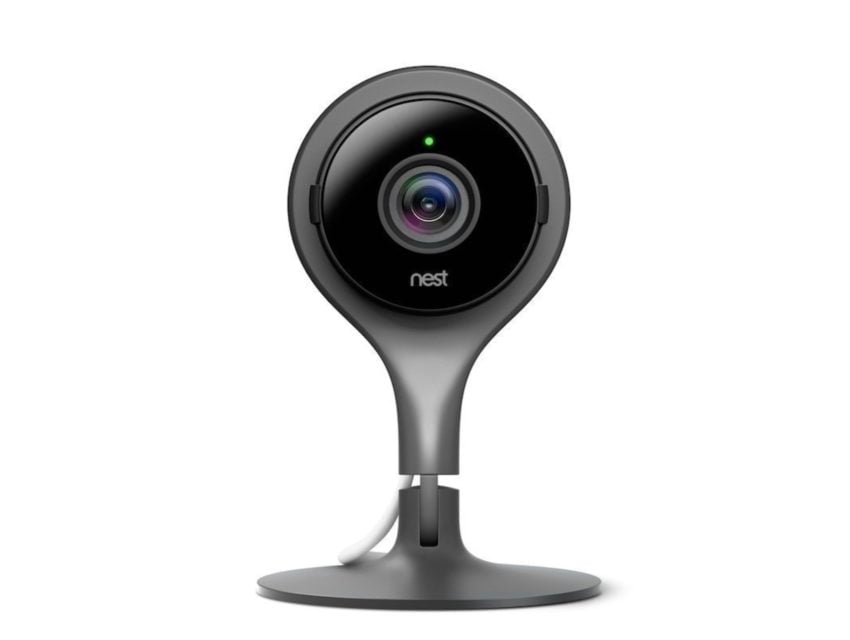 While the Owlet Smart Sock is the number one pick from What to Expect, the Nest Security Camera is right behind it as baby monitor finalist.
Although it's not designed as a baby monitor, this security camera is a favorite among new moms and dads.
The camera automatically switches to night mode when the lights in the nursery are turned out, you can talk to your baby through a built-in speaker and you can even watch two cameras on-screen at once. This is perfect for checking on a toddler and a newborn.
You can connect from anywhere you have an Internet connection, not just at home. the Nest Security is high-tech, so you don't need to worry about someone else snooping in.
These are easy to move, so you can quickly move if you need monitors somewhere else. Plus, when your kids grow up you, can use it as a security camera.
$199 at Amazon
Ju-Ju-Be BFF: Best Diaper Bag
According to the experts at What to Expect, there are two things you need to look for in a diaper bag. You need a lot of pockets and it needs to be easy to clean. The Ju-Ju-Be BFF checks both of those boxes. The smart design actually reminds us of all the cool tech parents will love in the Honda Odyssey.
On the outside of this bag you'll find two bottle pockets that can keep the bottle hot or cold, plus 7 more pockets inside. Three are zippered and four are gusseted so you have a place to stash everything baby needs as well as your phone and an extra battery pack to keep your gear charged up.
When it comes to cleaning, you can toss the bag in the washer and air dry, but you also have an awesome crumb drain you can open to quickly get rid of all the stuff that accumulates in the bottom of a diaper bag.
$179.95 at Amazon
Chicco KeyFit 30: Best Car Seat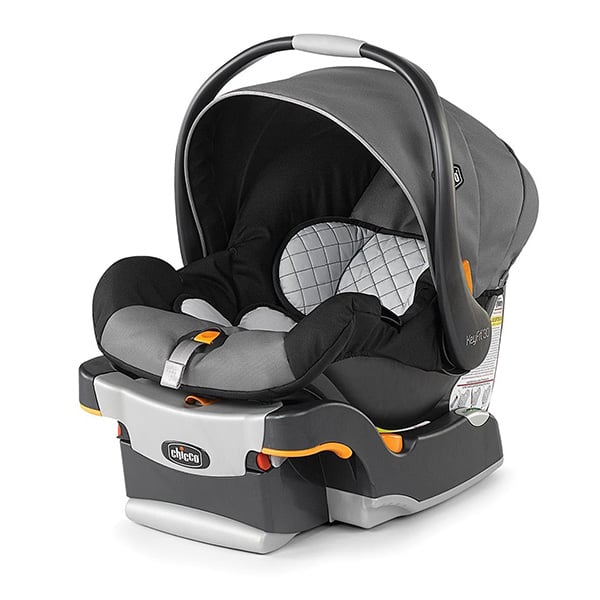 There's a lot to be said about a car seat that is the favorite of police officers, firefighters and NICU nurses. The Chicco KeyFit 30 is also a favorite with new moms and dads who love how safe this carseat is. That's why it was picked as the best car seat by What to Expect.
In addition to top safety ratings, you can use this with premies and newborns and then all the way up to toddlers 30 pounds or less. With a soft insert for infant and a plush headrest, this will help your baby sleep on long road trips.
If there's one thing we've learned from driving a hundred different cars in the last two years, it's that installing a car seat can be a challenge. Parents voted this as a car seat that works just as well in a compact car as in a minivan or SUV.
The KeyFit 30 includes a bubble indicator that makes it easy to know that it is installed properly and there is a snap-in, snap-out feature so you can quickly grab the seat and go.
$200 at Amazon
Graco Modes Click Connect: Best Stroller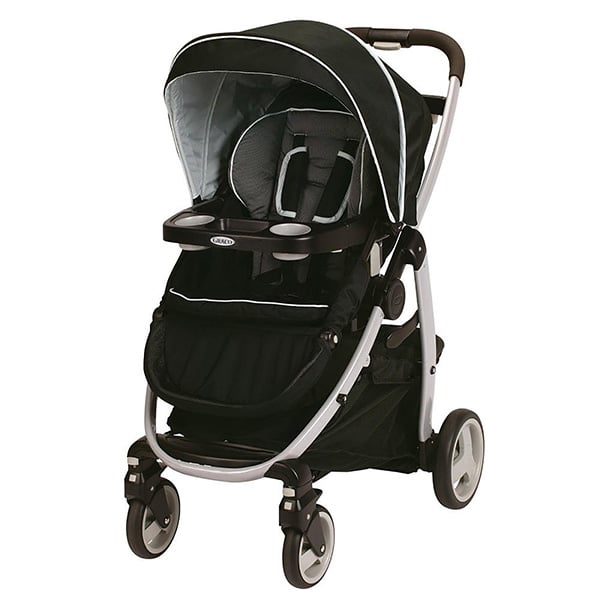 There is no Bluetooth, but the Graco Modes Click Connect is a smart stroller. This travel system lets you pair this with the SnugRide Click Connect 35 to combine your carseat and your stroller. If you don't go that route, this is still an excellent stroller option.
Parents love that this stroller is easy to fold up. There's a button on the handlebar so you can fold it flat to put it in the trunk. Another smart feature is an automatic kickstand that pops out when flattened so you can set the stroller up in a closet or entryway without needing to set your baby down first.
$188 at Amazon