5 Thoughts on the LG Nexus 4, Google's New Nexus Phone
On October 29th, Google will likely be showing off its new Nexus phone, a device that is widely believed to be the LG Nexus 4. The LG Nexus 4 has leaked out numerous times in recent days, culminating with a leak today that all but confirmed all of its major features. As a Galaxy Nexus owner, I've been interested to see what Google prepared for 2012 Nexus-wise. Here are my thoughts on the new Nexus phone.
Last year, I bought my first Android smartphone, the Samsung Galaxy Nexus. And while the first five months were a horrible experience, the device has been a pleasure to use (when I use it) since it was outfitted with its ICS bug fix update and more recently, Android 4.1 Jelly Bean. Still, I thought there was a lot of room for improvement with the next Nexus smartphone.
Read: New Nexus Phone Launch Date: What to Expect.
From here, it's looking like the LG Nexus 4 is going to be the phone that replaces the Galaxy Nexus as the new Nexus smartphone from Google. The device has some intriguing specifications. A large 4.7-inch HD display. A quad-core processor. A serviceable 8MP camera. 2GB of RAM. Those will likely be paired with the usual Nexus benefits including faster updates and an unlocked bootloader.
It's a nice package and one that I've been thinking quite a bit about lately. Here are my five thoughts on the rumored LG Nexus 4 smartphone which again, should be made official on October 29th.
Uninspiring Design
From the leaks, it appears that the LG Nexus 4 is going to be a plastic beast once again with a design that's both heavier and thicker than the Samsung Galaxy Nexus. I am just going to assume that this was because Google wanted to keep the costs down. Something else? The phone looks almost exactly like the Samsung Galaxy Nexus.
I'm not asking for the world here but it would have been nice to have seen a little bit of inspiration in terms of the design here. It would have been great to see some other material other than plastic used. It would have been fantastic to see a cutting edge design that featured a frame slimmer than 9mm. And it certainly would have nice to see a design that differed from the Galaxy Nexus .
None of those are apparent with the LG Nexus 4 and while it's not a deal breaker, it's disappointing.
LTE?
Thus far, it doesn't appear that the Nexus 4 will have a 4G LTE model, at least not at the start. That presents a problem for me. While it will be nice to see a cheap unlocked HSPA+ model, something I assume will be coming with the LG Nexus 4, it would be very difficult for me to make an HSPA+ phone my go-to at this point. 4G LTE is just too nice, too convenient.
Read: iPhone 5: One Week with Apple's New iPhone.
What I'm hoping is that it gets 4G LTE support and carriers launch it with a cheap price tag. Probably wishful thinking but it's really the only way I could see myself buying it at this point.
I'd feel naked without 4G LTE.
Storage Doesn't Cut It
It looks like Google might be mirroring its Nexus 7 with the amount of storage its offering with the Nexus 4. Sadly, that's not a good thing. 8GB and 16GB of storage space is just not going to cut it for any smartphone of mine. I found out the hard way with my 16GB iPhone 3GS and 16GB iPad and I'll never buy another device that has less than 32GB of storage space.
I bought a 32GB iPhone 5 and thus far, I'm loving the freedom that amount of space gives me. If the Nexus 4 doesn't have a microSD card slot and anything larger than 16GB of storage, I can tell you right now that I won't buy it.
Android 4.2
Google appears poised to announce a new version of Android called Android 4.2 which may or may not be under the Jelly Bean umbrella. Android 4.1 Jelly Bean is far and away the best version of Android yet and I'm extremely excited to see what Google has in store for Android owners with the software.
However, I don't see it being a massive upgrade over Android 4.1 Jelly Bean. It just doesn't seem like the timing is right considering Jelly Bean has only been out since July. Still, it's exciting and I'm hoping that Google uses Android 4.2 as a sort of redemption to current Nexus owners like myself who had to wait several months to get Android 4.1 Jelly Bean.
If there is a major update, and it's Jelly Bean, get it out fast to current Nexus owners. They'll appreciate it.
Hard Sell
I'm just going to be frank here. Unless the Nexus 4 arrives with 4G LTE and a cheap price tag, I likely won't be picking one up this year. And that's disappointing.
Read: Can the New Nexus Phone Compete with the iPhone 5?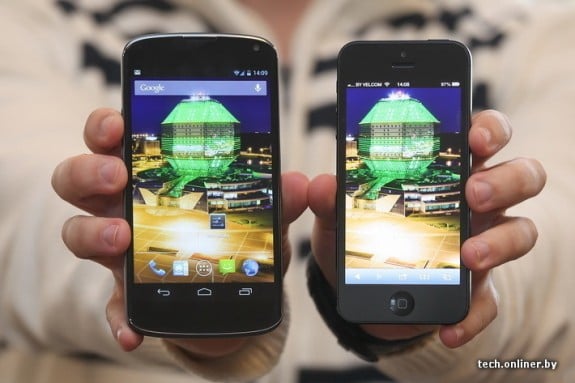 Unlike Apple's yearly iPhone, there is nothing here that makes me want to upgrade from my Samsung Galaxy Nexus. Plastic design, decent battery, thicker and heavier, average cameras. There's nothing here that screams "Upgrade!" to me. Yeah, it would be nice to get Android 4.2 or whatever early, but that's not enough to get me to upgrade.
How do you feel about this phone, are you going to pick up a Nexus 4?

As an Amazon Associate I earn from qualifying purchases.