7 Money Saving Apps for Android and iPhone
You may not be able to save thousands like I did when I got my iPad, but using a smartphone to find good prices and the best deals is a smart way to save money, a precious commodity anytime, but especially in today's economic environment. Here are seven money saving apps you iPhone and Android. Using all of these money saving apps could potentially save you hundreds of dollars; over time maybe even thousands.
GasBuddy – Free – Android and iOS
Gas is one of those things that drives prices on almost everything else we buy, so GasBuddy is a big help in saving money. This app interfaces with the website and helps you find the cheapest price for gas in your area. It can search based on your current GPS location or for prices in an area. That way you can search for a cheap gas price in the town you plan to stop in an hour down the road. You can see pictures of station making it easier to find and you can open a map in your browser or the built-in map app (on Android) for directions. It also shows the various stations on a built-in map or in a list with tabs for the different kinds of fuel. If you find a better price you can report it.
Shopkick – Free – Android and iOS
Shopkick is a deal finder app that can locate good buys based on the stores where you shop. In our experience the deals were limited, but still worth a look when you go shopping. You might find something on sale that you are looking for. If finds stores using the smartphone GPS and your location. You pick your favorite stores from those listed and it shows good buys based on what stores you pick. There are also rewards that they call "kicks" that you can earn for shopping. For example, you can earn kicks and get gift certificates at places like Best Buy.
pic2shop – Free – Android and iOS
pic2shop is a bar code scanner that works fast and finds deals based on the bar code of a product. We use it while shopping to see if we can get a better price online. Pick up the item in the store and scan the bar code on the box. It searches and finds the item in any of the stores that it searches. It searches all of the major online shopping sites like Amazon, the various office and electronic stores, and many more. This app alone has saved me over a hundred dollars on impulse buys. Just recently I nearly paid $40 for a Blu-ray movie at Best Buy but found the exact same special edition movie at Amazon for about $22.
CardStar – Free – Android and iOS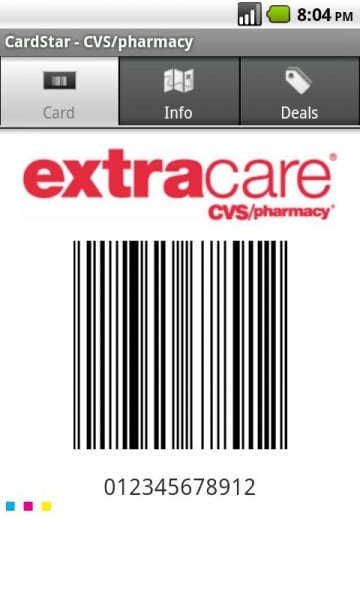 CardStar is designed to help you carry around all those shopping cards without having to have the physical card in your wallet or on your keychain. You can add cards using the database of merchants. You can also add stores to the database. We like that it uses the phone's camera to scan the bar code of the card to enter the number. You can also enter via keyboard using the number under the bar code. When you go shopping, show the cashier your phone. They can scan the bar code from the phone instead of the card. Some store bar code scanners won't recognize the bar code on the screen. Just have them type the number. There is also a tab of deals for the selected store, so be sure to check the app when you first go into the store, not just as you are checking out. My wife saved us over $100 at the grocery store in one trip using the store's shopping card stored in her phone just this past weekend.
Groupon – Free – Android and iOS
With Groupon various merchants offer significant discounts for a limited time on products and services. You buy them and have to use the then within an allotted time, like 30 days. The hope is you will enjoy the product or service so much you will become a repeat customer. The app shows you what deals are available in your area based on your location.
Groupon is all the rage. While we have found only a couple of things we would actually buy from them, you might find it more useful in your city. We know of people who make a lot of purchases and have saved significant money with the app. Since the app is free it is worth checking out.
Amazon Mobile – Free – Android and iOS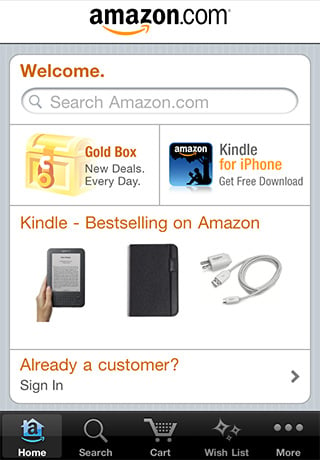 Amazon Mobile can scan bar codes of items you are considering purchasing in a store in order to show you if it is available cheaper on their site. This is like pic2shop above, but with only Amazon listings. If you are an Amazon shopper it is worth having, especially if you have Amazon Prime. You can search based on bar codes or just by entering text.
Amazon App Store – Free – Android Only
The Amazon App Store is an alternative app store for Android devices only. Often apps will be cheaper in the Amazon store than the Android Market. Every day they offer a free app of the day that will sometimes be useless but other times really great. For example on May 31, 2011 they had one of my favorite games – Plants v. Zombies. App addicts are sure to rack up the savings quickly.
Brand Apps
If you shop at a specific store – like Amazon above, eat at a certain restaurant all the time or use one business a lot, search for an app for that company. It is possible that they have an app that will include special deals that only users of the app can get.
What are your favorite money saving apps? Please comment below to add to this list.

As an Amazon Associate I earn from qualifying purchases.