8 Best Apple Watch Productivity Apps & To Do Lists
The best Apple Watch productivity apps and to do lists can help keep you on track and on task. With Apple Watch to do list apps you can stay on top of tasks and projects without the distraction that your phone brings. This is just a sampling of what the Apple Watch can do.
The best Apple Watch apps tie into the best iPhone apps, so it is easy to identify the best productivity apps.
This list of our favorite productivity apps for the Apple Watch mainly focuses on apps that can keep you on task and help you get things done by delivering smart to do lists on your wrist and on your phone.
The last thing you need is too many alerts. You can customize the notifications of these apps and of your watch. These Apple Watch productivity apps won't do your work for you, but they can help you stay on task, get your work done on time and alert you without the need to pick up your iPhone for more information.
Clear Apple Watch App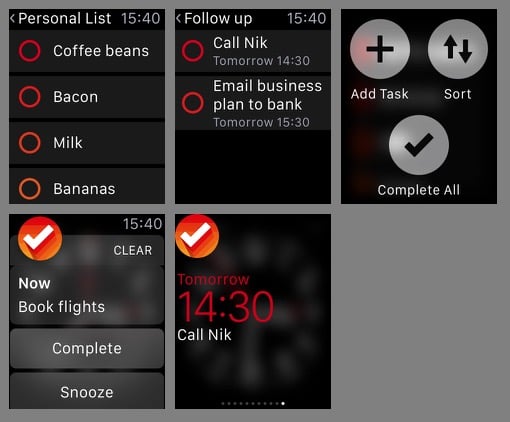 Clear is a simple and focused productivity app that focuses on helping you prioritize your to do list and clear out the tasks when you are done.
With the Clear Apple Watch app you can quickly see your personal to do lists, see what you need to do next and get reminders for your tasks on the Apple Watch with a glance. There are also options to complete or snooze tasks from your wrist.
Clear syncs with iPhone and there is also a Mac app so your list is available wherever you are. Clear is $4.99 in the iTunes App Store.

As an Amazon Associate I earn from qualifying purchases.