Apple Watch 3 Review: 3 Months With the New Apple Watch
After using the Apple Watch 3 for several months this is the smart watch to buy, and it's a very worthy upgrade for anyone who already owns an Apple Watch. While you likely don't need LTE, it can be helpful if you want the freedom to leave your iPhone at home or in a car while working out.
The Apple Watch 3 is noticeably faster than the Apple Watch Series 2, which means I use apps and features that took too long to reliably use on the older model. Siri can now talk to you, which is handy when you want to quickly command the digital assistant and keep doing what you were doing.
Apple Watch 3 battery life blows the previous models out of the water, which means I can go two days without a charge on most days, and even use the Apple Watch to track my sleep. In short this is the Apple Watch that you've been waiting for, even if you don't need LTE.
Is the Apple Watch 3 Worth Buying?
If you want the best smart watch you can buy, the Apple Watch 3 is the one to buy. Don't waste time with the Apple Watch Series 1. The Series 1 is dramatically slower, doesn't have the same battery life and you cannot go swimming with it like you can with the Apple Watch 2 or Apple Watch 3.
[letsreview]
At $329 for the 38mm and $359 for the 42mm, the Apple Watch 3 is a steal for what you can do with it, and what it can do for you. If you time your Apple Watch purchase with holidays like Valentine's Day, Mothers Day, Fathers Day and Black Friday you can easily save $50 to $100 off the purchase price of the new model.
Hands down the Apple Watch 3 is the best smart watch you can buy to wear with the iPhone. It's the model I recommend to friends and family and with an Apple Watch 4 at least six to eight months away it remains an excellent buy. You can choose from a range of Apple Watch bands and between several Apple Watch colors.
How I Use the Apple Watch 3
With a bright and easy to see display, I use the Apple Watch 3 indoors and out, night and day. After tracking my sleep automatically overnight I wake up to an iPhone alarm that also vibrates on my wrist. Since the battery life is so good, I wear the watch overnight with the new mesh sport band that is super comfortable. I'll put the Apple Watch 3 on the charger while I get a shower, which gives me enough power for the next day and night in most cases.
Notifications are at the core of the Apple Watch experience. While you can get all the same notifications on your wrist as on your iPhone, I limit mine to only the most important notifications; iMessage, Facebook messages, phone calls, Ring alerts, smart home alerts and a few other items. I don't find any value in getting email, slack, Facebook or Twitter notifications on my wrist all day long. That option is there, but if you are active on all those platforms, the notifications get old.
Now that the Apple Watch is fast enough to reliably use apps I am relying on it more than I did the Series 2. I routinely scroll through Instagram, Tweetbot and reply to texts, iMessages and Facebook Messages on my Apple Watch. The Apple Watch app experience isn't perfect as some apps still seem to take forever to refresh with information from the web on both WiFi and LTE. The Digital Crown makes scrolling through lists easier than swiping on the screen.
I use the Apple Watch to control my smart home gadgets. This includes turning my Lutron Lights on and off with the app, opening my garage door and using Siri to perform these actions.
Siri can talk on the Apple Watch 3, which makes using the virtual assistant to get conversions in the kitchen is handier since I don't need to wait and look at the screen to know what the result is. This is also handy when performing other actions with Siri.
I track my activity with the Apple Watch 3 using the built-in Activity app which syncs to Apple Health and a variety of third party apps like Gyroscope to give me a full picture of my daily activity and overall health. I am using this alongside Lose It! as an effort to lose weight. The Apple Watch isn't a magic bullet to get thin, but with the right motivation and the best weight loss apps it can help you get in shape with gentle nudges throughout the day.
Occasionally I will answer a call on the Apple Watch, but more often I use it to reply to a text by choosing a suggested reply, dictating a reply or using the scribble option to "type" a message back. This works on WiFi or LTE so even if you don't opt for the cellular model you can use this feature with your iPhone in another room as long as you are on WiFi.
The Apple Watch 3 can stream Apple Music to Bluetooth headphones, but it is not a feature I use often. Streaming only works with Apple Music, and I prefer Spotify. I have loaded a playlist of purchased music on the Apple Watch for some runs, and it works very well. If there was a Spotify Apple Watch app this would be way more useful to me.
Apple does not include a camera on the Apple Watch 3, but you can use it as a remote viewfinder for your iPhone. This is really handy if you need to take a group photo and you want to be in it. You can see the photo and then take the photo right from the watch.
Apple Watch 3 Battery Life
The Apple Watch 3 battery life is much better than the Apple Watch 2 for how I use the device. I've only run out of battery life in single day twice, and that's when something weird happened with an app that kept using the GPS.
Battery life is good enough to last at least two days with my use and the Apple Watch charges fast enough that I can charge when I shower and top up occasionally through the week.
Using LTE or GPS more frequently can drain the battery faster, so your results will vary, but the difference between the first Apple Watch and the Apple Watch 2 are night and day for me.
Do You Need an Apple Watch with LTE?
I purchased the Apple Watch 3 with LTE on Verizon. It's $70 more expensive and $10 a month to always have connectivity. This means I can leave my iPhone at home and still be able to make and take calls and send and receive messages on the same phone number as my iPhone. I can also use other apps on the Apple Watch using LTE.
After several months, it's not really a feature that I need on my Apple Watch. It is convenient, but I'm not without my iPhone as much as I thought I might be. A close friend uses the LTE connection very often, leaving his iPhone at home while playing Ultimate frisbee or while doing other tasks.
Even if you opt for no LTE, you can still use the Apple Watch without your iPhone for many features when you are connected to WiFi. Ultimately it's a very personal decision, but most people will be fine without LTE. Here's more on which Apple Watch 3 to buy.
65 Exciting Things You Can Do With the Apple Watch
Answer Calls on the Apple Watch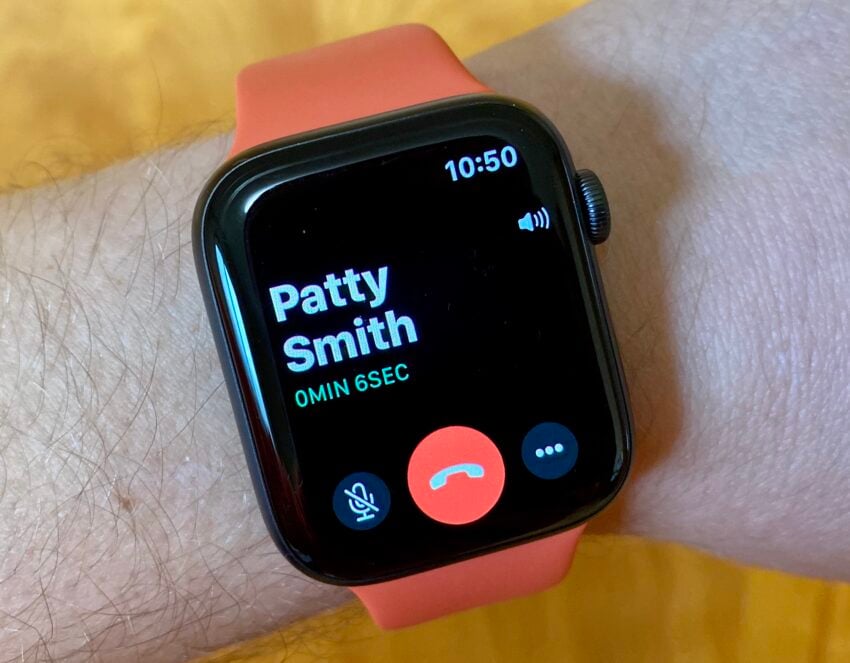 You can answer a call on your Apple Watch using it as a small Bluetooth speakerphone. You only want to use this for shorter calls because the audio quality isn't as good as when you are talking on speakerphone on your iPhone.
The Apple Watch only allows you to answer your calls on Speakerphone, so you won't want to use this all the time. It is very handy when you are working on a project or busy with your hands. Definitely be conscious of where you are taking calls. If you wouldn't talk on speakerphone, you shouldn't talk on your Apple Watch.
If you buy the new Apple Watch with LTE, you can even make calls on the Apple Watch without your iPhone nearby. This requires adding the watch to your plan for $10 a month. You cannot answer a FaceTime video call on the Apple Watch.