Acer's New Android Tablet Looks Like an iPad mini but Costs Much Less
At CES, Acer showed off its brand new tablet lineup that includes a refreshed version of its A1 series in the Iconia A1-830. The name isn't glamorous but the tablet makes for it with a cheap price tag, some solid specifications and a design that looks a whole lot like Apple's current 7.9-inch iPad, the iPad mini.
Prior to the start of CES 2014 in Las Vegas, Acer announced a brand new 7.9-inch tablet dubbed Iconia A1-830, a device that is clearly aimed at two of the biggest names in the 7-inch tablet world, Nexus 7 and iPad mini. And while the Iconia A1-830 isn't going to blow away the iPad mini and Nexus 7 from a hardware standpoint, it's going to attract consumers with an extremely competitive $150 price point and a solid aluminum casing.
The hardware isn't going to win any competitions. The Iconia A1-830 offers a 7.9-inch IPS display with 1024 x 768 pixel resolution. This leaves much to be desired given that its competitors use displays capable of much more. Acer has bumped up the RAM and processor to an Intel dual-core chip with 1GB of RAM. This will be suitable for average users but it's not going to be able to match the power inside the iPad mini or Nexus 7.
Acer's new A1 model comes with 16GB of storage, a microSD card slot for expanded storage, and a battery that Acer promises can last up to seven and a half hours. We haven't been able to test the battery life so consumers, at this point, will need to take Acer's word for it.
It runs Android 4.2 Jelly Bean, not Android 4.3 Jelly Bean or Android 4.4 KitKat, which means that it's going to be utilizing software that was released back in November of 2012.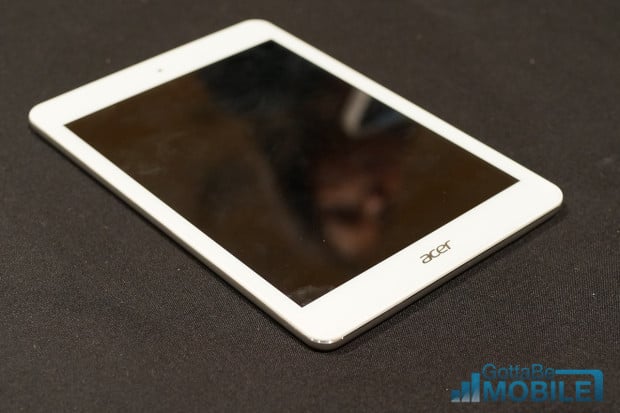 While it's underpowered, the Iconia A1-830 does sport a sleek aluminum design. If it looks familiar it's because it probably is. The device looks exactly like an iPad mini with Retina Display, it just doesn't have the home button. In its place is an Acer logo. The frame is both thin and light, it weighs a mere .84 pounds and checks in with a 8.1mm frame. These help to make it an extremely portable slate.
Acer's revamped Iconia A1 likely won't win the war against the iPad mini with Retina Display or the Nexus 7 from Google but it should attract consumers thanks to its generous price point. It's $100 cheaper than the Nexus 7 and a full $250 cheaper than Apple's iPad mini. That has to count for something.

As an Amazon Associate I earn from qualifying purchases.