ADzero Bamboo Android Phone Offers Natural Charm, Eco-Friendly Stature
Once a concept of Middsex University design student Kieron-Scott Woodhouse, the bamboo-clad Android smartphone design will soon be commercialized as the ADzero phone. Rather than plastics, metals, or other materials, the ADzero phone features a natural bloc of bamboo wood back, which helps to add charm to the device as no two phones will be alike. Additionally, with bamboo being a sustainable wood product, the rear backing of the device would at least be more environmentally-friendly.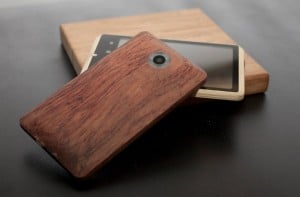 Specs and details are light at this point, but what we do know is that the device will weigh half as much as an iPhone. Moreover, the camera flash is built directly into the wood backing, according to TechCrunch.
The concept has garnered financial backing and hopefully we'll begin to see the ADzero phone emerge outside of China.
In the past, wood has been used on other phones as well, including Japan-only's Touch Wood. Luxury handset makers have also incorporated wood into their phone's design.
As bamboo is a sturdy, but doesn't have the same effect on radio transmission as metal, the wood-backed Android ADzero phone should be durable yet won't have reception problems that so many metal-clad phones have.

As an Amazon Associate I earn from qualifying purchases.