All Eyes Should Be On Verizon This Quarter
After losing on its home turf to the iPhone last quarter, the Droid brand is stepping up with its strongest showing yet, backed by new models and great deals. But will it be enough?
The Droid brand was Verizon's reaction to the AT&T exclusive iPhone. It was, I believe, smartly executed and became a synonym for Android phones. But then Verizon did get the iPhone and thanks to their first new iPhone launch, the iPhone 4S in October, it counted for 55% of Verizon's smartphone sales last quarter. This happened despite the launch of the Droid RAZR and the Galaxy Nexus the same quarter, and the fact the iPhone currently lacks Verizon's heavily promoted 4G LTE connectivity.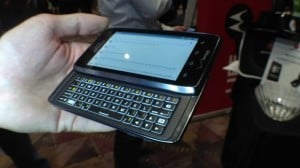 This quarter, Verizon's Droid is rallying strong with the release of the Droid RAZR MAXX and Droid 4, which are essentially Droid RAZRs with a bigger battery and a slide-out keyboard, respectively. It's a good array of options for customers while maintaining a distinct, recognizable style. They are further supported by price cuts and buy-one-get-one deals, not to mention the network edge with 4G LTE. There's also the Android flagship phone, Galaxy Nexus, backing it up. Droid and Android in general are going into the quarter with every advantage. That pretty much has to make an impact on Verizon's iPhone sales, but how big an impact?
Line in the sand
We'll have to wait and see on that, but I'm going to say the point of success is 45%. If the iPhone slips to 45% of Verizon's smartphone sales, then I see the effort as being worthwhile. Knocking it from 55% to 45% doesn't sound like a major feat, but you have to take Apple's own efforts in selling iPhones into account.
On the flip side, if the iPhone continues to account for more sales than all other Verizon smartphones combined, then we know Droid is in trouble. Verizon didn't bet all its money on iPhone like AT&T (and Sprint) did. It has other horses in this race. Collectively, the Droid brand needs to make a strong showing this quarter. It won't be put down if it doesn't, but the strategy will definitely need to be reviewed.
A microcosm of the smartphone war
However it turns out, this battle on this carrier is a microcosm for the larger one between iPhone and Android. Kevin Tofel at GigaOM questions whether the iPhone surge at Verizon means Android's best days are behind it. I don't see it that way. The surge is exactly what I expected from the first launch of a new iPhone on the Verizon network. I believe Verizon expected it as well, hence the strong reaction with Droid this quarter. The iPhone surge was not, in my opinion, a sign of things to come. Instead I believe the direction of the smartphone war depends on what happens next.
The iPhone has rolled out at a slow, deliberate pace and has yet to reach every carrier. This left a huge void for another platform to fill as carriers sought their own iPhone alternative. Android's triumph was to beat out all other contenders in filling that void, but that victory is mostly within that void, with carriers that don't have the iPhone. It is only in this past year, particularly last quarter, that Android is facing the iPhone on U.S. carriers that were once iPhone-free. How the iPhone fares this quarter on Verizon, without the shock of a launch, will give us a more lucid indication of how well Android handles the challenge of head-to-head competition.
Android may, as Kevin Tofel wonders, falter or it could bounce back. This quarter on Verizon will show us which way it's headed. The Galaxy Nexus with Android 4.0, a massive show of force with Droid, the 4G LTE advantage, special pricing on phones and data, this is Android at its strongest. It's this quarter or never to dethrone the iPhone as Verizon's smartphone sales king. If you want to know which way the winds of the smartphone war will blow, this is the battle to watch.

This article may contain affiliate links. Click here for more details.