Altec Lansing Super Life Jacket Review
The Altec Lansing Super Life Jacket is an impressive Bluetooth speaker that goes wherever you do and can even charge two devices using the built-in battery.
Grab the carry handle and go where your heart takes you thanks to a 50 hour battery that will keep the music going for a full weekend and keep your iPhone or Android charged up too.
The Super Life Jacket floats in water and is waterproof, dustproof, shockproof, snowproof and sandproof. We've tested many Bluetooth speakers, but this is one of the few options that we could throw into the pool — so we did. Sorry to our family member's who now have kids who think electronics all belong in the pool.
The Altec Lansing Super Life Jacket is the best waterproof Bluetooth speaker we've tested and one you need to consider before buying your next Bluetooth speaker.
You can buy the Altec Lansing Super Life Jacket at Best Buy and Altec Lansing for $299. If you buy two, you can pair them together for full stereo sound.
It's not designed for use in a pool all the time, but it will survive repeated and prolonged exposure to water. The Super Life Jacket floats, but when it is floating in the water you can't hear much from it above the water.
The waterproof feature is designed to let you take it wherever you go — to the beach, to the pool or driving ATVs through the river. We didn't have a chance to strap this to a four-wheeler, but we know people who use the smaller Altec Lansing Life Jacket for just that purpose and love it.
It's easy to pair and re-connect the Altec Lansing Super Life Jacket. The range is very good, allowing you to put your phone or tablet somewhere safe while you take the speaker to the poolside.
Sound is impressive and will easily fill a backyard or your campsite (and a few nearby if you want). Altec Lansing packs in 2 X 2.5″" subwoofers, 2 X 2″" neodyminium woofers, 2 X 1.2″" tweeters AND 2 X 3″" passive radiators. That's to say there are a lot of speakers packed into this single speaker.
Speakers are on two sides of the speaker, delivering great sound in multipole directions. Music sounds amazing on the Super Life Jacket. The speakers deliver well-balanced music with crisp clear vocals and good bass. This speaker is also incredibly loud without distortion. It is possible to pair two of them up to deliver stereo sound.
You can take calls on the Super Life Jacket, seamlessly switching from music to a conference call.
Users can flip open a small port cover on the end of the Super Life Jacket to reveal two USB ports. Plug in charging cables and keep your devices powered up while away from an outlet.
It's important to remember that this is a larger speaker and at 4.6 pounds, it may be heavier and bigger than competition.
Buy the Altec Lansing Super Life Jacket at Best Buy or direct for $299. It is available in the blue/black color shown and in an all black version.
Best Wireless Headphones & Earbuds
Bose QC35 Wireless Noise Cancelling Headphones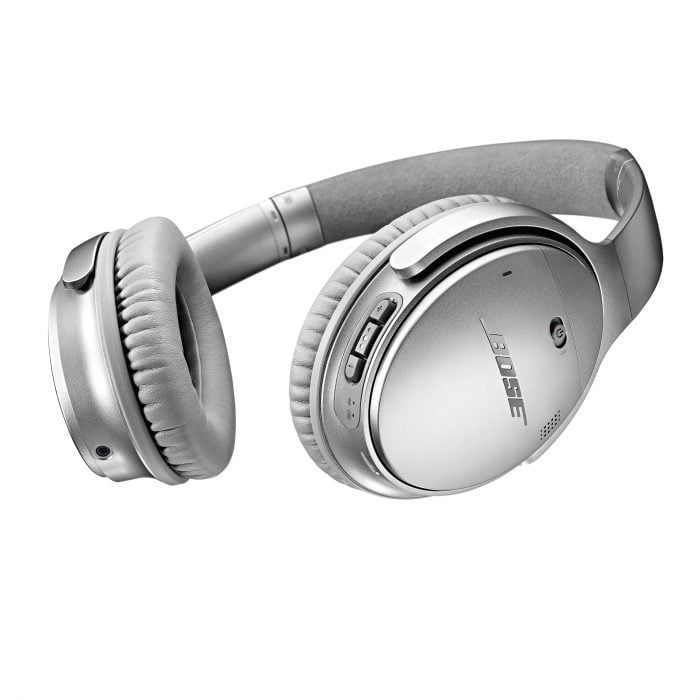 Bose sets the standard for noise cancelling headphones, delivering an instant reprieve from the noise and distractions at home, in the office and on an airplane. Now, the Bose QC35 bluetooth headphones offer this all without the need to plug a wire into your iPhone or Android smartphone. Sound quality is impressive and the range is great.
The Bose QC35 headphones are comfortable, block out distracting noises better than any other headset on the market, deliver 20 hour battery life and an option to use wired after the battery dies. Excellent call quality even in windy or noisy environments.
$349 at Amazon in Black and Silver