Amazon Lights New Fire Under Tablet Market
As of this writing, there are still a lot of things we don't know about today's Amazon announcements of new e-Readers and Tablets. That said, one thing we do know, or rather one thing that has been overwhelmingly confirmed, Amazon is playing for keeps in the Tablet market. If this was an arms race, Amazon has just unveiled all sorts of new and dangerous weapons in one of those endless parades that folks watch from the top of mausoleums. Watching Twitter as Amazon's announcement rolled out I saw the equivalent of gasps (what is a Twitter gasp?) and comments like "Amazon launched a declaration of war." I'd have to agree.
Choice Matters
Amazon is now offering a range of hardware choices for consumers to purchase Amazon's content. It is doing so with price points that basically obliterate the accepted norms so far. A
consumer can get into Amazon's world for as low as $69 and on up to $499. And, these appear to be choices that make sense and have key differentiation at those price points, depending on the consumers needs and desires. Want to just read? You can do it for $69. Want a Tablet with 4G? That will set you back $499. Oh, and by the way for all that comes with that 4G LTE Tablet for $499 and $49 a month for a paltry 250MB a month, you'd have to spend considerably more all the way around for the market leading iPad. It is really easy for me to imagine consumers looking at Tablet options this holiday season and going with one of these Kindles, even more so than last year. Take a look at this slide from Amazon's event courtesy of AllThingsD.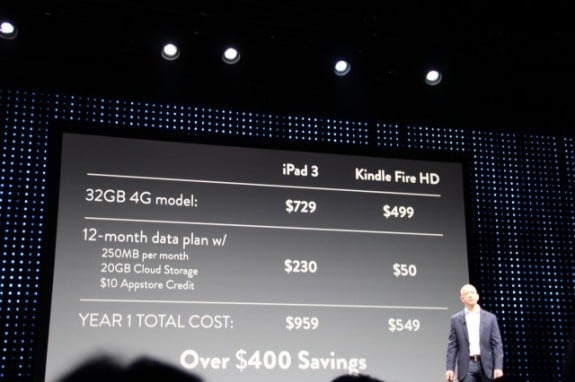 As I said earlier, the jury is still out on the hardware and the software here, but Amazon has shaken up the price point game quite a bit. And that's a point that can't be understated.
And another thing Amazon has shaken up a bit is the fall calendar. For a long time Apple has owned the calendar with its devices and the saturated coverage they get. Amazon will start shipping some of these devices as early as September 14 and through November 20. That pretty much guarantees that we'll be talking about them most of the fall, alongside Apple's devices. The gradual roll out pretty much assures rolling coverage.
Access Amazon Everywhere
And keep in mind that all of this hardware hoopla is accompanied by a continuing strategy that has Amazon putting its Apps and services on every other platform it can. When Jeff Bezos says consumers don't want gadgets they want services, he isn't kidding. More to the point, he's right.
Let's look at one service that made me take the plunge and make a purchase today. I'm a big audiobook listener and have been an Audible subscriber for some time. Using Whispersync on the new Kindle Fire HD, I'll now be able to sync up my audio listening with the same eBook. I can't tell you how long I've wished for that feature. Here's hoping Amazon rolls that out across its various Apps their platforms in the future.
Notice I haven't mentioned the hardware specs and the specific pricing here. I'm sure the pages of GBM will be full of posts here shortly about all of that. From what I've seen, there's quite a bit to be excited about on that front as well. But, what the important take away of the day is that Amazon has indeed declared a bit of war on the rest of the Tablet market and lit up what was already going to be a barn burner of a fall gadget season. Many are saying that Amazon has put Android Tablets makers on notice. That's true, even though the new Kindle Fires are built on Android. Amazon has also sent a few shots across the bows of Apple and Microsoft as well. But then, hey, we're going to hear more about that in the weeks ahead. A very intriguing Tablet year just got more so.
So, yeah, I purchased a 32GB 8.9 Kindle Fire HD today. I'm excited to see what it offers and what it doesn't. If anyone wants to buy an original Kindle Fire 32GB in great condition, drop me an email and make an offer.