Android (As We Know It) is Dead.
Maybe proclaiming the death of Android in early 2013 is a bit outlandish, but the Android landscape has changed dramatically since HTC had announced the very first Android smartphone, the HTC G1, in October 2008, and the platform will continue to evolve drastically in years to come.
In a few years, I speculate that Android as we know it–not the OS variants and the way the UI looks–will be drastically different, and Google's vision of Android may become secondary to the many disparate builds curated by Android's licensees.
Born of a Common Enemy
When Android was introduced, it was a geeky OS that offered competition to the simplistic language of iOS. It was edgy, nerdy, and offered promise. If iOS, with its growing market share and rapid consumer uptake was the Windows equivalent in mobile, Android definitely was a geeky mobile Linux build, and there's nothing wrong with that. It was aimed at fighting the dominance of Apple's iPhone and iOS platform.
When Apple was the common enemy, prosumer users of Android often shunned gimmicks that were introduced by smartphone manufacturers. Consumers appreciated the appeal of the HTC Sense UI to make Android more aesthetically pleasing while pro-users despised Samsung's TouchWiz UI, marking it a bloated blasphemy to Google's vision.
However, those days are long gone. Android grew up with its own maturing design language that had evolved over the years. And a new star rose in Android's circle in the form of Samsung, one that is powerful enough to battle Apple head-on.
The Trojan Horse Within
While there is still a lot of attention on the very public battle between Samsung and Apple as the two companies fight over patents and money in courtrooms around the world, there is a more subtle battle that is happening from within Android. With the rise of Samsung, Google and other Android handset-makers are on edge.

Rather than shunning TouchWiz, consumers are now overwhelmingly choosing the Samsung experience over other UI overlays on Samsung. From the beloved Galaxy Note phablet, which many had predicted would flop due to its sheer size and what was once thought of as a gimmicky S-Pen, users are looking to Samsung for innovation.
This has pushed the platform to be even more fragmented. Motorola, now under Google's control, is attempting to keep neutral grounds on the user experience by staying as true to the Android vision as possible. HTC is choosing design and simplified software with the new iteration of HTC Sense on the HTC One. And LG is focused on software innovation to keep pace and keep ahead of Samsung: from eye tracking technologies to maximizing the use of sensors to make its phones smarter.
Rather than battling Apple, these Android manufacturers are now battling each other–regardless of how useful these innovations are, how much of a gimmick they are viewed as, or how much value they'll be in the end to end-users–to try to steal Samsung's crown. The enemy has moved from outside to inside the Android camp, with Samsung acting like a Trojan horse for Google to handle. And all these players are offering their own versions of Android to combat each other.
Fragmentation Doesn't Matter
For prosumers, fragmentation is a big deal as it means that the latest innovation from Google may not make it to their phones of choice, but consumers do not really care about fragmentation. For them, the HTC One provides the best audio experience and low light imaging capabilities in a simple, elegant zero-gap design while the Samsung Galaxy S4 offers a variety of sensors to track their activities throughout the day so they don't have to think about it. Fragmentation is good, for the average consumers, as it offers them choice and surely one of these devices on the market will fit their needs. At the end of the day, it doesn't matter which Android OS version their device runs as long as their devices perform.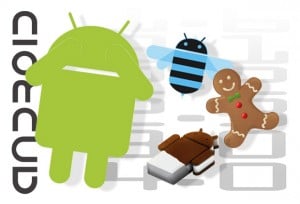 And sure enough, with the launch of the Galaxy S3, people are asking for the Samsung experience. The Galaxy S3 shows that Samsung has matured into its own, with an elegant nature-based UI and design, software innovations on top of Android, and an experience that was primarily Samsung, and Android a secondary function. This is quite the drastic shift from a couple of years ago when tech pundits declared Samsung's tile interface to look 'cartoonish' and its experience slow and buggy.
And Samsung isn't the only one creating its own experience. Even more drastic Android make-overs come from Amazon and Barnes & Noble with the Kindle Fire and Nook tablets. With those devices, no trace of Android remains and even Google's Play Store has been replaced with their own proprietor's proprietary digital storefronts.
And the latest to the pack may be Facebook, which may make its Android invasion with a custom-made phone from HTC to focus on social media streams, and perhaps leverage the Facebook marketplace.
In the future, we can see the TouchWiz OS, the Facebook OS, the Kindle OS, and more–all powered by Android. But Android won't be promoted. Sure, its apps ecosystem will be highlighted as a selling point, but Samsung, Facebook, Amazon, and other OEMs will likely market the unique selling points to their customized experiences, like eye tracking, instantaneously networking with friends, or reading.
All Roads Lead to Android, But the Road Less Traveled is Preferred.
What all these experiences show is that Android still powers all these custom and proprietary builds. However, rather than going the old route and thinking of Android on a smartphone as Android with an added UI overlay or a touch of flair on top of Android, the new vision for Android is this hidden kernel that powers an entirely custom build. It's HTC's OS that's powered by Android versus Samsung's OS fueled by Android, not Android with HTC Sense on top or Google's mobile OS that's enhanced by TouchWiz.
In fact, this vision is akin to how the Linux ecosystem operates today. Various Linux builds, or distributions, get their own branding, from Canonical's Ubuntu to Red Hat and a number of others. The underlying Linux core is relegated to secondary status to accommodate the primary branding espoused by the distribution's creator(s).
At the end of the day, what holds Android together will be the ability of these disparate builds of the mobile OS to run Android apps. In the future, these apps may not come from primarily from Google Play, but from HTC's app store or Samsung's hub for apps.
So fragmentation as we know it today–why one handsets is running Android 4.1 while another one is able to get to Android 4.2 quicker–will not be as important. Rather, Android fragmentation will not be important as long as manufacturers create customized builds.
I speculate that within a few years, manufacturers will play up Sense, TouchWiz, and LG UI so much that we'll be clamoring why the Optimus G10 on AT&T may be running the LG UI 10.3 with Android 7.9 at its core whereas the Optimus G10 on T-Mobile may be running the LG UI 10.2 with Android 7.9 while the Nexus, which may be found only within niche circles, is running Android 8.0. The proprietary UIs will play a leading role compared to the builds for Android.
And it's this new mentality that makes the evolution of Android a secondary consideration. The subtle changes that come as we jump from Android 4.1 to Android 4.2 could be considered a nuanced Nexus build rather than an Android necessity for all devices. In fact, when we think of distributions first and core kernel second, then Samsung may not even have to adopt Android 4.2 in this new vision of Android. The manufacturer can implement similar features that were introduced in Android 4.2 in a future build of TouchWiz, and rather than updating Android, it could just update TouchWiz.
New Threats to Android
With Windows Phone and BlackBerry in the rear mirror, Android will face growing threats from external operating systems as well as from internal players. When Microsoft debuted Pocket PC–then known as Palm PC–over a decade ago, it was a small blip on the radar for market leader Palm. However, Microsoft had demonstrated that perseverance is a valuable trait and eventually Pocket PC, evolved through Windows Mobile, dominated the PDA space. If Microsoft could repeat history, then Windows Phone will be in the mobile marathon and Google will need stamina if it wants Android to be reigning king in a decade.
And there's also internal threats. The acquisition of Motorola Mobility provided the impetus in disrupting the Android ecosystem. Android OEM partners are not seeing Google's purchase of Motorola as a means to strengthening Android's patent portfolio against lawsuits, but rather as a threat. Samsung is fighting back and the company may be viewing its venture into the unproven Tizen operating system as a means to reduce reliance on Google, while it's been recently reported that Google execs may be worried that Samsung, being a powerful Android ecosystem partner, may try to leverage additional benefits through tough negotiation tactics in the future.
Whatever the case may be, carriers and manufacturers are trying to diversify and reduce their reliance on the dominance of Android. Whether that's through Sasmung, Tizen, Windows Phone, BlackBerry, or some unknown player is unclear at this point. What's clear is that Android is now peaking and through the disparate actions of Android's partners, its status as the leading OS may be vastly different in a few years.
Rather than clamoring about fragmentation, Android ecosystem partners will encourage differences. Rather than worrying about the Nexus having the latest Android OS build, older Android OSes may be skinned with fresh UIs that will beg for users' attentions.
We'll still have Android, but market share numbers may be re-thought of in terms of Samsung OS, HTC OS, and LG OS market numbers, rather than aggregate Android numbers. And to that point, Android may not be the king of mobile as it stands today.

As an Amazon Associate I earn from qualifying purchases.