Apple Had Considered iPhone Design With Physical Keyboard
Before the launch of the original iPhone in the summer of 2007, Apple had at one point in the design stages of its flagship and debut smartphone considered a physical keyboard for the iOS–at the time it was called the iPhone OS–smartphone. Revelation of the physical keyboard design consideration was revealed by famed iPod and iPhone designer Tony Fadell, who had since left Apple to start his own company called Nest.
According to Fadell in an interview on The Verge, Apple had considered three final prototype versions before settling on the aluminum-clad design that we saw in 2007, and one of those three prototypes contained a physical keyboard. AppleInsider reports that the three designs included:
He notes that when Apple was readying its first handset, the final three designs were an iPod-phone hybrid, an undisclosed version also called "iPhone" and the final model that reached customers' hands.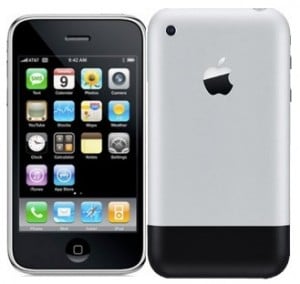 Ultimately, in the end, Apple went with the iconic touchscreen-dominated keyboard-less design and opted to use a more intuitive multitouch software keyboard with the autocorrection feature that we see today rather than rely on physical hardware keys. Fadell says that at the time, he saw the potential for a software keyboard, and his early intuition was supported by late CEO Steve Jobs.
When the iPhone debuted, many smartphones at the time were trending towards designs with either a front-facing physical keyboard or ones with slide-out keyboards. Both the Palm Treo–including designs that operated on Windows Mobile and Palm OS–as well as Research in Motion's BlackBerry smartphones relied on quick messaging as a key selling point with well developed front-facing keyboards. HTC and a few others relied on landscape-oriented slide-out keyboards. The success with the touchscreen keyboard was aided in no small part by Apple's capacitive touchscreen technology, which allowed users to merely touch the touchscreen, rather than have to press down on the touchscreen as with the resistive touchscreen technology that was employed by the smartphone industry prior to Apple's arrival.
Ironically, it was with the launch of Android–which Steve Jobs believed to be in violation of Apple's intellectual property–the keyboard was resurrected. The very first Android smartphone, the HTC G1, which debuted on T-Mobile USA's network had come out with a skewed landscape-oriented sliding keyboard design. The Motorola Droid popularized the physical keyboard with its design and that keyboard has since evolved over four generations of the Android flagship line. In more recent memory, HTC had boldly proclaimed that it will no longer release phones with keyboards, citing that consumers wanted thin and and light smartphone designs as the major reason.

As an Amazon Associate I earn from qualifying purchases.