Apple Prepping iWork in the Cloud to Compete With Google Docs, Cloud Office
There are reports that Apple may be collaborating with VMware to deliver a cloud-based web app of its iWork productivity suite to compete against Google Docs and Microsoft's cloud-based Office solutions.
It's unclear if Apple intends on charging a subscription or licensing fee to end-users for cloud-based access to the Microsoft Office-replacement iWork suite, or if it will be a free to use solution similar to Google Docs, but moving iWork to the cloud would allow Apple to attract small business users and potentially enterprise customers beyond the consumer and prosumer audience of iWork today.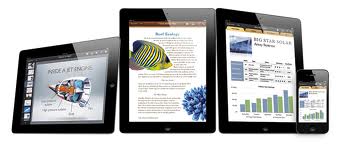 iWork is currently available with three products: Pages, a Microsoft Word substitute; Numbers, an Excel alternative; and Keynote, a replacement to Microsoft PowerPoint. These apps are sold as either standalone apps or as a package on the Mac App Store and are sold individually for $9.99 for iOS through the iOS App Store for the iPhone, iPod Touch, and iPad. They offer a lot of flexibility and power along with a visually appealing design that's centered around touch for the mobile version.
Users of the current OS X or iOS edition of iWork can also host and save their documents in the cloud through Apple's iCloud service.
The cloud-based solution would see the app reside in the cloud and operate inside a web browser so that the app doesn't need to run and be loaded on the device itself, similar to the way Google Docs currently works. Apple is said to be relying on VMware's Horizon Mobile's engine to deploy its iWork cloud application package according to Apple Insider. 
Apple has so far not responded to any media request for comments regarding speculations regarding iWork.
As iWork is limited to OS X and iOS currently, moving the app to the cloud and allowing it to run in an HTML 5-compatible browser may expand the reach of iWork to other platforms, including Android's browser, Windows, and Windows Phone. This would also help Apple save development cost in trying to develop native versions of iWork for competing platforms while at the same time allowing customers to be able to access, view, and edit iWork files from any platform with a compatible web browser.