Apple's Latest Design UI Patent Win Could Spell Thermonuclear Disaster for Android
With Apple already litigious against Android over the belief that late Apple CEO and cofounder Steven P. Jobs thought that Android had stolen from Apple's intellectual property and design, the latest patent win for Apple could spell a disaster for Android. The new patent covers basic aspects of the iPhone's graphical user interface and is dubbed "Portable electronic device, method, and graphical user interface for displaying electronic lists and documents."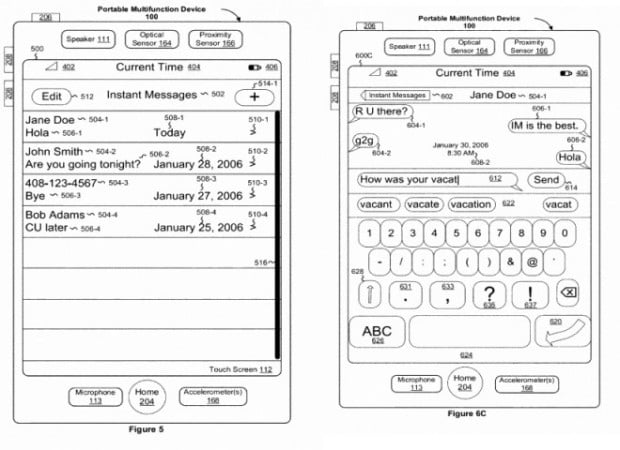 Wired reports that the patent was finally awarded on Tuesday and while the patent may not sound big, revolutionary, or all that important, its simplicity and vagueness may open the doors for Apple to challenge UIs and interfaces that other Android smartphone manufacturers are using.
"As portable electronic devices become more compact, and the number of functions performed by a given device increase, it has become a significant challenge to design a user interface that allows users to easily interact with a multifunction device," according to the patent. "This situation is unfortunate because the user interface is the gateway through which users receive not only content but also responses to user actions or behaviors."
The patent reached areas such as email lists, camera UIs, and menus. As this design patent is more encompassing of the various aspects of a UI on a touch-based OS, Android manufacturers may have a difficult time re-working and re-tooling their UIs and OS to skirt Apple's patent this time around.
While today, this seems like common sense with the popularity of touchscreen and slate-based devices. However, when the iPhone debuted in 2007, Apple's rivals were focused on smaller form factors, buttons, and how to minimize screen taps by implementing additional button presses or keystrokes. The iPhone did revolutionize the way we interact with phones using a touchscreen and much of that could be credited to maturing hardware technologies, such as multitouch capacitive touchscreen displays, which are far easier to use than the resistive-based touch screens of the day.
In his autobiography, Steve Jobs said that he'd go as far as waging thermonuclear war against Android and other thieves of the company's intellectual property. And since Steve Jobs passed, current CEO Tim Cook isn't backing down either. In his interview at the All Things D D10 conference this year, Cook said, "From our point of view, it's important that Apple not be the developer for the world. We can't take all of our energy and all of our care and finish the painting, then have someone else put their name on it."
It's unclear how Apple will proceed with its latest patent victory here. The company had been waging patent suits against various Android manufacturers in the past in various regions of the world, including the U.S. Some of those Android players that had crossed paths with Apple include
HTC
, Samsung, and Motorola.

As an Amazon Associate I earn from qualifying purchases.