AppNation: Developers Confused if Samsung Galaxy Player 5-Inch is Tablet, Phone?
The Galaxy Player 5-inch is like any other Android smartphone, except the device doesn't have a phone radio and would rely on WiFi for connectivity as an iPod Touch competitor with a large screen, suitable for reviewing photos or watching movies. That said, the 5-inch display, which brings the Galaxy Player into the realms of the Dell Streak 5, makes it sort of a hybrid device, which straddles the smaller, more portable screen sizes of smaller media players and phones and larger screen sizes of tablets. At the AppNation conference in San Francisco, California, developers at the Samsung booths were questioning company representatives if the Galaxy Player 5 is a small tablet or oversized phone.
In many ways, the device, which was being showcased next to the 7-inch version of the Galaxy Tab tablet, mirrors a tablet, like the Galaxy Tab. As the 7-inch Tab did not launch with the newer tablet-optimized Android 3.0 Honeycomb OS, and debuted with Android 2.2 Froyo, it looks like an oversized smartphone with a higher resolution display. And in many ways, the Galaxy Tab performed like an oversized Android smartphone as it doesn't have the new user experience enhancements that Honeycomb brought. In that manner, the Galaxy Player 5-inch could also be considered as a smaller cousin or brother to the Galaxy Tab.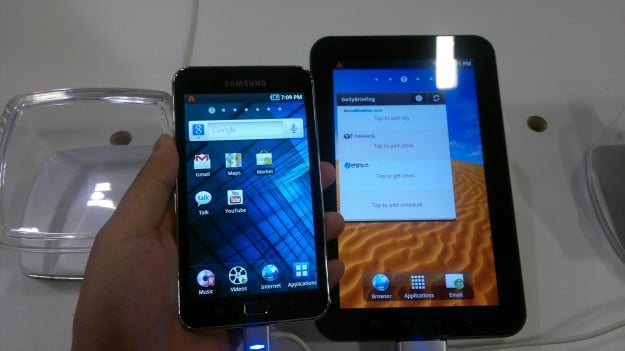 As Samsung is expanding its tablet category to include 8.9- and 10.1-inch slates, it's curious why the company didn't the 5-inch PMP Galaxy Player as part of its Galaxy Tab lineup. After all, the company already has a 4-inch Galaxy Player to compete with the iPod Touch.