Asus Confirms Padphone Coming with Ice Cream Sandwich by End of Year
In addition to showing off the Transformer Prime tablet with a quad-core CPU and Android Ice Cream Sandwich onboard, Asus head Jonney Shih also took time to confirm that the Padfone will be coming to market by the end of the year.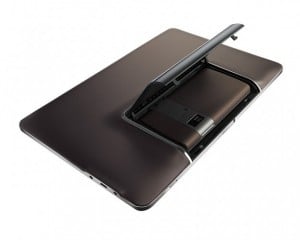 The Padfone was unveiled earlier this year and introduced a new hardware concept for converging technologies in an era where smartphones and tablets are gaining traction in the marketplace. Like the Transformer, which itself blurs the line between tablet and notebook, the Padfone is intended to erase the line between tablet and smartphone where the smartphone will provide the power, mobile connectivity, and storage to a larger display when docked. The tablet itself will be merely a screen that will display the content of the smartphone.
At the time of its unveiling, Asus did not specify what OS will be given to the Padfone, but now that Google and Samsung had announced the Galaxy Nexus with Ice Cream Sandwich, Shih finally discloses that Ice Cream Sandwich will be powering the Padfone when that device will launch later this year. A specific launch date for the device is still not given.
Via: Engadget