Asus Padfone, Transformer Pad Infinity Destined for AT&T's 4G LTE
While U.S. customers can certainly import the Aus Padfone right now for a hefty cost, there's news that U.S. wireless carrier AT&T will soon offer the transforming smartphone-tablet-netbook concept on its network as well as a 4G LTE variant of the Trasnformer Pad Infinity tablet. According to an un-named Asus representative speaking to Android Authority at the Computex tradeshow, AT&T will be getting these two models. Additionally, the rep confirmed that the Asus Nexus 7 Tablet will be debuting at the end of June, which would mean that the slate would more than likely see a debut at this month's Google I/O developer conference.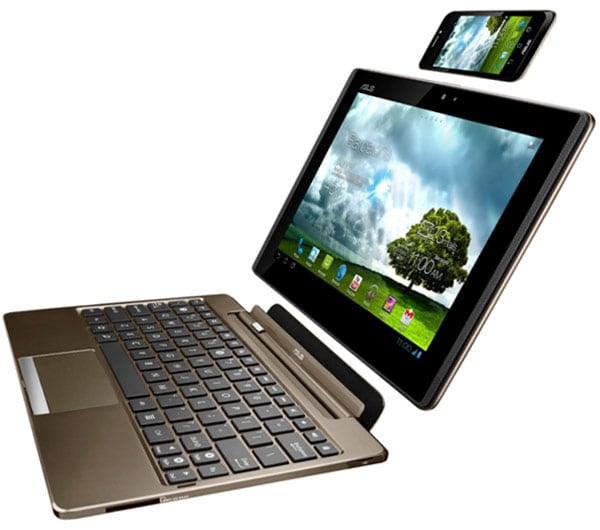 Regarding the unique form factor behind the Padfone, it seems that Asus has been showing the design and concept around, shopping it to various U.S. carriers but that the "carriers hate it." Essentially, the phone will be powered by a Qualcomm Snapdragon S4 dual-core applications processor–and the U.S. AT&T version will feature 4G LTE connectivity–that will have optional docking accessories. A larger tablet screen that docks with the phone will convert the phone into a slate, and then the slate will have an optional keyboard dock that will convert the device into a lightweight netbook, similar to how the keyboard dock on the Transformer tablets work. This eliminates the need for separate data plans and managing data and information on different devices as the phone's internals will be powering the phone, tablet, and netbook so everything should reside on the phone itself.
With the Transformer Pad Infinity, it looks like there will be two versions, a WiFi-only version and one with 4G LTE for AT&T's network. A $500 pricing point has been thrown out, though it's still unclear if this is pricing for the WiFi version or for the 4G version.
The Asus rep says that the Nexus 7 Tablet will be awesome, but additional information was not disclosed about that slate. The device is expected to be powered by NVIDIA's Tegra 3 chipset as part of the chip-maker's Kai platform.

As an Amazon Associate I earn from qualifying purchases.